Strantz-Designed Caledonia & True Blue Are Must-Plays in Myrtle Beach
By: Steve Habel
In the Grand Strand's Lowcountry town of Pawley's Island, some 20 miles south of Myrtle Beach, S.C., the late golf architect Mike Strantz fashioned two memorable, though different, golf courses within earshot of each other.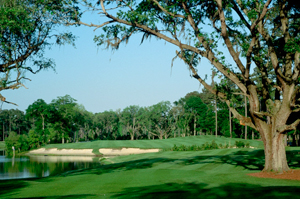 No. 7 at Caledonia
With the sublime Caledonia Golf & Fish Club and True Blue Plantation - its younger but brawnier brother down the road, Strantz, who succumbed to cancer in 2005 at age 50, cemented a legacy in golf architecture that ended way too soon.

Play Caledonia and True Blue on the same day if you can and you'll learn first-hand about the beauty of Strantz's hallmarks: undulating greens, well-positioned and diabolical bunkers, and forced carries that reward or punish risk-takers. Then play them again and revel in his subtle touch and keen eye for detail.

One can think of Strantz courses as almost Pete Dye-esque in terms of the challenges they pose. But, for my money anyway, Caledonia and True Blue enchant with more aesthetically pleasing lines. A natural artist, Strantz had the uncommon ability to sketch hole renderings on his first visit to an undeveloped sight.

Caledonia and True Blue are individually distinctive. When considered together, however, the courses are a perfect complement. Caledonia is tight, a bit claustrophobic at times and picture-perfect pretty at every turn; True Blue is long and hard and unforgiving, with more Strantzian quirks.

With more than 100 courses available for play in the Myrtle Beach area, repeat visitors say they always take the time to tee it up at Caledonia and True Blue, then fill out the rest of their schedule. That's how good these two courses are.
Caledonia Floors You with Fauna, Flora & Challenge

Caledonia Golf & Fish Club opened in 1994. Built upon the site of a former working Southern rice plantation, it's been described as having "18 signature holes," with routings around majestic oaks, meandering streams and ever-invigorating flora and fauna.

From the drive to the clubhouse through a virtual tunnel of Live Oak and Spanish moss, to the views out over the salt marsh bordering the course, to the rolling design of the holes themselves, Caledonia is simply beautiful.

The Caledonia Plantation once consisted of 2,500 acres stretching from the Atlantic Ocean to the Waccamaw River. Over the years the estate was whittled down to just 152 acres. The plantation's current owners bought it in 1971 and used the lush property as club for hunting and fishing club and built several small lodges.

Then, in the early 1990s, they decided to build a golf course while continuing to cater to outdoorsmen, which is why the course uses duck decoys as tee markers. Caledonia's grounds are perfectly manicured; every shrub, flower petal and stairway of tabby, brick or railroad tie is precise.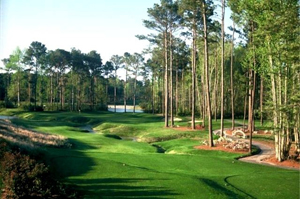 Caledonia's 11th Hole
When the owners of the property that became Caledonia Golf & Fish Club hired Strantz to craft the new course, they told him to preserve as much natural beauty as possible and move very little dirt. Given the architect's "maverick" reputation, someone who didn't always adhere to the traditional principles of golf course design, it was a tall task. But he repositioned less than 100,000 cubic yards of soil that, as a result, Caledonia became one of Strantz's finest and least "controversial" courses.

There are just a few forced carries, and the mounding, while present, is generally subdued as Strantz allowed the trees and sand to determine the way golfers must play the course. There's a gentle sculpting of the terrain, with an occasional accentuation to lend the setting flair.

Playing at a par of 70 and only 6,526 yards from its back (pintail) set of tees, Caledonia will not overwhelm you with length. But from the tips, where it merits a 72.1 rating and 140 slope the layout can be very tough, while offering risk-reward opportunities in spades.

There's just one par-4 of more than 400 yards on the front side, but the 419-yard fifth is the toughest here, with a narrowing fairway and an elevated green that slopes severely off both sides. On the 399-yard par-4 seventh, a huge oak guards the right side of the largest green on the course. And the par-3 ninth is a conversation piece because of its short length; at just 118 yards and the track's shortest, it's definitely not easy.

The incoming nine begins with a 553-yard par-5 that requires a long carry over a marsh off the tee. The 398-yard par-4 13th doglegs left around a huge oak and plays to a green totally engirded by sand. No. 14 starts at an isolated tee box. The hole then winds over water to a narrow fairway and then to a 51-yard-deep, wavy putting surface that slopes left toward a pond.

The picturesque, 383-yard par-4 18th borders the Plantation's old rice field and requires a precise drive to set up a tough forced-carry over marsh to a peninsula green. Play an extra club to ensure you carry the water and, if successful, accept the accolades of those watching from the porch of the Antebellum-style clubhouse nearby.
Caledonia's conditioning and service are top drawer. High-handicappers love the landscaping and four sets of tees, which provide versatility in play. But demanding pin placements mandate that the best golfers mind their Ps and Qs.

Caledonia Golf & Fish Club is a work of art, both in design and execution, laid upon a parcel with a rich history, Deep South accents, and visual cues of its former life. The place exudes personality from every pore.

Caledonia Golf & Fish Club has made Golf Magazine's "Top 100 You Can Play" and been named one of "America's 100 Greatest Public Courses" by Golf Digest. Golfweek continues to rank Caledonia as one of "America's 100 Best Modern Courses," which also had it 21st in the 2011 ranking of its "Top 100 Best Resort Courses" in the United States.

A round at Caledonia is truly a magnificent experience. For additional information, visit www.fishclub.com.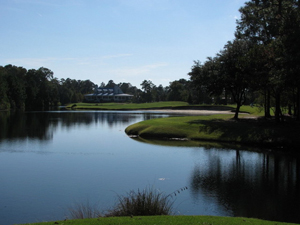 True Blue Plantation's 18th Green & Clubhouse
True Blue Plantation is a Likable Brute

True Blue Plantation opened in 1998 to a barrage of hype, and has, to its credit, managed to vindicate all the attention since being unveiled. Built on the site of an old indigo and rice plantation, the course features uncommon elevations and naturally rugged terrain. The rough, sandy areas were retained (all of them are waste bunkers by local rule) to provide striking contrast to the verdant greens, tees and fairways.

More exuberant in design than Caledonia, True Blue is representative of Strantz's knack for crafting strong landforms. Mounds grow to impressive heights, bunkers abound and carries over water are everywhere. At True Blue everything is big, with expansive fairways and huge greens, some of whose pin placements can result in a three-club difference. It plays to a par 72 (37-35) and 7,126 yards from its back set of four tees, where it carries an impressive 74.3 rating and 145 slope.

The course's par-3s tend to be extreme, with sprawling but narrow and topsy-turvy greens ringed by water and sand. The 190-yard third boasts an island green and a 58-yard-deep putting surface, and the 176-yard No. 7 features a two-tiered green where the upper level is about five feet higher than the lower.

On the 184-yard 11th your shot is all carry over a waste bunker to a sloping 40-yard-deep target. The 158-yard 14th has a tee box nearly 50 feet above a green that is placed artfully between a perilous waste area and round-inflating "pot" bunker.
Other standouts at True Blue are the brutish 624-yard par-5 opener (the course's No. 1 handicap hole); the 548-yard par-5 fourth, which turns hard left around a big pond and is reminiscent of the sixth hole at Bay Hill Resort in Orlando; and the closing pair, both long par-4s at 449 and 437 yards, respectively.

The 18th's fairway slopes to towards a lake on the left, which cuts into the landing area about 290 yards out. You then play over the corner of the water hazard to an enormous green that slopes severely right to left, especially in front.

Another oddity is the sixth, a par-4 with an optional green. Both greens are drivable from the tee, depending on your sense of adventure in going over the waste bunkers left and right.

Strantz's uncanny ability to create individual experiences is revealed here. Despite the tough greens complexes at True Blue, the late designer gives players an opening if you have trouble keeping the ball in the air. His creative use of water and waste bunkers means this captivating layout stands out amid the other courses on the Grand Strand.

True Blue has been described as "Caledonia on steroids." Soon after it opened, it earned another moniker - "Golf Heaven and Hell" - due to its toughness. Eventually, the course was revamped and slightly modulated by eliminating some of the blind shots.
Numerous awards have been bestowed upon True Blue Plantation over the years, including "Fourth Best New Public Upscale Course" by Golf Digest when it opened. Golf Digest again honored True Blue by showering it with praise as the "7th Best Course in South Carolina" and the "Number One Course in Myrtle Beach." In 2010, Golf World readers chose it as No. 21 among the nation's best courses.

True Blue is a very scenic track, with its back nine weaving through woodlands. You have to hit the ball straight - and long is better than short, but it's still very playable and interesting. There is hardly a weak hole anywhere. It's been said that golfers have strong feelings one way or the other about True Blue, but all seem to agree that it will never be forgotten.

For more information, visit www.truebluegolf.com.
Waccamaw Golf Trail Beckons

Both courses are part of the Waccamaw Golf Trail (www.waccamawgolftrail.com), which offers golfers a collection of a dozen of America's most-honored venues, including three of "America's 100 Greatest Public Courses," seven earning 4.5 stars in Golf Digest's list of "Best Places to Play in America," one ranked in the "Top 25 in America" by Golf for Women, and one of only three five-star courses in the entire Southeast. back nine All this is set amid the charm and splendor of one of America's oldest coastal vacation destinations, with many wonderful restaurants, a wide choice of accommodations, unique shops and some of the most beautiful beaches along the East Coast.
Steve Habel is one of Cybergolf's national correspondents, contributing news stories, features, equipment and book reviews and personality profiles from his base in Central Texas. He is also the managing editor for Texas CEO Magazine and works as a contributing editor for Horns Illustrated magazine, a publication focusing on University of Texas sports. He also writes a blog (www.shotoverthegreen.blogspot.com), which features news on golf and the Longhorns, and another (www.checkinginandplayingthrough.blogspot.com) on his many travels, which took him across the nation and to 105 different golf course in 2009. Habel is a member of the Golf Writers Association of America and the Texas Golf Writers Association.