Strategic Concepts - Double-Fairways
A long-standing concept is the dramatic choice offered when a hole has not just one, but two fairways. Admittedly, these fell out of favor in the 1930s Depression Era and during 1940's WWII gas-rationing. Those very practical folks probably figured one fairway per hole was quite enough under such difficult circumstances.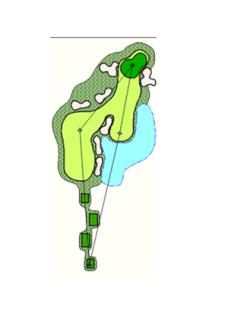 There are a few different ways to create exciting double-fairway holes: through the use of center-line hazards and dramatic dogleg shortcuts. The drama comes from the typical option of driving well over a difficult hazard, like water, sandy waste or numerous sand bunkers. In movie terms, this is the true "action thriller" of golf design. Most courses should have at least one!

On such "Challenge Fairway Holes," the alternate fairway must shorten the hole significantly - at least two to three clubs - or most players will avoid the risk giving too little reward. Also, the most tempting length is one that allows reaching the green on the drive, or where the approach shot shortens from long-iron to mid-iron range, rather than mid-iron to wedge.

There is always the decision to open up the green as a reward for the shortcut, or guard the shortcut again as added defense.
I have seen and built both, including those where the bunkers guarded the safe route and the green contours fell away from the safe route, making it hard to even hold a shot. Or, the green contours help stop shots from the safe route, somewhat compensating the difficulty.

I believe guarding the inside route only makes sense as the distance advantage is greater - at least three clubs. Otherwise, it isn't that tempting. I also believe only the meanest architects would slope the green away from those playing the safe shot to almost assure a bogey while playing conservatively. That would only work - and just barely - on very short holes.

Also, great care in tee alignment makes the hole play better from the middle tees. If aligned as shown above, most middle-tee players will take the safe route. If tees are aligned towards the challenge route, they may play there, and if aligned between the two fairways, golfers truly have a choice of which side to play for.
Jeffrey D. Brauer began his career as an apprentice in the Chicago area in 1977. His first project was Kemper Lakes, which shortly after hosted the 1989 PGA Championship. He formed GolfScapes in Arlington, Texas, in 1984. In the last 29 years he has designed and consulted on a wide spectrum of projects, ranging from partial renovations to international resorts. His recent work includes teaming with the design team of Pascuzzo and Pate on a remodel of the world-famous La Costa Resort & Spa in California, and renovations at Superior National Golf Course in Lutsen, Minn., and Mesquite Municipal Golf Course in Mesquite, Texas.

He has been a member of the American Society of Golf Course Architects since 1981, serving as President during its 50th Anniversary year in 1995-96. Jeff still studies the classic works - both old and new, and has played more than 75 of the best courses in the world.

Jeff gives many presentations and is a regular architecture columnist for many publications and websites, including Golf Course Industry and Cybergolf.com. He has also been a strong advocate for the "Tee it Forward" campaign and strives to make his courses fit the description of "fun to play every day."

Jeff's work has been spotlighted in most of the world's major golf magazines. Golf World ranked him as one of the top-20 golf course architects and Golf Inc. ranked him as the world's fourth-best value in golf architecture in 2010. Jeff's portfolio and reputation keep him at the forefront of desired designers for new courses, reconstruction and renovation projects. For more about Jeff, visit http://www.jeffreydbrauer.com/sites/courses/layout.asp?id=859&page=48451.