Strategic Concepts - Double-Fairways with Center-Line Bunkers
Another type of double-fairway hole features a pot bunker or line of bunkers in the middle of the fairway, forcing a decision to play short, left, right or even over the center bunkers.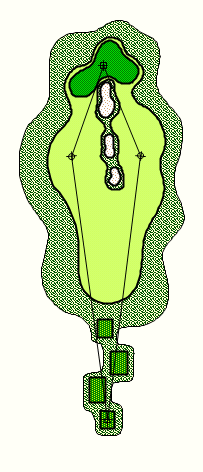 The original idea for this type of hole - including the wide green - goes all the way back to the 16th at the Old Course at St. Andrews in Scotland. On that hole, a group of small pot bunkers named "Principle's Nose" (we can only guess at the appearance of that gentleman) is in the center of the fairway. To the right is a narrow band of fairway, but adjacent to O.B. and railroad tracks. The left side (as with so many holes there) is much wider, but required a longer approach shot over greenside bunkers.

Some modern versions often retain the differences in fairway width found at St. Andrews, while others have similarly wide fairways. On these holes, the best play is usually determined by the pin position, and the green is usually shallower and wider, to make the frontal opening a bigger factor in the decision because it effectively gives more depth and room to miss. If the hole happens to play downwind in most cases, the strategy is enhanced due to reduced backspin on the approach.

Shooting for a right pin from the left fairway requires a shot over the center bunker, and vice versa, while the approach to the right-side pin is open from the right fairway.
Typical greens include those shaped like an "A Frame" house, as shown here. I have built such greens with a large swale dividing the green, which is just as effective as - and a bit more subtle - than the standard bunkers.

Another effective tool is a small fronting mound in the center of the green, which deflects shots just short in potentially many different directions - none of them good.

This type of fairway is suitable for short- and mid-length par-4 holes. But variations of it have been used by many architects on both the second shot of par-5 holes, and even long par-4s.
Jeffrey D. Brauer began his career as an apprentice in the Chicago area in 1977. His first project was Kemper Lakes, which shortly after hosted the 1989 PGA Championship. He formed GolfScapes in Arlington, Texas, in 1984. In the last 29 years he has designed and consulted on a wide spectrum of projects, ranging from partial renovations to international resorts. His recent work includes teaming with the design team of Pascuzzo and Pate on a remodel of the world-famous La Costa Resort & Spa in California, and renovations at Superior National Golf Course in Lutsen, Minn., and Mesquite Municipal Golf Course in Mesquite, Texas.

He has been a member of the American Society of Golf Course Architects since 1981, serving as President during its 50th Anniversary year in 1995-96. Jeff still studies the classic works - both old and new, and has played more than 75 of the best courses in the world.

Jeff gives many presentations and is a regular architecture columnist for many publications and websites, including Golf Course Industry and Cybergolf.com. He has also been a strong advocate for the "Tee it Forward" campaign and strives to make his courses fit the description of "fun to play every day."

Jeff's work has been spotlighted in most of the world's major golf magazines. Golf World ranked him as one of the top-20 golf course architects and Golf Inc. ranked him as the world's fourth-best value in golf architecture in 2010. Jeff's portfolio and reputation keep him at the forefront of desired designers for new courses, reconstruction and renovation projects. For more about Jeff, visit http://www.jeffreydbrauer.com/sites/courses/layout.asp?id=859&page=48451.