Strategic Concepts No. 1 - The 'Position Paradox'
Getting inside golfers minds, forcing a decision of tempting a hazard or playing safe - these are the keys to strategic golf course architecture.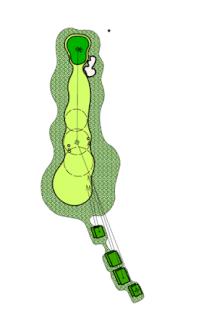 A classic strategic hole design
as envisioned by Herbert Warren Wind
Many modern golfers believe (perhaps influenced by the views of touring pros) that architecture should help them, not challenge their thinking. One pro asked me, "With water on the left, you clearly tell me to play right, but then, I have to come over a bunker. Shouldn't you reverse that so my safe tee shot has an easier approach?"

It's like telling a banker he ought to reward your safe decision to invest in certificates of deposits with a higher rate of return than you would get in the stock market. Or the movie "bad guy" telling the terrified victim, "If you don't do what I say, I'll do something wonderful for you later on."

It just doesn't work that way in life, and it doesn't in good golf architecture either.

Herbert Warren Wind once wrote that strategic choice is created with a single bunker on the inside front corner of the green, which sets up the simple option of playing the shorter inside route, leaving a shot over the bunker, or taking the slightly outside route, with its longer but open second shot. Which is better? It's up to the golfer to decide, based on their game strengths, confidence, wind, etc.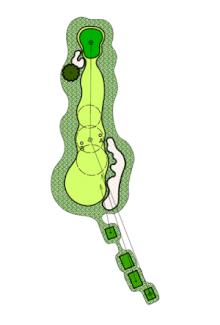 Hole with a fairway bunker in the driving
zone and a bunker outside of the green
This is a pretty simple and straightforward decision. Not all strategy needs to be as hard as a 1,000-piece jigsaw puzzle.

Add in a fairway hazard on the inside corner, and put the greenside bunker on the outside of the green (as noted in the middle illustration), and the architect has created a "position paradox" on a strategic tee shot . . . a situation where you really, really want to hit near the bunker for both distance and angle advantage, but that position is guarded by a hazard that might cost you a stroke, or more.

In the top illustration I rendered the second hole with an "inside carry bunker" at greenside set at approximately 20 degrees to match the fairway. In the Golden Age of golf course design in the 1920s, carry bunkers like this were far more common than today. Of course, it was harder to lift shots in those days, so that represented a real challenge.

Today, the hole would be more likely to have a flanking fairway bunker. Experience shows that good players have little trouble with the carry, while average players struggle more, either trying to cut off more than they can chew with their drives or misplaying shots (did you know that about 23 percent of tee shots go less than 100 yards?).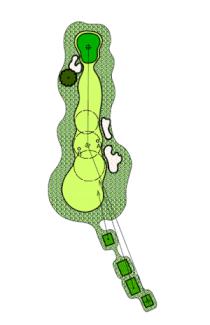 Hole with two 'inside carry bunkers' set
at approximately 20 degrees to match the fairway
At the same time, the 11 to 14 percent average spray differential between good and average players isn't too different, suggesting flank hazards (as shown in the bottom graphic) create similar - if smaller - challenge for everyone, even if they're a bit less interesting than ones that somehow jut into the fairway.

Given the wider variety of tee-shot distances in the modern game, even with multiple tees, it is usually wise to place two or more bunkers (or one long one) along a fairway flank, so longer hitters can't simply blow right over them.

These illustrations show simple strategies based solely on bunker combinations. The overall trend in our visual, TV-dominant society is for the architect to visually spell out those choices and consequences. However, we may conceal them (perhaps dictating the best angle through varying receptivity of green contours), or at least make them less obvious, allowing the golfer learn them over time and through experience.
Jeffrey D. Brauer began his career as an apprentice in the Chicago area in 1977. His first project was Kemper Lakes, which shortly after hosted the 1989 PGA Championship. He formed GolfScapes in Arlington, Texas, in 1984. In the last 29 years he has designed and consulted on a wide spectrum of projects, ranging from partial renovations to international resorts. His recent work includes teaming with the design team of Pascuzzo and Pate on a remodel of the world-famous La Costa Resort & Spa in California, and renovations at Superior National Golf Course in Lutsen, Minn., and Mesquite Municipal Golf Course in Mesquite, Texas.

He has been a member of the American Society of Golf Course Architects since 1981, serving as President during its 50th Anniversary year in 1995-96. Jeff still studies the classic works - both old and new, and has played more than 75 of the best courses in the world.

Jeff gives many presentations and is a regular architecture columnist for many publications and websites, including Golf Course Industry and Cybergolf.com. He has also been a strong advocate for the "Tee it Forward" campaign and strives to make his courses fit the description of "fun to play every day."

Jeff's work has been spotlighted in most of the world's major golf magazines. Golf World ranked him as one of the top-20 golf course architects and Golf Inc. ranked him as the world's fourth-best value in golf architecture in 2010. Jeff's portfolio and reputation keep him at the forefront of desired designers for new courses, reconstruction and renovation projects. For more about Jeff, visit http://www.jeffreydbrauer.com/sites/courses/layout.asp?id=859&page=48451.