Streamsong Resort Nears Opening
The much-heralded Streamsong Resort in central Florida will debut December 21st. Although they haven't opened to the public yet, the two courses in the development by the Mosaic Company have already garnered national awards.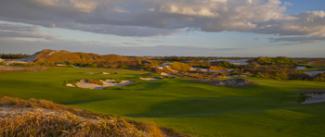 Streamsong Blue No. 18
(Photo by Larry Lambrecht)-12-17-12)
One of the two 18-hole courses, Streamsong Red, designed by Coore & Crenshaw, was named the "Best New U.S. Course You Can Play" by Golf Magazine, while Streamsong Blue, designed by Tom Doak, received honorable mention in the same category. The resort south of Lakeland is the first venue where the two architectural firms collaborated on 36 holes.

"It's an honor to have Streamsong Red and Streamsong Blue recognized by such an influential publication," said Scott Wilson, the resort's director of golf. "This is a true testament to the superb design and collaboration of Bill Coore, Ben Crenshaw and Tom Doak, as well as the months of hard work and dedication put in by our crew on the ground at Streamsong."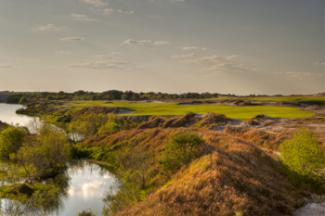 Red No. 7 at Streamsong
(Photo by Larry Lambrecht)-12-17-12
Streamsong Resort, built on approximately 16,000 acres of former phosphate mine land, allowed both architectural firms to use their talents and experience working with sand-based sites to create the courses. The topography of the land - towering sand dunes, dramatic contours, lakes and native vegetation left over from the mining process - result in a challenging and visually invigorating experience unlike any other in Florida.

Also scheduled to open with the courses is a golf clubhouse featuring 4,500 square feet of meeting space, a steakhouse with private dining, lounge and golf shop. The 12 guest rooms (designed to accommodate 16 guests) in the golf clubhouse will open December 30.
"We are excited about this distinction from Golf Magazine just prior to our scheduled opening to the public in late December," said general manager Mike Speicher. "Our team at Streamsong Resort is ready to provide an outstanding experience for each and every guest."
KemperSports is responsible for managing the golf operations at Streamsong Resort, while Interstate Hotels & Resorts will run a new 200-plus-room lodge, conference center and spa that will open in late 2013.
For additional information and tee times, visit http://www.streamsongresort.com.