Summer in Europe
By: Elisa Gaudet
Americans have long had a romance with Europe, particularly during the summer time. Many Yanks, ages 16 to 66, flock to Europe looking for art, architecture, language, food, wine, people and golf. Many times you hear of people going on a designated golf trip to a location with just the idea of golfing. A different approach is to go to a destination based on other criteria and include "experiential golf." Places perhaps not as well known for golf but rich in history and other charms where you can find a unique golf experience. Two bucket-list places that will take your breath away are Sicily, Italy, and Beaune, France.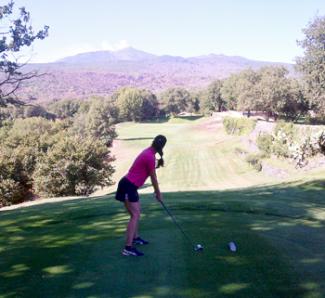 Author Tees off on Course Near Mt. Etna
Sicily is an incredible island with a very rich Greco-Roman past that dates back as early as 8000 BC. Taormina, the small town on the east coast of the island, has been a popular tourist destination since the 19th century. The symbol Sicily is most recognized for is perhaps Mount Etna. With a height of 10,890 feet it is the tallest active volcano in Europe and one of the most active in the world and is in an almost constant state of activity.

Il Pěcciolo Golf Club was the first golf course developed in Sicily in 1989. Designed by architect Luigi Rota Caremoli, the par-72, 18-hole course is nestled between oak, fig and hazelnut trees, and vineyards. The course is built on the slope of Mt. Etna, has a great deal of black-lava rock throughout, and many of the holes have spectacular views of the volcano. The head golf professional, Norman Johnston, played the first nine holes with us and shared photos and a video from a helicopter ride he had a few days prior over Mt. Etna. We were clearly able to see mini-eruptions going on inside. In mid-fairway, he stopped, picked some figs off a tree and we ate them as we walked to the green. This turned out to be one of my most unique and pleasurable experiences. For more information, visit www.ilpicciologolf.com.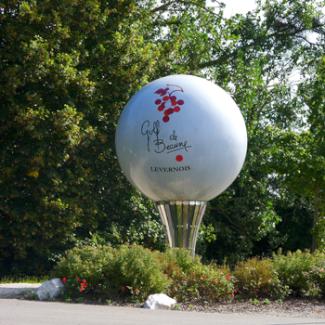 Golf near France's Famous Wine Region
There are some wonderful and distinctive wines made from vineyards around Mt. Etna. One in particular that offers a tour and tasting is the Cottanera Winery. Their wines are made from grapes grown at high altitude on rich, volcanic lands. Their reds and whites are distinct and well-balanced, given the volcanic soil and region where they're produced.

Another special European town is Beaune, France. Beaune is the heart of the Burgundy wine region and one of the key wine centers of France. Indeed, the annual wine auction of the Hospices de Beaune is the primary wine auction in the nation. The town is surrounded by some of the world's most famous wine villages and vineyards including Pommard, Meursault and Puligny-Montrachet.

In the heart of the Cote de Beaune, the Hostellerie de Levernois is a large, white house that has been converted into a hotel. The hotel and restaurant are surrounded by an elegant French-style garden and situated in an 11-acre park in the middle of the Burgundy vineyards and next to the Golf Course of Beaune Levernois.

Levernois has a Michelin-starred gourmet restaurant, an exceptional wine cellar and a bistro, all of which seamlessly blend tradition and modernity. In the ancient kitchen there is a double-hearth chimney that dates back to 1750. The golf course adjacent to the hotel is a public facility and a pleasant par-72 layout with nine lakes and many sand traps. There's also a nine-hole par-29 course for those wanting to squeeze in a few holes before dinner. For more details, visit www.levernois.com.
Elisa Gaudet brings a wealth of entertainment and golf experience to Cybergolf. Elisa has spent the past several years in the golf industry in the U.S., Latin America and Spain. She worked for the PGA Tour and the Tour de las Americas before founding Executive Golf International, a golf marketing company that works with clients to develop strategies using golf as the medium. Often referred to as the Maria Bartiromo (a business analyst for CNBC) of golf, Elisa says: "Golf, as a marketing tool, has been around for years. It's amazing how many new ways companies can align their brand with the golf market to reach their target audience. Our goal is to create alliances and establish cross-border relations." Elisa also worked in the entertainment industry for over 10 years, including five in Los Angeles as a model and actress. She can be seen at many celebrity golf events and often gets the inside scoop from PGA Tour players. In 2011, Elisa published her first book, "Two Good Rounds" (Skyhorse Publishing). Her story for Cybergolf, "Golf a Romantic Affair at Cabin Bluff," won the top prize in ING's 2012 Travel Writing category, and that same year she won the ING's Outstanding Achievement award for the Op/Ed Writing Category for her Cybergolf article, "I Want to Fall in Love with Tiger Again." For more information about Elisa, visit her websites at www.onthelip.com or Executive Golf International www.execgolfintl.com.