Sunday River Earns High Rating from Golf Digest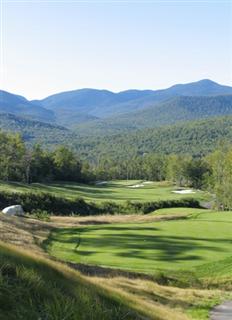 Golf Digest rated Sunday River Golf Club in Maine as among the top 10 new public courses in the United States for 2006.

"Our original goal was to build the best course in Maine," said Sunday River owner Jeff Harris. "As we got deeper into the project we realized what a wonderful site we had. I knew we had been nominated for the top 10 and was very happy to see us finish No. 6."

Sunday River Golf Club, located next to Sunday River Ski Resort in Bethel, was designed by Robert Trent Jones, Jr., who also designed Osprey Meadows in Idaho, which finished first in the same "upscale public" category.

"I thought Sunday River and Osprey were equal in terms of aesthetics, playability, scenery and so forth," Jones said of the 2006 Golf Digest balloting. "How one course won and the other came in sixth is anybody's guess. It's kind of like ice skaters in the Olympics. There is a fraction of a difference in terms of the numbers from the judges."

Jones routed the original Sunday River layout almost a decade ago. Plans to build the 7,130-yard, par-72 course stalled until Bath, Maine-based Harris Golf acquired the rights to develop the layout and moved forward with the project. Sunday River is part of a 350-acre site with sweeping views across Sunday River Valley to the Mahoosuc Mountain Range. The facility includes a driving range and 10,000-square-foot, log-and-stone clubhouse with 57 housing lots bordering the course.
"The whole team can take credit," added Harris, "the architect, the builder and the staff at Harris Golf. Robert Trent Jones was very involved and on-site architect Ty Butler was fantastic. Sunday River Skiway was also extremely helpful in the whole process."
Jones also designed Sugarloaf/USA Golf Club in Carrabassett, Maine, perennially rated the top public course in New England since it opened in 1986. The architect noted, however, that Sugarloaf was built with a limited budget that took advantage of the rushing waters of the Carrabassett River, a wilderness setting and elevated greens with significant contour.
"Sunday River is also a wilderness golf course," Jones explained. "But while Sugarloaf has relentless golf holes that leave golfers constantly sucking in their breath and waiting for the next challenge, Sunday River allows golfers to take a deep breath, let it out, enjoy the great vistas and then hit the shot as far as they can. The fairways at Sunday River tend to be fairly concave. If golfers miss left or right, they tend to kick the ball back toward the center. Sunday River is a bit more forgiving than Sugarloaf for most players."
Jones also featured sandy waste areas at Sunday River. "The Harrises played Pine Valley and fell in love with the sandy landscapes in Southern New Jersey," the architect recalled. "We tried to replicate the way the Ice Age might have left sandy areas at Sunday River. So if golfers hit their drives off line, they may find one of those sandy waste areas rather than bouncing off into oblivion."
Greens fees at Sunday River are $120 Friday-Sunday, including cart; $95 the remainder of the week. The season runs from early May through late October. For more information, call 207/824-4653 or visit www.harrisgolfonline.com  

About Harris Golf

Harris Golf Group is one of New England's premier course management and construction companies. In addition to Sunday River, the company operates Boothbay Country Club along Maine's Midcoast, Freeport Country Club adjacent to world famous L.L. Bean, and Old Marsh Country Club, now under construction in Wells.