SunRidge Canyon Golf Club
About 30 miles northeast of Phoenix, in Fountain Hills, a golf course was "uncovered" back in 1995 by architect Keith Foster. It's not some ancient relic from thousands of years ago, but a new addition to a very old piece of land called SunRidge Canyon.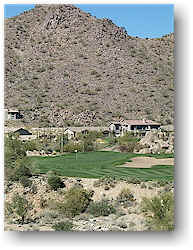 The course sits under the watchful eye of the McDowell Mountain range, which marks the eastern boundary of Scottsdale. There are no boundaries to what this golf course can do to your golf game.

It rolls out at 6,823 yards from the tournament tees, but a driver isn't the club you'll want to use all the time, unless you want a close-up look at some of the more than 300 Saguaro cacti that were preserved on the course and a rattlesnake or two!

Only 200,000 cubic yards of dirt were moved to create this desert jewel. The rest was created by wind, water and time. It lays into the landscape like it's been there forever. There is a 300-foot elevation change on the course.
The front nine winds down into the canyon and doesn't come back to the clubhouse. The back nine takes you back up a different route that's equally as inspiring to play. Four man-made lakes and a 19-foot high waterfall help you feel a little less thirsty in this desert setting.

Surrounding you during your round are the Superstition and Mazatzal Mountain Ranges, plus views of the Four Peaks. The sometimes-narrow fairways are not parallel to the other holes, nor are they lined with homes. The rock outcroppings around the course are the natural structures that will catch your eye.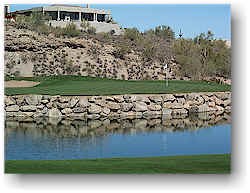 Don't look at them too long though, there's a tough, thinking person's course to negotiate. Most of the time, fairway bunkers are only going to be on one side of the course, but that's usually the best line for your drives.

It's more of a second shot course than a driving course. You want to find the green, because trouble lurks around every corner. To tell you how hard this course really is, take a look at the course record on this par-71 layout, it's a 66, a great score for pretty much any golfer, but above average for a golf courses low round.

Golf Magazine has voted it in "The Top 100 Courses You can Play in the U.S." The Arizona Republic newspaper rated it as one of the top 10 public courses you can play in Arizona.
The last six holes are as fine a finishing layout as you'll find. 578 and 533 yard par-5s (uphill) await you, plus what might as well be an island green on the par-3 14th, water to the right, major drop off to the left and desert tundra in the back. You have one place to miss from the elevated tee box. The other par-3 is no piece of cake either. It has two tee boxes, one of which measures 209 yards over a canyon to a good sized landing area, or tryout the 152 yard version to a very small landing area. Par never looked so good!