Sunset on Watney's Day May be Sunrise on his Career
By: Jay Flemma
It's 7:50 p.m. The sun is setting is setting on Whistling Straits, but third-round leader Nick Watney is still on the practice range hitting balls.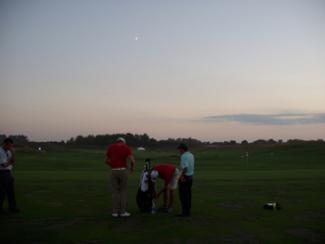 Watney on the Range in the Gloaming
Most other players are at Stefano's Italian restaurant in Sheboygan, digging into a dish of mussels marinara. Or maybe they're in their rented mansion in Kohler having the chef prepare veal tenderloin. Or maybe they're at the American Club somewhere between their second and third Dark and Stormy, Dirty Martini or Bloody Mary.
Meanwhile, Lake Michigan is stunning in the gloaming. As the sun dips over the horizon waving its last goodbye to the day, the sky striates from bold cobalt blue to a rich royal purple, to black. Far to the west, over the towering sand dunes that more resemble Royal Birkdale in Southport, England, than eastern Wisconsin, the clouds burn with a rich cherry ember, and a last searchlight ray of the setting sun casts about, smoldering like a buried ember waiting to catch the world on fire.
Still, Watney continues to hit balls into the sunset, his caddie Chad Reynolds tossing one Titleist Pro-V1 after another. Alone on the range, each ball catapults off the club-head with the report of a gunshot. Whack-isssssssssh! Watney stops to take a bite of a peanut butter and jelly sandwich, then turns back to the drill, one after another, after another.
"I'm actually just winding down," he says, as he stops to sign a few autographs. "I'm not working on anything in particular." Then it's back to the routine.
This is a man who just fired a blistering 66 over one of the most fearsome golf courses in America. He has a three-shot lead over his nearest competitor. He ranks second in the field this week in putting. Sprinting along like Secretariat, he took control of the round yesterday and put the field and the Straits course in a stranglehold. And yet, here he is, grinding away as day turns into night, and as the course is left to the crickets, the foxes, and the wind's forlorn rustle.
Watney is here because he knows one incontrovertible truth about sports and about life: It's not about what you're capable of - it's about what you're willing to do.
Tonight, Watney sleeps on a three-shot lead, but that may be the most unsafe margin in golf. Retief Goosen was in a similar situation in the 2005 U.S. Open at Pinehurst. At that time, next to Tiger, he was the best cast-iron closer. Not only was Goosen the defending champion, he had all the nerves jarred out of him by a lightning strike. He couldn't fold. He was the Dockers-wearing zombie, the Iron Goose! He was a mortal lock, sittin' plush with a Royal Flush, as the song goes.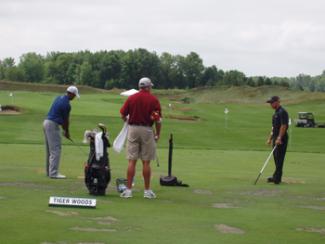 Tiger Woods and Instructor Sean Foley
The next thing we knew, there were "Goose" feathers all over the front nine and Michael Campbell drove off with the trophy, one step ahead of the Carolina State police who still have a warrant for his arrest in the state for highway robbery.

Dustin Johnson, presently in second place, blew a three-shot lead at Pebble Beach this year just as quickly as Goosen did back at Pinehurst. Johnson seemingly owned Pebble Beach, cruising to two consecutive wins there in the AT&T.

He spent that Championship Sunday driving the ball all over Seventeen Mile Drive, and watched as Graeme McDowell drank scotch from the trophy.

Heck, Jean Van de Velde - "Jean of Argh" as venerable Dan Jenkins calls him - had a three-shot lead on the last hole at the 1999 British Open at Car-nasty. He then hit the wrong fairway, a grandstand, rock wall, bunker and Barry Burn on the way to the greatest 72nd-hole flame-out in a century. Golf makes people do crazy things and so does pressure.

Sure, the 29 year-old Watney looks to be in the catbird seat. He had five birdies in the first seven holes Saturday and eight birdies over all. He's taken a paltry 51 putts in the last two rounds. But his driving accuracy has not only been suspect, it has gotten worse every round, from 9/14 to 7/14, to 6/14 in the third round. If the wind kicks up and, with a tough Sunday set-up, one ill-timed mistake could open the door for a host of competitors.

Johnson hasn't had a bogey in the last 29 holes. Northern Ireland's Rory McIlroy (71-68-67) has gotten stronger as the tournament has progressed. In soft windless conditions, the Straits Course surrendered birdies like pints of ale to somebody named Wenchong, who shot 64 and then opened for Devo at '80s hair band reunion. In fact, if we finally get some wind Sunday, anyone within seven shots is still in the tournament, and that includes two phlegmatic and gifted former major winners, Zach Johnson (2007 Masters) and Jim Furyk (2003 U.S. Open).

Moreover, we saw what an angry Whistling Straits course can do the final day of a major. They have bunkers everywhere here, even in locker room and men's grill. At 18 alone, they have water, towering bunkers, hip-high rough, and rocks. The only things Pete Dye forgot to put on 18 were barbed wire, land mines and snipers with Uzis. (He saved those for Kiawah Island.)

In 2004, Vijay Singh shot a closing 76 and needed help from an unlucky gust of wind which knocked down Justin Leonard's approach to the 72nd hole. After he struck the 5-iron shot, Leonard told his caddie, "I just won," but the adjacent ninth fairway creates an insidious wind tunnel, and the resulting bogey dropped Justin into a three-way playoff, which Singh won going away, to hoist the Wanamaker Trophy.

Ah, the Wanamaker, one of the largest heaviest trophies in sports. Twenty-eight inches high, 27 inches across and 30 pounds, it's been hoisted in Bulgarian weightlifter "clean and jerk" fashion by seemingly every great golf champion except Arnold Palmer and Tom Watson. Walter Hagen liked it so much, he refused to give it back. He won four PGA Championships in a row, but in 1928 at Baltimore Country Club when Leo Diegel snapped his 22-consecutive win streak in matches (back when the tournament was match play), Hagen sheepishly moaned that he lost the trophy in a taxicab.

Two years later, a porter cleaning the cellar of a building slated for demolition found a large trunk in the basement. Inside was the Wanamaker. The building housed the Walter Hagen Golf Club Company.

Championship Sunday is the day every kid dreams about, when they pretend with their friends that "this putt is to win the tournament!" Nothing short of your best will do, and sometimes that isn't even enough for that little white ball that has a mind of its own.

There are two things a golf ball does not do: listen and not care. You can put a great swing on it and the next thing you know, it's in Seven Mile Creek and grinning at you like a Cheshire Cat. The Golf Gods are as indiscriminate as Zeus with women. Winning requires exactly what you did when you were a kid: play until you can't see the ball, which is exactly what Nick Watney was doing Saturday night at Whistling Straits.

He's doing exactly what any coach or fan wants to see. In sports, I'll take the hard-working, unselfish team player over the gifted prima donna any day. To switch to a basketball metaphor for a moment, give me the kid who's the first one in the gym and the last one to leave. Give me the kid who dives into the stands for every loose ball. Give me the kid who runs the floor with the same passion whether he's winning by 20 or losing by 20. It takes no less then that to be a champion. As T.S. Eliot wrote, only those who risk going too far find out how far they can go.

And so the sun sets, and darkness falls, and the course is left in lonely eminence, just the lapping waters of Lake Michigan, the tranquil murmur of Seven Mile Creek, and the lonely trill of a bagpipe in the distance. Tomorrow may be, for Nick Watney, a golden sunrise, with such a light as da Vinci would have painted, a grand moment to be savored, and a life changed forever. All it takes is nothing short of everything you have - which is exactly what Nick Watney has given us today.


Since launching his first golf writing website in 2004, http://www.jayflemma.thegolfspace.com, Jay Flemma's comparative analysis of golf designs and knowledge of golf course architecture and golf travel have garnered wide industry respect. In researching his book on America's great public golf courses (and whether they're worth the money), Jay, an associate editor of Cybergolf, has played over 220 nationally ranked public golf courses in 37 different states. Jay has played about 1,649,000 yards of golf - or roughly 938 miles. His pieces on travel and architecture appear in Golf Observer (www.golfobserver.com), Cybergolf and other print magazines. When not researching golf courses for design, value and excitement, Jay is an entertainment, copyright, Internet and trademark lawyer and an Entertainment and Internet Law professor in Manhattan. His clients have been nominated for Grammy and Emmy awards, won a Sundance Film Festival Best Director award, performed on stage and screen, and designed pop art for museums and collectors. Jay lives in Forest Hills, N.Y., and is fiercely loyal to his alma maters, Deerfield Academy in Massachusetts and Trinity College in Connecticut.