Superintendent Returns Home to See Great Bear Golf Club through Highs & Lows
When Keith Snyder first returned to his childhood stomping grounds in the Pocono Mountain region of Northeast Pennsylvania in the mid- to late-1990s, he was a happy man. Now the golf course superintendent is even more delighted knowing he could be staying for a while.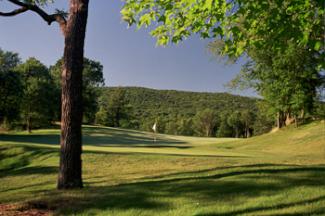 Great Bear Golf Club in the Poconos
With new ownership and a renewed commitment to Snyder's Great Bear Golf Club, he now has a place he can truly call "home." The graduate of Penn State University's vaunted turf management school was working at DuPont Country Club in Wilmington, Del., when he got the call to return to the East Stroudsburg area.

"I always wanted a chance to come back," he said. "Now that I have so much of myself invested in [Great Bear Golf Club] I wouldn't want to be anywhere else. It's a great group here - the members, the staff, the ownership. The support they've shown in preserving the club as the type of golf facility it should be is tremendous. This is a great opportunity for all of us."

Once a private club known as Great Bear Golf & Country Club, the lone Jack Nicklaus signature design in the area was once one of the Northeast's most talked-about new designs. But even a facility with an armload of honors, and an architect with one of golf's most famous names, is not immune to a staggering economy. When the original owners weren't able to keep up with financial pressures the course closed in 2010.
But thanks to the perseverance of Snyder and a local bank that took over the course, the "Great Bear" never really went away - it merely went into hibernation. Despite multiple on-again, off-again periods from 2010 through last year, Snyder and a few members of his original crew kept the course in salvageable shape.

"The golf course suffered just a little for being closed for a while, but the bank was smart enough to keep us around to protect it from catastrophic failures," said Snyder. "We even mowed the greens to in-season heights because we were always hopeful a buyer would come along and we could open it back up right away."

Last fall, one did. Charlie Kirkwood - owner of The Shawnee Inn and Golf Resort, an original A.W. Tillinghast design just three miles away, purchased Great Bear at auction. Wasting no time, the new proprietor began significant improvements to the course by enhancing the greens and refurbishing the bunkers with 120 tons of sand. The practice area was also resurrected.
Now Great Bear is open, back in business and - thanks to Snyder and his team - is in remarkably good shape.

With the Nicklaus signature agreement still in place, guests can be assured of a top-notch golf experience. Further demonstrating the new ownership's commitment, a recent multi-million-dollar investment includes a new fleet of golf carts, repaved parking lot and driveway, new maintenance facility and new maintenance equipment.

Though located in a secluded part of the state, Great Bear is surrounded by a lot of folks. The overall 450-acre property, with 128 home sites, is situated about 90 minutes from New York City and Philadelphia. The golf course itself sprawls across about a third of the acreage with very little intrusion from the residences.
"It is very peaceful and serene," noted Snyder. "There are no parallel holes. When you are on a golf hole, you are out there all by yourself with just your foursome. It's a very nice and relaxing atmosphere when you play here. Any long-time or new member would speak strongly that this is a special place for them."

The Pocono Mountain region has a long history as a resort and tourist destination. For those looking to play Great Bear, now is a great time as the owner is committed to returning the club to its private status and it may not be so readily accessible down the road.

"Everyone involved is excited about this opportunity," said Snyder. "If a course becomes a wasteland, it's better to rip it up and start again. We didn't do that here and we came through it very well."
For more information, visit www.GreatBearGC.com.