Surf Wisconsin - How to Ride the Turbulent Holes at Whistling Straits
By: Jay Flemma
You can score anywhere from 68 to 78 at the topsy-turvy Straits Course at Whistling Straits in Kohler, Wis. In benign conditions and softened by the season-long rains, 21 players - at least those who completed their rounds - finished par Thursday.

When the wind howls off Lake Michigan however, the course is fearsome. In 2004 Vijay Singh won the PGA Championship with the highest closing round in tournament history, a lackluster 76. Let's take a look at the swing holes - "half-par" holes in the vernacular - where players must make a move, or where a par may pick up a shot on the majority of the field.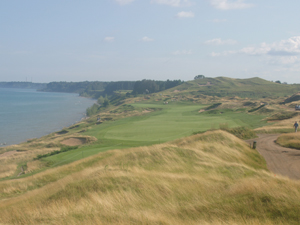 4th Hole at Whistling Straits
Hole 4 - 489 yards, par-4

Though the tee box and green are on the shoreline, the direct line to the hole is guarded by a heaving dunescape of bunkers, 6-inch rough, and lakeside bluffs. With the fairway running diagonally players must bite off as much of the hazard as they dare. "Even with a great drive, you have no less than a hybrid in your hand for the approach," said Anthony Kim. Playing into the prevailing wind, it's the toughest hole on the course.

Round 1 scoring average: 4.54. Scoring average 2004: 4.20.
Hole 5 - 598 yards, par-5

Playing between two man-made irrigation ponds, this is the only hole that looks completely out of place. "Whistling Straits is one of the greatest 17-hole courses in the world," quipped one irreverent wag of a television broadcaster. Named "Snake" for the way the fairway zig-zags in the shape of the letter "Z," players will carry one pond and a sea of cavernous bunkers to the fairway, then either lay up to leave themselves a full wedge or go for the green with anything from a 5-iron to a driver off the deck. In practice rounds, both Pat Perez and Tim Clark launched drivers from the fairway and left themselves with putts of less than 10 feet for eagle. Some players' drives exceeded an astounding 340 yards on this hole.

Round 1 scoring average: 4.58. Scoring average 2004: 4.77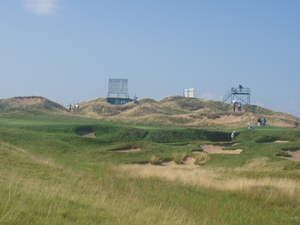 Camilo Villegas Finds the Bunker on the 6th
Hole 6 - 355 yards, par-4

A pint-sized terror, it's the cavernous greenside bunker which bisects the green that defines the hole. "Am I playing golf or spelunking? [Cave Exploring] asked golf broadcaster Steve Czaban, who previewed the course the week before the tournament. The left side of the green is 6,000 square feet, but the right side of the green is only 2,500 square feet. Players will either hit a hybrid and then pitch onto the green, or take their chances with a driver and hope to run it up the left side. If you get in the evil "Gremlin's Ear" bunker, leave a trail of breadcrumbs and bring a lantern, a St. Bernard, and a day's supply of food with you if you hope to get out.

Round 1 scoring average: 3.97. Scoring average 2004: 3.93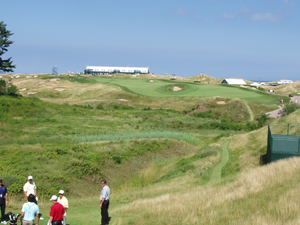 From the 10th Tee at Whistling Straits
Hole 10 - 361 yards, par-4

This hole won the 2004 PGA Championship for Vijay Singh. While Justin Leonard and Chris Di Marco played safely to the heart of the fairway on this uphill dogleg-left, Singh boldly hit driver to the fringe, then got up and down for the birdie that put him in the catbird's seat for the three-hole playoff he eventually won to claim his second Wanamaker Trophy and third major championship.

Round 1 scoring average: 3.81. Scoring average 2004: 3.80
Hole 11 - 618 yards, par-5

If any hole clearly demonstrates how out-of-control technology is in golf, this does. Any hole measuring 618 yards used to be unconquerable, but with today's equipment and playing downwind, players will have wedges in their hands and hope to walk off the green with birdie.

Round 1 scoring average: 4.96. Scoring average 2004: 5.10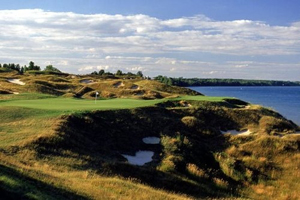 12th Hole at Whistling Straits
Hole 12 - 142 yards, par-3

The shortest hole on the course also has one of the zaniest greens. Once again Pete Dye's unparalleled ability to fool your eye scares players on the tee into making a bad swing. While the left of the putting surface is average-sized for a such a short hole, a tiny island of green peeks out from above the sand dunes and lakeside on the right. "It looks like there is nothing connecting the two sections of the green, but it's an optical illusion," wrote Dye. The portion of the green connecting the two areas is hidden from the tee, but there is actually plenty of room there. Dye has repeated this theme at many of his great courses, including Bulle Rock in Maryland.

Round 1 scoring average: 2.92. Scoring average 2004: 2.94
Hole 17 - 223 yards, par-3

"As you get closer to 18, you try to make it tougher and more interesting," said Pete Dye in an earlier interview with Cybergolf (http://www.cybergolf.com/golf_news/pete_dye_on_whistling_straits). "There's a big bunker left of the green set well below it, and if you hit it down there, you're in real trouble. And that catches pros' eyes pretty good, but there's room to bail out right . . . The right side also has all kinds of bumps and mounds. Any time you build a bail out, you want to make the pitch from there difficult. So you have the tough lies and you have it playing back toward the water and the sand. The illusion from the tee makes it play much harder."

Round 1 scoring average: 3.26. Scoring average 2004: 3.14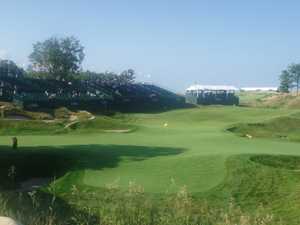 The 18th Green
Hole 18 - 500 yards, par-4

Many people hate this hole, but I think it's a perfect finisher because, a) it's a summation of all that came before, and b) it demands no less than your best drive of the day and best approach of the day to close the round. A long drive sets up an approach over Seven Mile Creek to a shamrock-shaped green with difficult undulations. A par here will pick up a stroke on much of the field.

Round 1 scoring average: 4.40. Scoring average 2004: 4.21

In short, Whistling Straits is a magnificent setting and design for a major championship. Maybe Karl MacGinty is right that Pete Dye puts the "sham" in "shamrock," but he also puts the "rock" in it, too.


Since launching his first golf writing website in 2004, http://www.jayflemma.thegolfspace.com, Jay Flemma's comparative analysis of golf designs and knowledge of golf course architecture and golf travel have garnered wide industry respect. In researching his book on America's great public golf courses (and whether they're worth the money), Jay, an associate editor of Cybergolf, has played over 220 nationally ranked public golf courses in 37 different states. Jay has played about 1,649,000 yards of golf - or roughly 938 miles. His pieces on travel and architecture appear in Golf Observer (www.golfobserver.com), Cybergolf and other print magazines. When not researching golf courses for design, value and excitement, Jay is an entertainment, copyright, Internet and trademark lawyer and an Entertainment and Internet Law professor in Manhattan. His clients have been nominated for Grammy and Emmy awards, won a Sundance Film Festival Best Director award, performed on stage and screen, and designed pop art for museums and collectors. Jay lives in Forest Hills, N.Y., and is fiercely loyal to his alma maters, Deerfield Academy in Massachusetts and Trinity College in Connecticut.