Sustainable Golf Development Receives Support at World Forum
During a packed Environment Session at the World Forum of Golf Architects in St. Andrews, Scotland, the Golf Environment Organization (GEO) debuted draft guidelines for Sustainable Golf Development.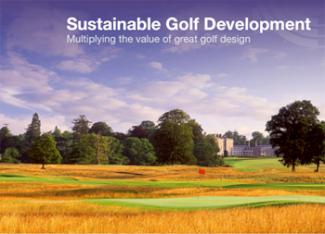 Since the project began in 2009, GEO has been coordinating a team of experts in the creation of globally applicable guidelines that will enable the stakeholders in golf development to achieve higher standards of social, economic and environmental return on investment.
As golf development around the world is increasingly influenced by the expectations of government and local communities, the golf-design industry has recognized that it must take the initiative to foster mutual understanding between developers and regulators, and find common goals and solutions to social and environmental issues. GEO's Development Guidelines will provide a basis for all parties to work constructively in maximizing the shareholder and stakeholder potential of projects. For the first time, golf development has been combined with society's 21st Century sustainability agenda, resulting in a framework of processes, principles and technical information that can be applied to any project, anywhere in the world, from a five-star resort to a six-hole children's course.

After the presentation, Jonathan Smith of GEO said: "We were thrilled to have the opportunity to present this project to such a large and knowledgeable audience, and we are buoyed by the positive feedback and encouragement we received. The combination of credible content and international partnership will represent a robust and valuable statement on behalf of golf architects worldwide - that they recognize and understand their unique opportunity to leave positive long-term social and environmental legacies. We are now set to open the guidance for consultation among selected institute and association representatives during the coming months, with a view to launching the final version at regional events in the second half of 2010."

The summary brochure distributed at the World Forum, also detailing the next steps for the project partners, can be downloaded from www.golfenvironment.org/guidance/new-development.
As host of the Environment Session, European Institute of Golf Course Architects (EIGCA) President David Krause was delighted with the engagement of the international audience: "We were all impressed with GEO's achievements to date and the golf course design industry unanimously agreed to support their Guidelines project. Together with our global colleagues we realize that the future of golf development will depend on a sustainable approach and that our designs will need to evolve in response to environmental and social issues. The EIGCA is proud to have played a leading role in aligning the golf course design industry with GEO's efforts, and we look forward to adopting these guidelines when they are published in the summer."
Speaking on behalf of his ASGCA colleagues, newly inaugurated president Erik Larsen added: "The American Society of Golf Course Architects applauds GEO for their efforts towards establishing guidelines for sustainable golf development. This is an important issue and warrants careful study as it could affect our profession and the golf industry for the long term. We look forward to being involved with GEO to further develop sustainable principles for golf courses."

Takeshi Sato, Chairman of the Japanese Society of Golf Course Architects (JSGCA), was equally supportive: "The JSGCA pledge their full support to the work being undertaken by GEO. The relationship between golf, people and nature must be one of kinship and mutual support. Whether in new development or the renovation of existing facilities, our profession must strive to achieve sustainable outcomes at every opportunity. We applaud GEO's efforts in developing internationally applicable guidelines."
Five-time British Open champion and Patron of the Society of Australian Golf Course Architects (SAGCA), Peter Thomson was keen to speak on behalf of his society: "I am delighted that the golf architects of Europe, the USA, Japan and Australia have pledged to support the initiatives of GEO to provide a common voice for the golf industry on the important issue of golf and the environment. Jonathan Smith and his team are to be congratulated on their work to date and for their Sustainable Golf Development Guidelines. Golf is and has always been a game with nature and it is time that non-golfers became aware of this fact."

R&A Chief Executive Peter Dawson was also pleased by the enthusiastic reception to GEO's challenging project: "The R&A has made substantial financial and ethical investment in the production of these guidelines. Whilst new golf developments that damage the environment and disenfranchise local people do more than anything to harm the game's reputation, we also know that golf facilities can be social, economic and environmental assets. We anticipate that these guidelines will help developers and architects to build courses that are in line with sustainable requirements, and will be of great assistance to planning authorities that seek to better understand the needs of golf and make more informed judgements on project proposals."
About the Sustainable Golf Development Guidelines

Instigated and coordinated by the Golf Environment Organization (GEO), the project has been funded by The R&A, the European Golf Course Owners Association (EGCOA), the European Institute of Golf Course Architects (EIGCA) and the European Tour.

International machinery manufacturer, Ransomes Jacobsen, of the Textron Group, has also contributed significantly to the project as a corporate partner.
About the Golf Environment Organization

The Golf Environment Organization (GEO) is an international non-governmental organization working to enhance the economic, social and environmental benefits of golf. Committed to partnering throughout the global golf community to raise standards, provide productive solutions and objectively appraise and recognize performance, GEO is supported by a global network of partners, patrons, scientists, thought leaders, industry representatives and major organizations such as The European Tour, European Golf Association, WWF, UNEP, and the Golf Club Managers Associations of Europe, America and China.

For additional information, contact Benjamin Warren, GEO Communications Director, at +44 7985 722 995 or by email at benjamin@golfenvironment.org. The organization's website is: http://www.golfenvironment.org.