Sweet Golf Alabama - Part 1
By: David Wood
With all due respect to golf's birthplace in Scotland's Kingdom of Fife, California's majestic Monterey Peninsula, the golf wonderland of New Zealand, and magical Kaua'i with its beguiling ocean-view courses, a new locale on the globe has politely barged into that lofty group of the world's top golf destinations. That locale is the entire state of Alabama. That's right Alabama! The land of Southern hospitality, moon pies, American Idol winner Taylor Hicks, Bear Bryant, and slow-cooked barbeque is now the top golf destination in the United States! There I said it. It needed to be said.
The Robert Trent Jones Golf Trail (www.rtjgolf.com, 800/949-4444) put the state on the golf world map in 1992 with the noble idea of creating accessible, first-rate public courses in hopes of generating much-needed tourist dollars. Before the Trail, Alabama was mostly where vacation seeking folks stopped to eat at a Waffle Hut en route to Disney World. Those days are long past. The Trail now boasts 464 holes spanning the length of the state, from the verdant rolling hills of the north to the pine-lined wetlands in the south. Golf seems to thrive on Alabama's fertile soil.

The Trail courses are shockingly superb. Now that a bunch of new Alabama courses have been built to expand the Trail, the golfing bounty of the state is flourishing even more. Alabama is what the golf world needs more of - plentiful and outstanding golf, welcoming folks genuinely pleased to see you, modest green fees (given the pedigree of the course architects), and layouts challenging for all abilities. Hey, give Alabama its props - they did the whole shebang right.

With that much good golf in one place there are a mind-boggling number of permutations on how to construct a golf vacation in Alabama. Here's how this traveling golfer went about it. After flying into Birmingham via Memphis from the Pacific Northwest, I broke up my trip into three hubs: Birmingham/Tuscaloosa, Montgomery/Prattville, and Mobile. Any of those three could be a golf trip all by itself. Here is Part 1 (of three): golf in the Birmingham/Tuscaloosa area.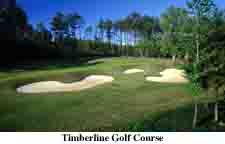 Birmingham/Tuscaloosa

Just outside Birmingham in Calera is the Timberline Golf Course (www.timberlinegc.com, 205/668-7888) - a Jerry Pate design that is all the golf you'll ever need with its tranquil holes meandering peacefully along the gently rolling hills flanked by hardwoods and pines. Natural is the word that comes to mind when playing a Pate course - he seems to have a knack for the letting the terrain tell him where the holes need to be.

From the start - a 457-yard par-4 with a water hazard on the right framing your opening tee-shot and making you bail left so as not to begin with a penalty shot, you're well aware that this is big-time golf right from the get-go. My favorite hole was the 4th - a 438-yard par-4 -which requires a drive up and over a series of four fairways bunkers banked into the start of the upslope of the landing area and challenging anything not hit with full authority. The second plays to an undulating green with an insidious bunker and a swath of forest zealously guarding the left. The hole is a wonderful combination of excellent course design co-existing in harmony with the native topography.     
I also loved the 14th - a two-shotter of 426 yards with a tabletop green slanted every which way but level. It's another natural hole that Pate thought out well. The excellent holes go on and on: the banana-shaped par-5 15th with fairway bunkers residing exactly where your ball needs to travel; the diabolical 17th - a shortish par-4 with a creek gobbling up any drive attempting too courageous a line off the tee; and the stern 18th of 443 yards and requiring all your golfing prowess for hope of a par. Timberline is further proof that Pate is nearing the head-of-the-class in golf course architecture. For accommodations in the area, try the comfortable Hilton Garden Inn in Tuscaloosa (205/722-0360) or contact the Tuscaloosa Visitors Bureau (www.visittuscaloosa.com, 800/538-8696), they'll have loads of ideas.

Ol' Colony (www.tcpara.org, 205/562-3201) in Tuscaloosa is another Jerry Pate gem and one of the best municipal courses in the U.S. Owned by Tuscaloosa County, Ol' Colony is a strategic layout requiring a bit of pondering and chin-scratching before giving your ball a whack willy-nilly. Attention must be paid! Though not overly long at 6,464 yards, tall pines and beefy oaks gobble up wayward drives as doglegs tempt you to cut the corner at your peril.

This gently rolling land was once a plantation and there is indeed an old Southern charm to the layout. A serenely still 25-acre lake protects par on the 9th and 18th - both par-4s and tough finishers for their respective nines. Mr. Pate's sharp-edged Scottish-style bunkering must be avoided as well so as not to ruin your golfing day. Ol' Colony is as good a muni you're going to find east of Torrey Pines.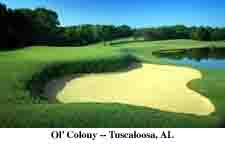 After playing Ol' Colony, go tour the University of Alabama campus - Pate's alma mater - and take in the Bryant-Denny Stadium in that football-crazed locale. And no visit to Tuscaloosa is complete without dinner at Dreamland BBQ (205/758-8135), where no-nonsense ribs are served family style in heaping piles of succulent meat that will have you licking your fingers for weeks in hopes of one more little taste of that glorious sauce. And while at Dreamland eat as much as you can hold (which isn't hard to accomplish). You're going to need all the nutrition you can get before tackling the super-sized golf of Ross Bridge.
Playing the Ross Bridge course at the Renaissance Ross Bridge Golf Resort and Spa (www.rossbridgeresort.com, 800/593-6419) is golf for the next strain of humans or perhaps aliens in UFOs visiting our planet with their clubs in tow! This is steroidal-strength, monster-length golf playing to 8,191 yards from the back tees! 8,191 yards! The distance from some of the back tee boxes to the greens was so long, I was surprised there wasn't a Stucky's halfway there.

This is a dramatic venue in which to play the ancient game, if only just to say you played on one of the most difficult courses in the world. The course is the third-longest track in the game. The idea of Ross Bridge was to create a golfing experience you won't soon forget to accompany the more standard fare of its golfing brethren on the Robert Trent Jones Trail. And what a unique golfing experience it is! In my worldwide golfing travels, I have to say I've never played anywhere quite like it.

The first four holes make you wonder just what the heck is in store for you and your golf ball of choice. The 620-yard, par-5 first commences with a blind drive over a rise to a serpentine landing area with more room left than one would think. The uphill green is well guarded with four bunkers in front and water to the right and seems as far away as the horizon. And to complicate the issue further, there is water down the entire left in play on your drive and lay-up. It leaves the impression that one is in for a long day on those arduous links.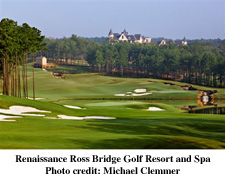 After the 467-yard 2nd, which plays downhill (but that's about the only break you get as oblong green is protected by water on three sides), the big bully 3rd parallels the first hole with the water now skirting its entire length of 470 yards while playing to a par of four - which would have seemed more like a birdie if had negotiated its perils correctly, which I didn't. Prudently avoiding the water and erring to the right brings into play two figure-8 shaped, thuggish bunkers - one in fairway where your drive wants to go and the other standing lookout while abutting the oval green's right flank. This hole is as testing as they come and we're still only one-sixth of the way through the round! Do we get to catch our breath? No. Not with the panic attack inducing 4th lurking next.
The treacherous 4th plays back over the same body of water and is an all-carry par-3 of 226 yards; however, it looks farther because of the unforgiving watery grave mocking your already frayed nerves. Take more club than you think and give it a go; if you're not on the green, you're in a heap of trouble short or long, or left or right for that matter. The hole is a par-5 disguised as a par-3. It's tough to find a more difficult start to round of golf than what in store for you at Ross Bridge.

After the 4th the course becomes more of a "what-you-see-is-what-you-get," and I found the remainder of the holes to be quite playable and not nearly so visually intimating. I'm not saying they aren't in the upper percentiles of difficulty, because they are, but you can quit worrying about shooting 200! I should note that I played from the tees at around 6,800 yards - which is more than enough golf for me. I can't imagine a more difficult test from the 8,191-yard tips. Good luck if you decide to give that a go. Make sure you bring a compass, relief flares, and a trail of breadcrumbs to find your way around. You're going to need all the help you can muster up.

Staying at the award-winning Renaissance Ross Bridge Golf Resort and Spa is the perfect way to soothe your now fragile golfing psyche as its 259 spacious rooms (all with a view of the course) are as comfy and elegant as the golf is hard. This hotel would be grand in any spot on Earth. There is a 12,000-square-foot spa to pamper and soak, wonderful dining at the Mediterranean-influenced Brock's, and dark-hued, leather-bound JT's Bar just off the lobby to get something potent to drink and relax in the plush surroundings.

Forgetting for a moment my whereabouts, I sat in JT's with a whiskey and pondered exactly where I was on the globe. London? Paris? Nope, Alabama! Perhaps, the world is indeed getting smaller, but not the Ross Bridge golf course. It keeps on going as far as the eye can see.
David Wood - writer, corporate speaker, and humorist - is the author of the soon-to-be published book "Around the World in Eighty Rounds." With several appearances on "Late Night with David Letterman," Wood combines humor with his love for golf and adventurous travel. For comments or inquiries on having him speak to your group, contact David at David@DavidWoodSpeaking.com. His website address is www.DavidWoodSpeaking.com.