Sweet Golf Alabama - Part 2
By: David Wood
Oozing Southern charm and building first-rate locales to play an ancient game created by old Scottish shepherds, Alabama has moved into the upper echelon of golf destinations.
With a ton of golf within its borders, there are a mind-boggling number of permutations on how to construct a golf vacation in Alabama. Here's how this traveling golfer went about it. After flying into Birmingham via Memphis from the Pacific Northwest, I broke up my trip into three hubs: Birmingham/Tuscaloosa, Montgomery/Prattville, and Mobile. Any of these three could be a golf trip all by itself. Here is Part 2 (of three installments for Cybergolf) - golf in the Montgomery/Prattville area.
Montgomery/Prattville

When Dr. David G. Bonner envisioned the Robert Trent Jones Golf Trail in the early 1990s as a vehicle to showcase Alabama's natural beauty and generate much-needed tourism dollars in his home state, I have to believe that the 54 holes at Capitol Hill (800/949-4444 or www.rtjgolf.com) were exactly what he had in mind. Located in Prattville, Capitol Hill is just up the road from the actual state capitol in Montgomery (which can be seen from the course). The excellent golf to be had here made a beeline straight into my golfing heart. Unpretentious, serene, straight-ahead-no-gimmicks golf with holes that make you yearn to play them over and over again, Capitol Hill alone is worth a trip to 22nd state.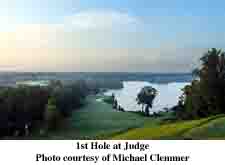 The nearby capitol lends a political motif as the three courses (the only Trail course with three full 18s) are coined: "The Judge," The Senator" and "The Legislator." Built on 1,500 acres of attractive land out in the Prattville countryside, the effect is one of an unhurried ambience of golfing bliss as the hustle and bustle of city life seems as far away as the next horizon over. If only our three branches of government could mesh as well as the different courses here.
One of the pleasures revealed at Capitol Hill is the discovery that each course is unique and as individually fleshed out as a three-act play. The Judge offers one of the special opening tee shots in the game and is very much on a par with the game's premier dramatic first hits at Machrihanish on Scotland's Mull of Kintyre and Portstewart in Northern Ireland. That's heady company, but The Judge's teeing ground off the first affords a wonderful panorama of the wooded countryside and the Alabama River dominating the view between you and downtown Montgomery - it's a glorious vista.
The tee box sits 200 feet above the fairway and, while you're tempted to swing from your heels, be forewarned that the backwaters of the river lurk right and a thicket of bushy trees on the left demand a straight ball with little room for error. If your ball successfully hits the landing strip, the second shot plays to a rippling green of mini-mounds and hollows well-guarded by a ball-eating bunker in front and the water in play once again off to the right. Mr. Jones built a grand beginner that serves as an exciting opening salvo to a fine layout!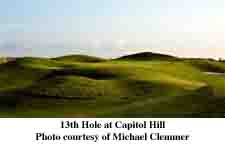 The Legislator, the most traditional of the three courses, is as soothing as a Mozart sonata. However, no symphony orchestra is needed as the chirping birds and swoosh of breezes singing through the flora provide the soundtrack. This layout is a wonderful combination of nature and golf co-existing in harmony as the holes flow peacefully along. The Legislature has a bit of everything as it wanders along a broad scenic bluff, dips down to lower ground flanked by a native cypress swamp that looks primordial, as well as thick patches of pines framing the rolling fairways. Everything about the course reads natural and unhurried. The effect is as tranquil a place to play the game of golf as you'll find.
The Senator is Scottish in character with linksish mounding and 160 menacing pot bunkers scattered throughout to test your swing. Many of the mounds are 20 to 40 feet high and separate the holes to create an aura of privacy. You feel as if there isn't another golfer between you and Montgomery as you match wits with another wonderful Jones design. If the multitudes of pot bunkers were successfully avoided en route, your reward is the superb bent-grass greens that are a joy to putt. Capitol Hill is splendid.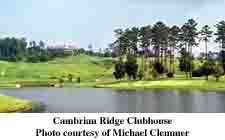 For reasonable accommodations nearby, a good bet is the Marriott at Capitol Hill (334/290-1235). Not to be missed in the area is the gigantic and amazingly-stocked Bass Pro Shop - the Louvre of Bass Fishing, where even a non-fishing city slicker like me is tempted to buy a rod and reel and head for the nearest waterhole. The Bass Pro Shop has an excellent restaurant to boot - the Islamorada Fish Co., which has already done the fishing and cleaning for you - no scaling required. All you have to do is sit back, eat, and enjoy.

Though it's hard to break away from all that golf at Capitol Hill, veterans of the Alabama Robert Trent Jones Trail always plan for a side excursion to Cambrian Ridge (334/382-9787). About an hour's drive away in Greenville, Cambrian Ridge is 36 dramatic holes with most every one a candidate for a golf calendar photograph. An Augusta National feel permeates the whole endeavor as the white clubhouse - complete with a wide Augusta National-style veranda - stands sentinel over the hilly grounds.

Loblolly pines tower above the fairways and still ponds lurks everywhere. The greens invariably are tucked close to the water's edge and many shots require courage and a bit of deep breathing if you're pin-seeking. This isn't golf for the faint-of-heart. Several of the holes have a jaw-dropping consequence as you're not sure whether to play them or get out an easel and start painting. This is first-rate golf in a place which is flat-out gorgeous. Few courses this reasonable monetarily (Cambrian Ridge has been named by Golf Digest as one the nation's 40 Super Value courses) and open to the public are this striking and memorable. So do what Trail veterans do and make sure to play Cambrian Ridge - you'll be thrilled to have visited.

Between Capitol Hill and Cambrian Ridge, you have 90 holes of joyous golf beckoning you to come on down and tee-it-up in the Alabama sunshine. This is golf that will make you an Alabama traveler for the rest of your golfing years. Besides, life is short. What are you in the heck are you waiting for?
David Wood - writer, corporate speaker, and humorist - is the author of the soon-to-be published book "Around the World in Eighty Rounds." With several appearances on "Late Night with David Letterman," Wood combines humor with his love for golf and adventurous travel. For comments or inquiries on having him speak to your group, contact David at David@DavidWoodSpeaking.com. His website address is www.DavidWoodSpeaking.com.