Sweet Golf Alabama - Part 3
By: David Wood
Alabama is a gold mine of golf nuggets with glimmering courses awaiting you - from the foothills of the Appalachian Mountains in the north to the Gulf of Mexico on its southern shores. With such an embarrassment of riches there are multiple permutations for a joyous golf vacation in the Yellowhammer State. Just pick a few courses, any courses really, and you won't go wrong. That's how good it is.

Here's how this traveling golfer went about it. After flying into Birmingham via Memphis from the Pacific Northwest, I broke up my trip into three hubs: Birmingham/Tuscaloosa, Montgomery/Prattville, and Mobile. Any of those three could be a golf trip all by itself. Here is Part Three (of three installments) - golf in Mobile.
Mobile

Alabama doesn't have all that long of a coastline stretch on the Gulf of Mexico - just 32 miles. However, that stretch of seascape contains some of the most wildly gorgeous sandy shores a traveler will find. Beachfronts with sugar-white sand as soft and fluffy as freshly fallen snow give way to pastel sunsets out on the Gulf that will have your blood pressure free-falling. Throw in a bunch of wonderful golf courses, laidback Southern charm, smiling hospitality, heaping mounds of delicious seafood, and one of the finest hotels I've ever stayed at - The Battle House - and I can't figure out for the life of me why I haven't moved there yet.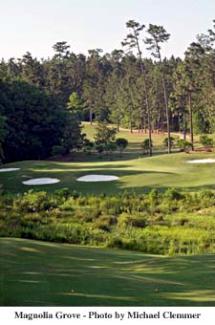 Alabama's Gulf Coast golf is high level. On a previous trip, I had played Kiva Dunes - a Jerry Pate masterpiece abutting the shores of the Gulf - and now having added Magnolia Grove and TimberCreek to my Mobile (www.MobileBay.org) golfing resume, I can tell you pointblank that this is one locale not to be missed.     
With its 54 holes as part of the Robert Trent Jones Trail, Magnolia Grove (www.rtj.com, 251/645-0075) sports two championship 18s - the Crossings and Falls courses - as well as a short track (named one of the best par-3s in America) that is aptly named the "Short Course." The Falls and Crossings were been recognized in Golf Digest's "Best Places to Play" guide. The entire complex is a big testament to clever course design which follows the natural cut of the land. Like most Robert Trent Jones courses, if they choose the correct tees, golfers of all skill levels will enjoy hitting that little white ball in this neck of the Alabama woods.     
Mr. Jones was given a full palette on which to ply his trade as the rolling topography contains thick patches of hardwoods and pines as well as meandering creeks, serene lakes, and marshland chockablock with fauna and flora on which to frame one fine hole after another. As most every hole throughout is secluded by trees, the feeling is one of supreme solitude. Jones certainly gives the golfer much to contemplate during the round.

The Crossings Course - so named as railroad tracks are traversed twice -occupies the highest ground of the property. Several greens, horseshoed by thickets of the aforementioned trees, are perched well above fairway levels and require high shot values (and extra club selection!) for a hope of par. The terrain is surprisingly hilly and the greens often have a diabolical slope that bring into play numerous chances for three-putts (or worse!) if you've approached the wrong side of the flag. Full attention must be paid on where you'd like your shot to finish. This is indeed superlative golf, and it's not even thought to be the main track at Magnolia Grove.

That distinction goes to the Falls and its 7,239 yards of perfectly groomed fairways. Enormous cloverleaf bunkers lurk around the property, silently waiting to dole out a bit of golfing misery for the wayward shot or perhaps one attempting too heroic a line. Contoured greens with more slants than a political operative require a clear mind and deftness of touch to negotiate with any degree of acumen. The Falls is a full examination on the state of your golfing prowess (or lack thereof, as was my case).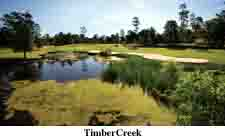 Magnolia Grove offers all the golf you'll ever need to scratch your itch - especially with such reasonable green fees. Both the Falls and Crossings have been in America's Top 50 Affordable Courses with green fees as low as $40 in the winter. You're just not going to find golf of this quality for such prices. Do you need anymore convincing to pack your clubs and get to Mobile forthwith? Let me further my argument.
Once in Mobile, go to TimberCreek (www.GolfTimberCreek.com, 877/621-9900) in nearby Daphne. A 27-hole championship layout designed by Earl Stone, TimberCreek offers roomy, rolling fairways carved from flowering dogwoods, Augusta-like magnolias, and the ubiquitous pines in the region. Many holes flank a wetland preserves teeming with birds and who-knows-what-the-heck-else types of critters hidden from view. TimberCreek offers a welcoming public course with country club amenities and ambience, and is well worth a side excursion.     
In addition to the beaches, two non-golf activities are a must in Mobile. The first is a stay (or at least a visit) to The Battle House (www.RSABattleHouse.com, 251/415-3086) - a Renaissance Hotel in downtown Mobile. The Battle House is Mobile's most historic hotel and is as European as pâté. With grand staircases, cathedral ceilings, and hushed splendor, the elegant hotel could just as easily be on the Champs-Elysées in Paris rather than North Royal Street in Mobile. Forget Alabama, this hotel would stand out anywhere on Earth. The building and accommodations are as grand as Alabama's golf is plenty and excellent. And that's saying something.     
Also not to be missed is lunch or dinner at Wintzell's Oyster House (www.WintzellsOysterHouse.com, 251/432-4605) in the old quarter of Mobile. With heaping mounds of oysters and crabs being brought to your table - this is the good life Gulf Coast style! Just like having the delightful dilemma of whether to play the Falls or Crossings at Magnolia Grove, I was torn between ordering blue crab claws or Oysters Rockefeller both of which I had spied as the wait staff brought huge platters out to smiling hungry customers at nearby tables. Taking the coward's route, I ordered both. What the heck? Why choose when you can eat (and play!) them all. Life and golf are sweet in Alabama.    
David Wood - writer, corporate speaker, and humorist - is the author of the soon-to-be published book "Around the World in Eighty Rounds." With several appearances on "Late Night with David Letterman," Wood combines humor with his love for golf and adventurous travel. For comments or inquiries on having him speak to your group, contact David at David@DavidWoodSpeaking.com. His website address is www.DavidWoodSpeaking.com.