Sweet Summer - New England Style
By: Elisa Gaudet
Summer usually holds great memories and for many of us such moments helped shape our youth. Just like an old song on the radio that instantly brings back memories and a smile to our face, so too are the sights, sounds, smells and experiences of summer.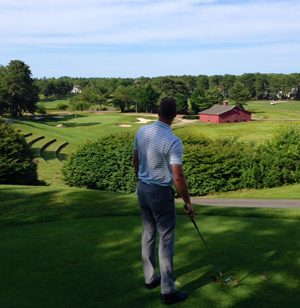 Willowbend's Michael Vidal Looks Out at No. 5
An outdoor shower after swimming, digging your toes in the sand looking for clams, the sounds of children laughing while running on the beach, an outing on a boat, BBQs, the taste of salt on your skin and the warm sensation when you go to bed at night after a day in the sun.

I can now add golfing in the cranberry bogs to my list of summer experiences thanks to a gracious host, Willowbend in Cotuit, Mass., which is comprised of three nine-hole courses: the Bend/Old, Bay and Bog. A number of the elevated tees on the Bog side offer arresting vistas, most notably at No. 5, a par-3 overlooking a New England red barn with an American flag on one side and cranberry bogs around the green.

The vibes at the club are related to fun, family and friendship. Members are engaging, and the playing partner during a recent visit, director of golf Michael Vidal, is the consummate guide and instructor. He gave me the history of the club, including the three nines, and when needed tips to improve my extremely sporadic golf shots.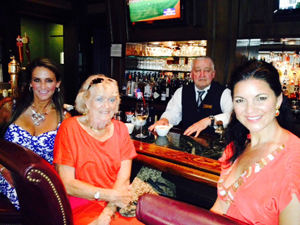 Willowbend Patrons Laurie, Mary,
Bartender Jim & Elisa
Willowbend was created by Southworth Development, led by David Southworth. Whether in corporate America or on Cape Cod, I am always amazed with an organization that has the ability to retain employees for long periods of time. To me, this speaks volumes about the happiness of the staff and the environment in which they work.

Jim has been tending bar at Willowbend for 22 years and, like any seasoned barman, has a specialty drink and wonderful stories. It's no secret that I strongly believe the bar is the beating heart of any great golf club. Here the Willowbend coffee is a signature drink made from Jamison Irish whiskey, homemade whipped cream, and cream de menthe that gives it a green color.

Jim's related that he spent the day following the 2011 U.S. Open at the bar in Willowbend with Rory McIlroy's father Gerry and the 2011 U.S. Open trophy as Rory kept his commitment to a corporate outing at the club hosted by Fireman Capital, 24 hours after his record-setting victory at Congressional.
I read a quote recently that, paraphrased here, says, "If life gives you lemons and you make lemonade hopefully you can find some vodka and have a party."

Since the course really comes alive in September - when the bogs are flooded and the cranberries rise to the top and are harvested - I am thinking I may return with a great bottle of vodka and see if we can make a few Cape Codder drinks and create some new memories.
Elisa Gaudet brings a wealth of entertainment and golf experience to Cybergolf. Elisa has spent the past several years in the golf industry in the U.S., Latin America and Spain. She worked for the PGA Tour and the Tour de las Americas before founding Executive Golf International, a golf marketing company that works with clients to develop strategies using golf as the medium. Often referred to as the Maria Bartiromo (a business analyst for CNBC) of golf, Elisa says: "Golf, as a marketing tool, has been around for years. It's amazing how many new ways companies can align their brand with the golf market to reach their target audience. Our goal is to create alliances and establish cross-border relations." Elisa also worked in the entertainment industry for over 10 years, including five in Los Angeles as a model and actress. She can be seen at many celebrity golf events and often gets the inside scoop from PGA Tour players. In 2011, Elisa published her first book, "Two Good Rounds" (Skyhorse Publishing). Her second book, "Two Good Rounds Superstars," was published in late 2013. Her story for Cybergolf, "Golf a Romantic Affair at Cabin Bluff," won the top prize in ING's 2012 Travel Writing category, and that same year she won the ING's Outstanding Achievement award for the Op/Ed Writing Category for her Cybergolf article, "I Want to Fall in Love with Tiger Again." For more information about Elisa, visit her websites at www.onthelip.com or Executive Golf International www.execgolfintl.com.