Sweetgrass Golf Club at the Island Resort & Casino - Part 2
By: Paul Albanese
In the initial journal entry, we discussed the early steps in creating Sweetgrass Golf Club at the Island Resort & Casino in Michigan's Upper Peninsula. Owned by the Hannahville Indian Community - a band of the Potawatomi Nation, the resort is located about an hour south of Marquette, Mich., and two hours north of Green Bay, Wisc. In this entry, we'll pick up where that left off - in-the-field staking and routing - and start with implementing the master plan.
Master Plan

Once the schematic plans are complete, we refine the plan to create the master plan. This becomes the foundation and vision for the project.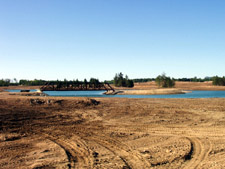 During design development, we walk each hole from the master plan and design the details of how the course will become reality. First, the golf design strategy is developed. This involves creating a proper balance of risk and reward with critical angles of play and determining the slopes of the fairways and greens. The goal is to "make it a fair challenge for all levels of golfers." That may sound trite, but it really is what we try to do. To achieve this we have incorporated many different teeing locations for each hole and analyzed how every feature will likely interact with golfers of all abilities.
In addition to playability, we strive to create golf holes that are aesthetically pleasing. That is, they feature wonderful visual dynamics involving beauty, shadows, form and interesting contours that blend together.
In the case of Sweetgrass, the aesthetic we tried to achieve was long, broad and flowing lines and forms. If you look around at the surrounding context of the site, you'll see that the terrain in general has long vistas, and contours that sweep across the landscape, with the occasional focal point - be it a sinkhole or a lone tree. We wanted the course to have a similar aesthetic and not have it appear out of place. I think we've achieved that. The forms on the golf course have elegant, graceful and fluid contours, and the features we have created are these focal points that catch the eye of the viewer.
Tribal Legends and Culture

Being a part of the Potawtomi Nation, we thought it important to incorporate tribal legend and Indian culture into Sweetgrass. These legacies inform how the subtle forms of the golf hole come to life, but certainly not as a literal translation. The delicate assimilation is more a way to determine how the form of features could develop abstractly but not obvious.
We took an idea, and through the process of iteration, we developed shapes derived from these stories. Many of the bunker personalities (in essence, "bunkeralities") and forms on the golf course have been created through this process. Again, most golfers would not perceive anything other than a really interesting and cool-looking bunker and, after they see such interesting forms, they might read about the story behind that bunker and begin to connect with its form via the story: much like the children's game of looking at clouds and envisioning different characters from them. It takes imagination, and that's what the process is all about.
Shaping features in a way that golfers can clearly see the form of the "animal" is not necessary and may seem contrived, not flowing with the design. It is the iterative design process from a story that is interesting and results in a composition of features that are beautiful. That is what we did here. And of all the fascinating shapes and forms are derivatives of Potawatomi Native stories.
In our next and final journal entry before winter shuts us down, we'll focus on construction drawing and management at Sweetgrass.
About the Architect

Paul Albanese is a principal of Albanese & Lutzke, a member of the American Society of Golf Course Architects and Director of Golf Course Architecture at the Edinburgh College of Art in Scotland. He has worked previously on such notable projects as Timberstone in Iron Mountain, Mich., Mill Creek in Rochester, N.Y., Moose Ridge in South Lyon, Mich., Holiday Valley Resort in Ellicottville, N.Y, Tam-O-Shanter Country Club in West Bloomfield, Mich., and Traditions Golf Club in Edmond, Okla. For more information about Albanese & Lutzke, call 734/667-5150 or visit www.golf-designs.com.