Sweetgrass Opens on Michigan's Upper Peninsula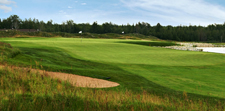 Following years of design and development, Sweetgrass Golf Club has opened in Harris, Mich. The course, which traverses the rolling, windswept hills of the Wolverine State's scenic Upper Peninsula, is part of the Island Resort & Casino.
Owned and operated by the Hannahville Band of the Potawatomi Nation, the course was blessed by the tribe during the opening ceremony. The day also included recognition to those involved in the development, and a traditional lighting of the flame next to the 10th tee. The tribe is known as the "Keepers of the Fire," and the Firekeeper will be honored by a flame on cool mornings - one of many references to the Potawatomi's heritage found around the course.
Architect Paul Albanese honored tribal legend throughout the design and development process. An island green, which fit within the parameters of the land and coincided with the resort's name, pays homage to the turtle - a creature Indian legend holds in high esteem for its longevity and wisdom.
Hallmarks of Sweetgrass are the native grasses alongside holes, while bunkers and water hazards strategically defend par. Historic bridges "rescued" from around the region, and beautifully crafted rockeries, lend a unique look and feel to the design. Boasting five sets of tees, the course ranges in length from 7,300 yards to 5,000 yards from the beginner-friendly forward blocks.
"Sweetgrass Golf Club is truly a unique experience and we're extremely proud to introduce the course to our guests here at the Island Resort & Casino," said general manager Tom McChesney. "Paul Albanese and his team did amazing work and the finished product is not only beautiful, but also a true test of golf."
In addition to the island green, Biarritz and Redan putting complexes are also woven into the design. Sweetgrass features a pair of majestic waterfalls that split the ninth and 18th holes, both of which conclude at a massive shared green that measures nearly 22,000 square feet in size.
The facility is teeing off with a promotional package called the Perfect 4-Some, which starts at $229 and includes three rounds of golf and two nights at the Island Resort & Casino. The package also allows golfers the chance to play nearby Greywalls and TimberStone golf clubs.
Besides the new golf course, the resort recently introduced the Palm Tower, which adds 162 spacious rooms and penthouse suites to the existing Sun Tower's 113 rooms. Also on tap are the Island Showroom, which hosts national acts; the Club Four One nightclub and the Beachcomber Restaurant & Bar; and a Vegas-style gaming floor was expanded with another 500 slot machines.
Sweetgrass Golf Club is accessible via the regional airports in nearby Escanaba and Marquette. For more information about the course or the Island Resort & Casino, call 800/682-6040, ext. 2125 or visit http://www.islandresortandcasino.com/.