Tahquitz Creek Golf Club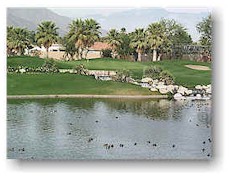 Arnold Palmer is one of the games legends and at Tahquitz Creek there is a legend to match the man. Situated at the foot of the San Jacinto Mountains, Tahquitz Creek gives golfers two courses to test their skill level.

Back in 1959, what is now the Legend course was the Palm Springs municipal course. Originally designed by William Bell, the layout was reworked and renovated in 1996 by the Arnold Palmer Design Company. The city of Palm Springs built the course to attract tourism to the area, but more golfers meant more golf courses, and more golf courses meant more competition which made revenues fall at the facility. In 1995 the city brought in the Palmer management team to help rebuild usage and tournament play. The results of the management change happened quickly, within a year, revenues had grown 40% and there started to be a buzz around town about "The Palmer Course."
The Legend course has a classic layout with tree-lined fairways, nice mountain views and fast greens that are deceptively undulating. Improvements were made to the tee areas and bunkers. Par has changed from 72 to 71 with the reconfiguration. You don't have to be a big hitter to score well either. The yardage from the tips is 6,775. Approach shots and putting is the key to scoring well on this track.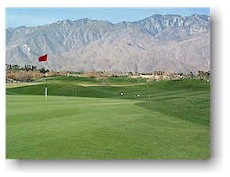 On the flip side is the Resort course, built in 1995 by Ted Robinson Jr. The course was built to help bring even more players back to the area. It's a links-style layout with rolling fairways and lots of water features. The shots you need to depend on are your approach irons. In case you knock one into the desert area, don't worry, you get a free drop!

If you're one of those people that think your clubs are holding you back from that "career" round, Tahquitz has a "Take a Test Drive" program that allows players to rent a set of premium clubs for only $25 a round. The brochure says "Play resort golf without paying for the resort" and based off the current pricing structure, the courses are a bargain. The Resort course will run you from $50 to $90 bucks depending on the day you play with the Legend course rates running from $30 to $65. For high-season golf, it's a pretty good deal.
If your game needs a tune up, Tahquitz Creek offers an on site golf academy to help you and your group take the game to the next level. With the emphasis on quality service at a reasonable price, Tahquitz Creek is a place where you can become a legend.