Taking the Water Route to Work
By: Steve Habel
When it comes time to go to work, Cypress Bend head professional Ken Rams doesn't turn on the radio or television for the local traffic slowdowns. He instead checks for the speed and direction of the wind and the temperature in remote Many, a town located on the west side of the liquid line that separates Louisiana and Texas.
Rams lives right next to the water in Hemphill, Texas, near the area where remains of the Space Shuttle Columbia fell to Earth in February 2003 when it disintegrated during re-entry into the Earth's atmosphere. He usually takes the water route to get to work at the Cypress Bend Resort (www.cypressbend.com), located across the massive Toledo Bend Reservoir in Louisiana. His mode of transportation on most days is a 12-year-old, 18-foot Champion bass boat with a 150-hp motor.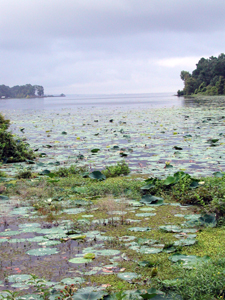 "When the weather is suitable, it takes me about five minutes to get across the lake by boat," Rams said. "If I drove my truck it would take 35-40 minutes to travel the 26 miles one way."
Rams anchors his boat in the high reeds of the lake's inlet by the 10th fairway of the course, and either walks the 300 yards uphill to the clubhouse or takes a cart left for him by staff. He has a long, thick plank hidden in among the lily pads and cypress trees so when he steps off his boat he won't get his shoes wet.
Rams' use of a boat to get to work is a reflection of the slower pace taken by most residents of this part of the world. "When I came down here from Richmond, Va., it took me about a year and a half to get used to the pace," Rams said. "I was just not used to the laid-back atmosphere in Hemphill. It's a small town of 1,100 people. It's nice to know that there are places like this and Cypress Bend still around."
This is Rams' first job at a golf course; he's ascended from volunteer to paid marshal to cart attendant to assistant pro to head pro in his 10 years at Cypress Bend.
"I enjoy fishing, so we came down here two to three times every year," Rams said. "I would go fishing and my wife would visit with her parents. During those years of vacationing on Toledo Bend my wife and I decided that this would be a good place to retire. About 10 years ago, my mother-in-law came down with cancer and she soon passed away. My father-in -law willed the house (in Hemphill) to me and my wife since we enjoyed it so much down here."
There have been a few times that Rams' run across the lake has been more adventurous than others. He easily remembers when he was on the lake and things turned ugly, as high winds, rain and waves almost kept him from getting back to Texas. "There was one time several years ago I came to work in the morning and the lake was as calm as a bathtub," he said. "When I left for home, a nor'easter came in and there were gusts of wind up to 35 mph. I had never been out on the lake in this kind of weather.
"The first half of the trip I was protected by the shore, but when I got to the open water it was like an ocean," Rams said. "There must have been 7-foot waves, and there was one wave that I got on top of and went down the other side and I thought I was going under. Water came up over the bow of the boat, and it scared the hell out me. I don't think that I have ever been that scared in a boat before. After that wave I decided to get up on top of the next one and ride it across the lake. I finally made it, but I was wet and shaken up little. Needless to say I had a newfound respect for this lake."

Since then there have been several other times that storms have come in after Rams had taken his boat to work, and instead he just drove the company vehicle home. "I have had so many good times coming across it's hard to pick just one," Rams said. "I do remember when the Bassmasters were in the area. Where they launch, their boats cross my path going to work, so I had to stop and wait for these boats racing across the lake to get out of my way. Also I have stopped numerous times to do a little fishing before I get to work. Just the other day I was fishing and I saw two bald eagles flying overhead."

Rams is currently an apprentice working towards his PGA membership. Cypress Bend's golf course has three full-time employees, and during the summer Rams usually hires two or three more outside attendants. Even then he works about four and a half days a week and plays in the course's Sunday afternoon scramble.

"We do approximately 20,000 rounds a year at Cypress Bend," Rams said. "I've been here 10 years, and the trend has leveled out the past several years. When we first opened we did 30,000 rounds, but we were new and people wanted to play the new course. We do alright for what we are trying to do."
Steve Habel is an Austin, Texas-based journalist. Since 1990, he has traveled around the globe covering news, business and sports assignments for various news bureaus, newspapers, magazines and websites. He also contributes to Business District magazine in Austin as managing editor and is the Texas football beat writer and a contributing editor for Horns Illustrated, the Austin-based magazine for University of Texas sports. Habel writes a weekly golf column for The River Cities Tribune in Marble Falls, Texas, and is a member of the Texas Golf Writers' Association.