Talamore Golf Resort Offers Refined Golf & Lodging
Back in his heydays, Randy Bolton was a star collegiate running back - a four-year, Winston-Salem State University letterman who helped the Rams go 11-1 in 1977 and again in '78 en route to the Division II national semifinals.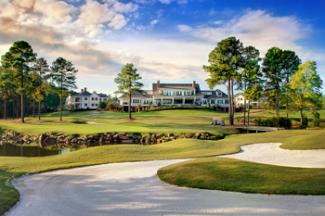 Mid South Club is Part of Talamore Golf Resort
Now known as Dr. Randy Bolton, the retired school principal still carries a competitive torch, which is why 15 years ago he and Charlotte neighbor Rick Martin decided to have a golf outing around the Pinehurst area at Talamore Golf Resort in Southern Pines, N.C.

In the first year, the "BoMar Open" as they call it, attracted eight players. By 2007, their three-day shindig had grown to 80 participants, many of whom return year after year and have started adding an extra day onto the trip. The contestants come from all over the map, with some as far away as New Hampshire and Chicago.

They have enjoyed many of the Sandhills' best-known golf designs, including the Rees Jones gem at Talamore, which Golf Digest named Best New Course in the South, and its Arnold Palmer-designed sister layout, Mid South Club.
Bolton says one night they will go out for dinner in nearby Pinehurst Village, the next they will stay on-site at Talamore Golf Villas or the well-appointed Lodges at Mid South and cook their own meals following a fun and boisterous banquet in the Talamore clubhouse. Some play golf the entire time, others relax and fish in the nearby reservoir or play cards in the cabana.

"I could live right here in these condos," said Bolton. "We love Talamore. It's our home while we are here and (the staff is) fantastic. They make us feel so welcome."

Retired from General Motors, Jack Ives has been putting together golf-buddy trips for the past three decades. But once he and his group discovered Talamore, it has been their permanent home away from home. Now living in Fitchburg, Mass., about 30 miles northwest of Boston, Ives has resided in several different states during his professional career, and his golfing pals come from as far away as the West Coast and Canada.
The Ives group arrives at Sandhills for a full week of golf and has grown from four players to a consistent 20-plus. "Friends invited friends," said Ives, "and once they came, they kept coming." Ives said his group prepares breakfast in the villas, has lunch on the course and dinner somewhere near the Village of Pinehurst. At the end of the week, they hold an awards banquet where everyone walks away with something.

"The banquet tends to get lively. We were the floor show at Bonefish Grill one year," Ives noted. "We give prizes for low score, high score, you name it. We definitely have a lot of laughs. Mostly, though, we play golf and tell some lies."

Another Talamore Golf Resort regular, John Williams of Richmond, Va., brings along 16 friends in mid-summer when the courses are not crowded and the price is right. "We get a two-bedroom condo that is really nice, and it costs less than a motel room," said Williams. "It is so convenient, of course, because you can be in the (Pinehurst) Village so quickly. We love to go to the restaurants in town."
They are among many golf aficionados who regularly visit Talamore Golf Resort, which dates back to 1991 and first made headlines for its famed stable of llama caddies, along with unparalleled customer service. Today, Talamore has become one of the Pinehurst area's premier golf getaways, which is why more than 90 percent of Talamore's customers return or refer new business.

Talamore's clubhouse, pool and cabana are all located next to the villas, which offer fine amenities and panoramic views. The Talamore golf-and-travel experts offer a wide variety of packages and trips that not only include Talamore's 36 golf holes, but more than 20 other courses around the famed Sandhills.

For more information, call 800/552-6292 or visit www.TalamoreGolfResort.com.