Tale of the Tape: The Landings vs. Reynolds Plantation
By: Joel Zuckerman
When it comes to multi-course, golf-real estate communities in the great state of Georgia, there are only two true contenders (apologies in advance to Chateau Elan, Callaway Gardens, Sea Island Resort, etc.).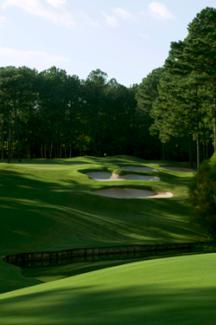 The 15th Hole at The Landing
at Reynolds Plantation
Like Bird vs. Magic, Ali vs. Frazier or Hertz vs. Avis, it is the Landings Club on Skidaway Island, just outside of Savannah, in one corner. And in the other, the newer kid on the block, Reynolds Plantation, about 90-odd minutes from downtown Atlanta and hard by massive Lake Oconee.

Both developments have multiple golf courses, thousands of "rooftops" (i.e., homes) and myriad charms and amenities. But for all their fundamental similarities there are dozens of differences - some subtle, some sizable. Here is a "Tale of the Tape" along with some associated commentary, on these two Georgia juggernauts.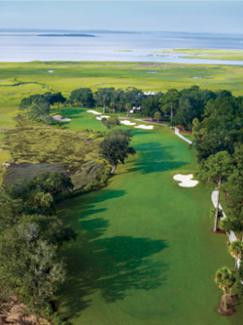 9th Hole at Plantation Course
at The Landings
Golf

This is the crux of the matter. The Landings offers six championship courses designed by Tom Fazio, Arnold Palmer, Arthur Hills and Willard Byrd. The courses, by virtue of their Lowcountry location, lack notable elevation change. The marsh and water vistas make the majority of the courses very scenic, and they are all interesting from a strategic standpoint. The housing presence is quite prevalent, as many/most of the 108 holes on property have homes set back discreetly, or more noticeable, and closer to the lines of play.

Reynolds Plantation also offers six courses, but a total of 117 holes, as one of the facilities is a 27-hole venue. The architects are Fazio, Rees Jones, Jack Nicklaus, Bob Cupp and Jim Engh. Reynolds' courses are bigger, set upon a larger footprint and, owing to the middle Georgia terrain, have far more elevation changes than what's found along the coast. They are also newer courses, and while there is definitely a housing presence on the periphery of a good number of the holes, generally it is not as prevalent as what's found at The Landings. Edge: Reynolds

Golf Instruction

The Landings team is led by the highly-regarded young instructor, Nicole Weller, named one of the top-40 teachers under 40 by Golf Digest, and one of U.S. Kids Golf Top-50 teachers, among other accolades. There are also another dozen or so pros and assistants who give hourly lessons. Meanwhile, Reynolds Plantation is a bit more comprehensive in scope. They have Charlie King on staff, one of Golf Magazine's top-100 Instructors, who operates a highly regarded short-game school. They also have the Taylor-Made Kingdom on-site at the Ritz-Carlton Hotel, which offers an extremely high level of custom club-fitting, club-building and video analysis. Edge: Reynolds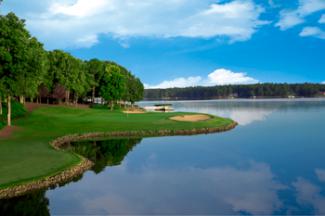 The Par-3 14th at Great Waters at Reynolds Plantation
Public vs. Private

Referenced in the previous paragraph's mention of the on-site Ritz-Carlton, one of the most glaring differences in the communities is the fact that The Landings Club is completely private, while Reynolds Plantation has a resort/vacation element. Visitors to The Landings are either the guests of members, bona fide real-estate prospects touring the community, or members of the Private Club Network, which offers reciprocity at private golf clubs nationwide. However, Reynolds Plantation welcomes visitors not only at the Ritz, but also to its pool of rental condos and cottages. Guest play accounts for about 20 percent of the overall play at Reynolds. Edge: The Landings

Community

This category goes hand-in-glove with the previous one. Simply put, the vast majority of Landings residents live there full time. Most Reynolds Plantation residents are there only part of the time, as it's by and large a second-home community rather than a primary residence. Case in point: The Landings has hundreds and hundreds of school-age children among its approximately 10,000 residents and a full complement of athletic, aquatic and art-centered programs to serve them. Reynolds does have a few families and children living in residence, but it is the great exception, certainly not the rule. Edge: The Landings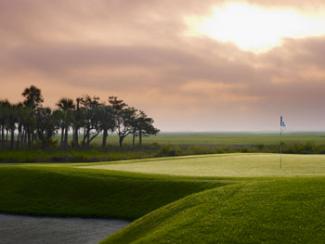 14th Green at
The Landings' Palmetto Course
Nearness to Airport

The Landings is about 40 minutes from the Savannah-Hilton Head Airport, which offers perhaps a dozen non-stop destinations. It's about 40 minutes by the air to Atlanta, which offers about 200 nonstop destinations, one-third of which are international. It is also about two hours and 15 minutes from Jacksonville International Airport, which offers three dozen nonstop destinations. Reynolds Plantation is 90 miles from the Atlanta Airport, or about an hour and 45 minutes, depending on the vagaries of traffic. But because flying has become such a hassle, it's probably better to drive further, deal with the hassles of traffic and that massive airport, and get where you're going in one flight, as opposed to connecting. Edge: Reynolds (but it's really a matter of preference)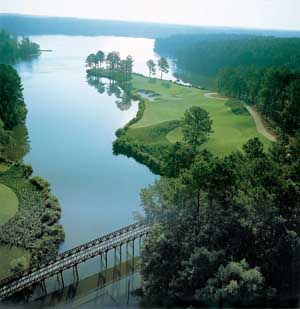 An Aerial View of No. 15 at at
Reynolds Plantation's Oconee Course
Proximity

The Landings is located on an island east of the Intercoastal Waterway. Reynolds Plantation is spread out, surrounds massive Lake Oconee, and is well out in the countryside. One can traverse The Landings in a golf cart and circumnavigate to all six golf courses, four clubhouses, two marinas, a comprehensive tennis center, fitness center, etc., in an hour or so. Because of the layout of Reynolds, one needs to leave the community by car to access Great Waters Golf Club (unless you can use a boat to traverse Lake Oconee). Furthermore, the Oconee Course near the Ritz-Carlton - called The Landing (no plural), which is another of the club's courses, and their newest golf offering, the Creek Club, are all located a distance away, necessitating the use of an automobile. Edge: The Landings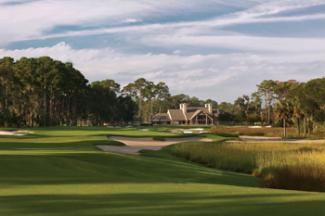 18th Hole at The Landings' Deer Creek Course
Food Quality

Certainly a matter of opinion, but the general consensus is that Reynolds Plantation will offer a higher-quality product on a more consistent basis. The fact is that they plow more of their restaurant gross revenue back into the kitchen than does The Landings Club, and consequently the food service is on another level entirely. The Landings is moving in the right direction, though, most notably with the introduction of the Oakridge Steakhouse. But it is still well behind. Edge: Reynolds

Culture

Reynolds Plantation does a wonderful job of importing talent. OPAS (Oconee Performing Arts Society) has imported talent like Marvin Hamlisch, John Lithgow, Crystal Gayle and Michael Feinstein in recent years. But why bring the mountain to Mohammed when it's so easy for Mo to head for the hills? Downtown Savannah (maybe 20 minutes from The Landings) is jammed with cultural jamborees - the Music Festival, Jazz Festival, Film Festival, and Book Festival, to name but four. Because it's a city, it attracts musicians, artists, comedians and touring theatrical companies on a regular basis. Edge: The Landings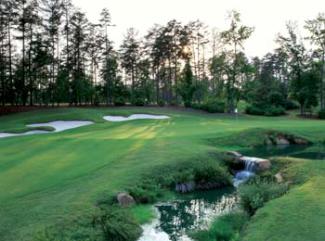 No. 8 on National's Bluff Nine at at Reynolds Plantation
Club Structure

At The Landings, you can be a social, tennis or golf member, much as you'll find at private clubs everywhere. When you are a golf member, you are a member of all six courses simultaneously; it's an "all or nothing" system. Conversely, at Reynolds there are several tiers of membership and include either three of the courses, five of the courses, or the "gold-plated" membership, including all the courses. Some might argue this offers a degree of customization that is appealing, although the converse argument here is that it is convoluted and introduces the concept of class-consciousness. Edge: The Landings

Pricing

Generally speaking, prime housing (i.e, lakeside) is going to be more expensive at Reynolds Plantation. Lakeside homes run from $2 million to $4 million, and there are several homes in the $5 million range. One showpiece on the market goes for $13 million. Of course, inland homes away from the lake can be purchased for far less. By contrast, The Landings tops out at about $3 million, just a handful of properties above $2 million, and lovely, spacious, modern homes are available in the middle-to-upper six figures. As for club fees, a top-end membership at Reynolds Plantation is $110,000. But you only need two bits at The Landings for every dollar at Reynolds. Current initiation for a full golf membership is $28,000. Edge: The Landings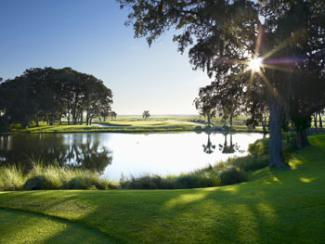 Marshwood's 12th Green at The Landings
Boating

This activity is a central aspect of life at Reynolds Plantation, and more on the periphery at The Landings. Reynolds is, of course, built on or around Lake Oconee, and while this is not the most scenic lake its proximity and omnipresence adds greatly to the quality of life, not to mention the aesthetic value of many of the homes and golf holes. The lake is also very popular for swimming, fishing, jet-skiing, etc. The Landings has marinas on both the north and south ends of the island, with the northern flank featuring dry-dock storage. The golden marshland of the region can be breathtaking, but saltwater isn't as appealing to many people and the industrial gestalt of the waterways north of the island, with storage tanks, power lines and the utilitarian nature of the nearby Savannah River, are further detractions. Edge: Reynolds

The final word comes from The Landings' general manager Steven Freund, who has a unique perspective. He came to Savannah from a similar capacity at the Ritz-Carlton at Lake Oconee. "The Landings is a living community. Not a resort community or a retirement community," says Freund. "It's where people come to establish a life, put down roots and get integrated, not only in the lifestyle, but also with everything that goes on in the Coastal Empire.

"Reynolds Plantation is beautiful, magnificently developed and quite modern, but there are many residents who purchase there as a second- or third-home option. They aren't there year-round, and there's also the resort and rental influence. There are a small percentage of homes there in the rental market, homes that are occupied for three or four days by folks coming in to enjoy some golf or other amenities. It feels more transient than does The Landings, where people come to live, develop friendships for life, and make an impact on the community at large.

"Members of The Landings appreciate amenities that are functional, well-maintained, have high utilitarian value and are very nice," adds Freund. "Reynolds Plantation has amenities that are mostly newer; the courses are more modern, brawnier, with less of a housing presence and developed on more acreage. It's a different style of living. Reynolds Plantation has more flowing terrain and some notable elevation changes, and The Landings provides the marsh vistas, sea breezes and the salt air. Both communities are outstanding; it just depends on personal preference."
Joel Zuckerman, called "One of the Southeast's most respected and sought-after golf writers" by Golfer's Guide Magazine, is a longtime Landings resident, and frequent visitor to Reynolds Plantation. His five books to date include "Pete Dye - Golf Courses," which was honored as "Book of the Year" by the International Network of Golf. His sixth book, titled "The Kiawah Mystique," will be released in spring 2012. Joel's course reviews, player profiles, essays and features have appeared in 110 publications, including Sports Illustrated, Golf, Continental Magazine and Delta's Sky Magazine. He has played nearly 800 courses in 40-plus states and a dozen countries. For more about Joel, visit visit www.vagabondgolfer.com.