Talented Blind Golfer Just as Impressive off the Course
Going blind opened the eyes of Jeremy Poincenot to many opportunities. He found out first-hand that people who are legally blind can still participate in cycling, distance running and run a small business. Most incredibly, he learned that he could still be a successful golfer, in spite of his blindness.
Jeremy Accepts Trophy for Win in
World Blind Golf Championships
This was very good news to the Carlsbad, Calif., native, as Poincenot inherited a passion for the game from his parents who met when both worked in the golf industry (his dad, Lionel, still works in product development at Callaway Golf Company). "I grew up golfing with my dad every Sunday since I was 11," he said.

These outings were threatened in late 2008, when Poincenot, then a 19-year-old San Diego State student, noticed blurry vision first in one eye, then the other within a matter of weeks. After a frustrating series of inconclusive tests and unnecessary treatments, he was told that he had Leber's Hereditary Optic Neuropathy (LHON), a rare genetic disorder that strikes mostly young men. LHON has no treatment and no cure.

Today, Poincenot describes his vision as "something like a doughnut" with no vision in the middle, but clear peripheral vision.
As one can imagine, the challenges of LHON resulted in major lifestyle changes. He can no longer drive a car and must memorize his path to his classes before the start of each semester. While he doesn't read Braille, his still-intact peripheral vision allows him to read a book or computer screen when greatly magnified. He cannot recognize faces, but most people who know him have learned to tell him their name as they start a conversation.

Even with the obstacles created by his LHON, Poincenot still found a way to participate in his favorite sport when, in spring 2009, his mother told him about the U.S. Blind Golf Association. At first Poincenot wasn't sold on the idea of being a visually impaired golfer, but the more he thought about it, the more he warmed to the idea.

With his father on board to help, Poincenot found that once he got his feet lined up correctly and was told distances, he was able to play 18 holes, with impressive results. At his first tournament in September 2009, he placed second in his sight category. Since then he has won several tournaments, including the 2010 World Blind Golf Championships in England and the 2011 U.S. National Championships in Georgia. He was also invited to play in events in Japan and China to raise awareness of blind golf, as well as in the 2011 PGA Farmers Insurance Pro-Am at Torrey Pines in La Jolla.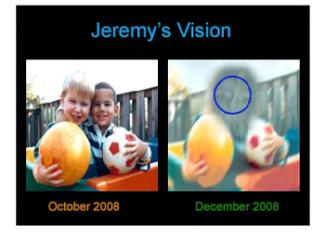 But there's a lot more to Poincenot than just being a golfer: three years ago, he and a friend founded an annual bike ride from Santa Barbara to San Diego called Cycling Under Reduced Eyesight (C.U.R.E.) which has raised over $50,000 for LHON research since its inception. He also ran the Carlsbad Half-Marathon in 2010 and, until recently, helped to manage a small clothing business, Dienasty Select, which he established with two fraternity brothers.

When Poincenot graduates from SDSU in the spring of 2013 with his degree in management/entrepreneurship, he plans to expand his developing career as a motivational speaker and, of course, to continue to work on his golf game in between speaking engagements.

The above report is courtesy of San Diego State University.