Talk About Extreme Makeovers
Chevy Chase Country Club in Wheeling, Ill., used to be a run-down, municipal track surrounded by suburban homes with wet basements. Today, those basements are dry and the golf course, renamed The Traditions at Chevy Chase, has earned national acclaim for the sweeping, golf-improving, water-retaining refurbishment crafted by Marengo, Ill.-based Lohmann Golf Designs.
In mid-April, The Traditions at Chevy Chase and White Manor Country Club in Malvern, Penn., won the daily-fee and private club divisions, respectively, in Golf Inc. magazine's inaugural "Renovation of the Year" competition. Golf Inc. judges evaluated entries from across the country on four criteria: how well the renovation achieved the overall project goal (40 percent); whether or not the aesthetics were improved (20 percent); whether course playability was improved (20 percent); and whether the course's maintainability was improved (20 percent).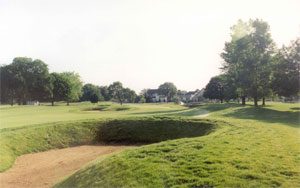 Lohmann's work in all four categories earned The Traditions top honors, beating out second-place Grande Pines Golf Club in Orlando, Fla. Other finalists included Harding Park Municipal in San Francisco, Calif., a course now under serious consideration to host the PGA Tour's season-ending Tour Championship.

"We're proud of the results we achieved at Chevy Chase, and it's gratifying to see how well we fared considering the stiff competition," said Bob Lohmann, president and founder of Lohmann Golf Designs. "From a course design standpoint, even though it's a 1925 Tom Bendelow design, no one would have described the old Chevy Chase as a 'classic.' But it looks and plays that way today; it boasts a vintage quality it never had before. It's not often that we have the opportunity to combine that sort of design transformation with an important non-golfing objective, like helping this neighborhood deal with its flood waters. I think everyone views the Chevy Chase project as a win-win."
Much of this park district-owned layout is located within the tributary flood plain of the Des Plaines River. For years, when it rained heavily, the course was rendered totally unplayable. Not just for a day or two, but for weeks. One year in particular, according to Wheeling Park District executive director Jan Buchs, the facility lost a third of its season. What's more, several neighborhoods abutting the course also suffered (in the form of flooded basements) from the adverse stormwater-retention situation.
"What we did was store all that water more efficiently on the golf course itself, and create a scheme for getting it off the property more efficiently," explains Todd Quitno, the senior architect who headed up the Chevy Chase project for Lohmann Golf Designs. "We took the creek that wound through the entire property and, in key areas, transformed it into a series of retention ponds. This new arrangement allows the golf course property to hold several times the amount of water it once did. We also made sure to efficiently pipe the water from these ponds back into the tributary to the Des Plaines [River], at a rate it could handle."
Naturally, Lohmann's rerouting also positively affected the golf course itself, providing better drainage to perpetually soggy fairways and eliminating some "funky forced carries that were overly penal to middle- and high-handicap golfers," Quitno says. "On the 10th, for example, this creek used to cut across the fairway some 100 yards from the tee, which drove higher handicap players crazy. We rerouted the creek to create a retention pond that now exists as a lateral hazard. It's a far more user-friendly hole today."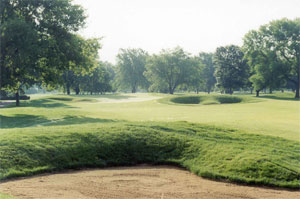 With help from The Bruce Co. – the Janesville, Wis. firm that served as contractor on the project – Lohmann completely revitalized every hole at Chevy Chase with new greens and bunker schemes befitting a course of this vintage. "The 1st hole," says Quitno, "is probably my favorite because the changes were so simple but the results so dramatic. The hole faces east, and in the evening the shadows that roll off the new bunkers are quite beautiful. And The Bruce Co. did such a great job of tying the bunkers into the landscape, they look like they've always been there."

Lohmann's work also involved the complete rerouting of certain holes. The 9th, for example, used to be a 120-yard pitch to a non-descript putting surface. Now it plays 200 yards over water to an area that had been the old practice green, which is marvelously framed by Chevy Chase's stately Tudor clubhouse.
The Wheeling Park District secured a $1.6 million debt certificate to fund the project and closed the course for all of the 2002 golf season. The newly renovated Traditions at Chevy Chase made its debut in July of 2003, signaling the dawn of a new era for this community-owned course. "We didn't just open what is essentially a new golf course; we entered a new market. A more upscale, high-quality market," said the park district's Buchs. "We've done a lot of renovation throughout the park district and the golf course was the last existing property to bring up to the next level. We renovated the clubhouse and banquet facility beforehand and wanted the course to measure up. Before, they didn't complement one another; now they mirror one another."

Lohmann Golf Designs (LGD) and its sister construction division, Golf Creations, have lent their renovation expertise to more than 60 courses across the Midwest. Indeed, Bob Lohmann recently moderated a Chicagoland session of Remodeling University, a roving seminar program sponsored by the American Society of Golf Course Architects (ASGCA), aimed at assisting golf facilities currently weighing their renovation options. Lohmann is a past president of the ASGCA.

LGD is also responsible for more than 30 original golf course designs, including The Merit Club in Gurnee, Ill., site of the 2000 U.S. Women's Open, and an 18-hole estate golf club now under construction in Marshall, Ill. LGD's first East Coast design – Mattaponi Springs Golf Club at Penola Station, in Ruther Glen, Va. – will open for play later this year.