Talking Head Covers
By: Elisa Gaudet
Imagine if golf head covers could talk, the stories they would tell. The choice of a head cover can reveal a great deal about a golfers personality. Some are novelty designs specifically created for the individual golfer and others are merely stylish and basic. Many of the PGA Tour pros have their own distinct head covers that serve as trusty mascots. These bag buddies remind them of home, their sense of style and the love of family.
Tiger Woods The nickname "Tiger" was given to him by his father. It's the same nick-name of a South Vietnamese combat buddy, Nguyen Phong, who saved Tiger's father's life during the Vietnam War. Tiger Woods' mother handmade his club head cover. The words "Love from Mom," in Thai, are stitched on it. No surprise the only head cover to actually speak is Tigerís, another overachiever. Nike produced a series of ads featuring Tigers famous mascot, Frank. In a rare interview in USA Today, we learn more.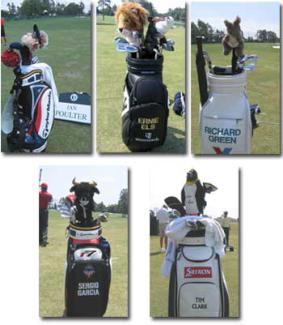 Q. Howíd you get the name Frank?

A: Iíve always said whatís on my mind. You know, Iím Frank.

Q. On the road, do you stay in Tigerís room or do you get stuck in bag storage at the course?

A: Are you asking me if Tiger sleeps with his clubs? Thatís just sick. Besides, I donít sleep. You can do that when you have glass eyes. You donít have any eyelids.

Sergio Garcia No surprise this Spaniard chooses the ďToroĒ as his bag tag-along. ďThese head covers, a black bull for the driver and a brown bull for the 3-wood, remind me of my home in Spain,Ē said Garcia.
Ernie Els South African golfer and wine-maker Ernie Els had his kids pick out his head covers. This lion and warthog are equally at home in Africa as they are traveling around the world with one of the worlds best golfers.
Ian Poulter †Ian Poulter isnít just an excellent golfer. Heís also gained fame for making a fashion statement. The Englishman, known for wearing a pink shirt and pink pants, had his caddie tote a pink bag that listed on Poulter's website (www.ianpoulter.com). His head cover is a caricature of himself, with spiked hair and a visor. When asked about his pink fashion choices and his website address on the bag, he said: "It can only help. I'm a noticeable character out there anyway, everybody knows that.Ē
Richard Green Richard Green carries an Australian symbol, the wallaby, which is native to his homeland. The Tammar wallaby was the first kangaroo-type of animal seen by Westerners. It was discovered in 1629 by the crew of a Dutch ship stranded near the Wallaby Islands. One hundred and forty years later Captain Cook officially discovered the kangaroos when he landed in Australia.
Tim Clark Tim Clark has a penguin named Henry that keeps him company. Tim is another South African who enjoys animals. His fan club is called the Safari Club, and you can find photos of Henry in the photo gallery at www.tim-clark.com.†††††
Itís a virtual Animal Farm on the PGA Tour. Imagine if these animals could talk? There may very well be room for a golf head cover reality talk show. Think ďAmerican IdolĒ meets the PGA Tour meets Oprah or . . . maybe not. Maybe itís best to stick with the visuals and let the head covers keep their secrets.
Elisa Gaudet brings a wealth of entertainment and golf experience to Cybergolf. Elisa has spent the past several years in the golf industry in the U.S., Latin America and Spain. She worked for the PGA Tour and the Tour de las Americas before founding Executive Golf International, a golf marketing company that works with clients to develop strategies using golf as the medium. Often referred to as the Maria Bartiromo (a business analyst for CNBC) of golf, Elisa says: ďGolf, as a marketing tool, has been around for years. Itís amazing how many new ways companies can align their brand with the golf market to reach their target audience. Our goal is to create alliances and establish cross-border relations.Ē Elisa also worked in the entertainment industry for over 10 years, including five in Los Angeles as a model and actress. She can be seen at many celebrity golf events and often gets the inside scoop from PGA Tour players. For more information about Elisa, visit her websites at www.onthelip.com or Executive Golf International www.execgolfintl.com.