Tamarack Resort to Feature Nicklaus Golf Academy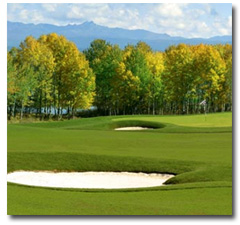 Tamarack Resort in Idaho's Payette River Mountains has reached an agreement with the Nicklaus Academies, to provide golf instruction. The Jack Nicklaus Academy of Golf will complement the experience at Osprey Meadows, Tamarack's newly-opened course.

The Jack Nicklaus Academy of Golf at Tamarack will provide full-service golf instruction for every skill level, catering to business groups as well as individuals. The curriculum was developed by Jack Nicklaus and Mike Malaska, Nicklaus Academies Worldwide Director of Instruction and a top instructor. Personalized instruction and proprietary technology will be used in lessons and multi-day clinics to ensure each student receives the best instruction based on their individual needs, physical ability and desired goals.

"We searched the nation for the finest golf academy to mirror Tamarack's philosophy of providing experiences that cater to the mind, body and spirit," said Alfredo Miguel, Tamarack's Chairman of the Board and an avid golfer. "We found our ideal partner in Nicklaus Academies, and we are thrilled to bring this world-renowned training facility to golfers in Idaho and the Northwest."
"We are very discerning in our selection of golf destinations for the Jack Nicklaus Academy of Golf," said Scott Adcock, Nicklaus Academies CEO. "While still early in its development, Tamarack has already established itself as a world-class destination and is a notable addition to our family of Nicklaus Academies, which include five-star golf destinations worldwide."
The Jack Nicklaus Academy of Golf at Tamarack will include:
* High-quality golf professionals – including Tamarack's Director of Instruction Bret James – all trained in the Nicklaus Academies philosophy.
* A proven curriculum for lessons and golf schools.
* Annual multi-day golf clinics led by Malaska.
* Short-game area designed by Nicklaus Academies.
* Three coaching studios that will boast indoor training facilities incorporating critical swing data and integrate high-speed video analysis, ball-flight monitors and a pressure/balance mat system to analyze individual golfers performance.

* Privileges for Tamarack Club members at other Jack Nicklaus Academies.

For information on multi-day, all-inclusive golf clinics at Tamarack, call 208.325.1022.

About Osprey Meadows at Tamarack Resort

Osprey Meadows, a Robert Trent Jones, Jr. signature design, is a par-72 course that crosses 400 acres of natural terrain. There are 73 bunkers along with several significant water features and wetlands, tree-lined fairways, spacious greens, five par-5s, and five par-3s spread over 18 holes. The average size of the greens is 7,000 square feet, with an average green slope gradient of less than 3%. The course sits at an elevation of 4,800 feet.

For more information about Tamarack Resort, which also contains a wide variety of recreational facilities and amenities for homeowners and guests, visit www.TamarackIdaho.com.