Tapps Island Golf Course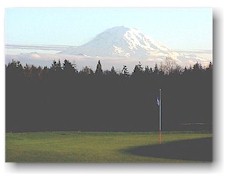 This course lies east of Tacoma along the shoreline of a vast reservoir. The unique nine-hole layout contains disparately-placed tees to give significantly different looks to the "front" and "back" nines when playing 18 holes.

The dry-in-winter venue offers low-priced rounds from October through February, although at $24 for 18 holes on prime-time summer weekends, green fees are still quite affordable.
For more information or to book a tee time at Tapps Island Golf Course, call toll-free at 800/862-7011 or visit the course online at www.cybergolf.