Tar Heel Designers Travel Far & Wide to Pursue Craft
By: Dave Droschak
North Carolina golf course architects Bob Moore and Rick Robbins live 15 minutes from each other in Chapel Hill and Cary, two Triangle-area cities they like to call home - well, sort of.
Moore's Manila Golf Makati & Beyond
While Moore and Robbins have numerous layouts scattered across the Tar Heel State, each still spends about one-third of the year traveling to golf-construction sites across the globe - to places like China, Indonesia, Japan, Malaysia, Thailand and Vietnam, developing some of their most spectacular work to date.

"Growing up in the mountains of North Carolina as a kid a trip two hours away to Charlotte was a big deal," Robbins said. "Now, I've seen things I never had a clue I would ever be able to see. Even at age 30 or 35, going to China wasn't something you could do unless you had a diplomatic or military deal."

At 61, Robbins also figured he would be nearing a gradual retirement from a "fun business" that has been good to him. But life is as hectic as ever as he jets across the world to China on a regular basis. Ditto for the 56-year-old Moore, who has designed 31 of his 52 courses in Southeast Asia or, as he calls it, the Pacific Rim.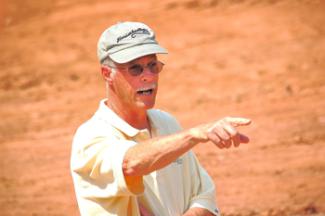 Rick Robbins (Photo by Dave Droschak)
Each spends approximately two weeks at a time visiting Asia eight to nine times a year, and had traveled to as many as 10 different countries per visit during their extensive careers. Both now have several projects in China. In fact, Robbins presently has one construction site 50 kilometers from the North Korean border and one of equal distance at the opposite end of the massive nation near Burma, working in provinces difficult to pronounce, let alone spell.

Why fly 20 hours over the North Pole, be away from family and friends, face language barriers and eccentric foods such as donkey, grasshopper and beef cartilage, along with prejudice and politics that can make competing projects testy at times? Well, in case you haven't noticed or been in a cave for the last five years looking for a lost ball, golf-course construction is virtually nonexistent in the United States.

Even some of the high-profile architects, who balked for years at overseas work because they had plenty here (Tom Fazio, for example) are even getting into the game in Asia. But Moore and Robbins are veterans of more than two decades apiece in that market. Yes, they have extensive resumes all across the region, but their name comes with more than a design next to it.

"Everybody is over there looking now," said Moore, whose firm was named third-best architect in Asia in 2011 behind Schmidt-Curley (of Mission Hills' fame) and Nicklaus Design. "Thankfully, we've been there for a long time, we've got a great portfolio, we've paid our dues, people recognize us, they know us, so we're not rushing to try to get in.
Bob Moore
"One of the biggest issues working overseas is building their trust in you," he added. "There is always going to be an element of resentment, not necessarily from the client, but from client's advisors and people on the job that they are bringing in a pro from Dover, an ex-pat. They have names for us over there that all translate into 'White Devil.' They don't necessarily take your word at face value, so building trust with them is huge.

"I've seen so many architects and so many construction supervisors or shapers go in to other projects and say, 'This is the way we do it and you're going to do it this way' and immediately it's gone. There is a term in anthropology called ethnocentrism, that's where you believe your culture, your way is right, and you don't have the broad world view to understand that others believe differently, and that perhaps in that situation they are right."

Some of Moore's work has been in Indonesia, which is now the fourth-most populated country and with the world's largest Muslim population. It is a perfect example of how he has had to be open-minded when approaching work in that part of the world.

"Some of my best friends in the business are Muslims - great people," Moore said.

Moore and Robbins have seen first-hand the rapid development in China, a society that is fascinated with the game of golf and the status that it often brings. The two have seen cities virtually rise out of the varied terrain with golf courses as their centerpieces. In fact, Robbins travels to China in late March to visit a 17-course project - one of a whopping 57 new courses he'll visit over a two-week stay.
"It has changed so much over the last 20, 25 years," Robbins said. "I would go into China from Hong Kong and it was like you dropped 150 years off the calendar. As soon as you crossed the border there would be ox carts and the people out in the field had cone hats and they were hand-planting things. When we started the second golf course in China we had 4,000 laborers, moving all the dirt with picks and shovels and wheelbarrows. Now they have Caterpillars, track hoes of every kind, they have more equipment than you know what to do with, and they work it very efficiently."

"They love golf just like we do," added Moore. "Part of it is stature, part of it is, just like for us, the experience of playing the game and trying to master the game and being out in those environments, in those landscapes. The Chinese don't have a lot of parks or open space within their cities for recreation or leisure. For them it's about getting outside and playing the game and being a part of nature."

Moore and Robbins had no grand vision to begin working in Asia back in the late 1980s and early 1990s - the heyday of American golf course architecture design.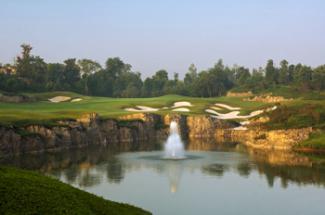 Moore's Luxe Hills Course in China
Moore's firm - JMP Golf Design Group - landed a project in Japan, did good work and was recommended for other jobs in the region. Things began to snowball from there. Robbins, on the other hand, was called over to the practice green at the 1990 U.S. Open by Jack Nicklaus, who asked him if he was interested in opening the Golden Bear's overseas venture in Hong Kong.

How do you say "No" to Nicklaus?

Robbins worked for Nicklaus for two years, then opened his own firm - Robbins & Associates International - and moved back to North Carolina to continue in the business in 1992.

Back in the day, faxing was the mode of communication, not returning a sketch on an iPad, and connection on a call back to the States was often a challenge in itself from many of the more remote regions. With a 10- to 14-hour time difference, Moore and Robbins spend many evenings in the U.S. either texting, calling or e-mailing clients overseas.

"There was no way to send photographs back then unless you were sending them by courier," Moore said. "I can now get a photograph from a project under construction and there are programs where you can import a photo onto an iPad and draw on the iPad, write notes on it, and immediately send it back. It is amazing."
There is one major drawback to working so much overseas, of tackling some of the most unique projects against some incredible backdrops. Most of the two's family and friends will never play their incredible Asian golf designs.

"I love the work in Asia and the great majority of the work we've done is really first-class stuff, and they love to spend money on golf," Moore said. "The joy you get out of producing great golf there is second to none. At the same time, I've always loved working on golf courses here in America.

"Sure, it makes a difference to me that people you know in your personal life or in your social life can play your work. So, much of what we've done overseas our family and friends will never experience it. In an ideal world 50 percent of my work would be here and 50 percent would be in Asia. But with the way the economy is now, it is 90 percent in Asia."

"A lot of the members that I play golf with on Saturday mornings (in Cary) tell me, 'Hey, we want to take a golf trip over there and go tour a bunch of your courses,' " Robbins added. "That would be neat, I would love that. But you know what, I've got so many friends in China now and they are seeing these golf courses, and they are enjoying them, that's good, too."
David Droschak has covered golf in the Carolinas for three decades, mostly with The Associated Press, where he worked for 20 years as AP sports editor in North Carolina prior to launching Droschak Communications, a full-service marketing and PR firm based in Apex, N.C. Dave, 51, has covered numerous major golf tournaments, including the 1999 and 2005 U.S. Opens at Pinehurst Resort, and is a longtime member of the Golf Writers Association of America.

Dave was honored with the Sports Writer of the Year award in North Carolina in 2005, and is currently editor of Triangle Golf Today (www.trianglegolf.com), a print and online publication regarded as the "No. 1 Source for Golf News in North Carolina." He is golf editor for Pinehurst Magazine, an award-winning glossy publication, and was instrumental in helping launch Triangle Golf Deals powered by Twongo (www.trianglegolfdeals.com) in the fall of 2011.

Dave also is the co-founder of www.HurricanesBeat.com, a website devoted to coverage of the Carolina Hurricanes, an NHL franchise he has covered since the team moved to North Carolina from Hartford in 1998.

Dave grew up in Penn Hills, Pa., about five minutes from the famed Oakmont Country Club and was introduced to the game of golf as a caddie at Green Oaks Country Club in nearby Verona, Pa.

Dave was the co-captain of the 1978 Penn Hills state championship baseball team, was a pitcher for the 1982 Atlantic Coast Conference champion University of North Carolina Tar Heels, and pitched professionally for two years in the St. Louis Cardinals organization. He is a member of the Penn Hills High School Sports Hall of Fame, which also includes NBA coach George Karl and former four-time Pro Bowl offensive lineman Bill Fralic.