Target Golf on Cape Cod
By: Steve Habel
There is a lot to be said about the need to control your golf ball and understand the requirement for course management instead of bombing drives and gouging with a short-iron or wedge. During a recent trip to Cape Cod - a wonderful place to play varied and superb venues while taking the family for a little history amid a slower pace, I was able to tee it up at two courses that embodied the need for restraint and accuracy.
For some of us, the brain-over-brawn game is the ultimate challenge. During my rounds at Ballymeade County Club in East Falmouth - where length is a factor as well as control - and Blue Rock Golf Course in North Conway (a sublimely good par-3 track) I enjoyed a pair of demanding tracks in premium condition, and where a refusal to adhere to course management can bring frustration and disastrous results.

As might be expected for this famed area, golf on Cape Cod is about more than your tally on the scorecard. The beautiful forests, thick with vines, deep underbrush and flowers and numerous ponds and tidal pools, are a respite from the big-city crush. Even though both the courses I played on this trip were within an hour's drive of Boston's Logan Airport, the isolation and serenity of my rounds made me feel worlds away - such is the long-lasting appeal of the Cape.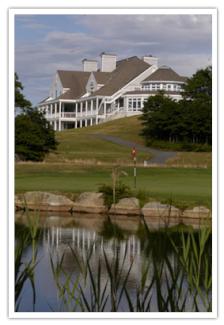 Ballymeade's Ninth Green & Clubhouse
Positioning & Guile the Difference at Ballymeade

The drive from the north into East Falmouth takes you across the Cape Cod Canal and over the Bourne Bridge into the hills of the western portion of the Cape. Here the road and an occasional building are all that create breaks in the thicket, and once you step foot on the property at Ballymeade Country Club you know you're in for a thought-provoking day of golf.

Built in 1987 on hilly terrain, Ballymeade CC features plush fairways and medium-sized greens and demands your best from the opening tee shot. After it opened, the track was considered too difficult for many players, so, in the late 1990s, Jim Fazio was brought in to soften its edges, eliminate some blind shots and temper landing areas that sent even good shots into the woods.

Fazio's work - with help from none other than Chi Chi Rodriguez on one hole - did not make the course less demanding, however. The par-72 track stretches 6,928 yards from the tips where it carries a stout rating and slope of 74.7 and 140, respectively.

Meticulous conditioning is a hallmark of Ballymeade, and its rolling landscape lends itself to multiple-tiered tees and greens and a handful of water features that gently tease golfers. A number of holes offer views of Buzzards Bay - especially the par-3 11th, and of Martha's Vineyard to the southeast, yet it's best to keep your mind on your game.
There are plenty of forced carries and greens here with precipitous drop-offs at the rear. You will need to move your ball both right and left and a have a steady hand and keen eye when putting.

You can ease into your round at Ballymeade with a 373-yard par-4 that doglegs right around a tree and uphill to an elevated green. On the ensuing 202-yard par-3 second, the prevailing wind is normally at your back, but the two-tiered green is troublesome if on the wrong ledge.

After the relatively easy, 523-yard par-5 third, try to take advantage of a good drive on the 356-yard fourth, a two-shotter which heads downhill and right to left and involves a small pond. Although it's only 180 yards to clear the water, you must find the fairway for a birdie chance.

The front nine at Ballymeade ends with three difficult holes - all par-4s of 400 yards or more - sandwiched around another relatively benign par-5. The 448-yard sixth is long and narrow, and the fairway opens up at the landing area. Play one more club on your approach to avoid the cavernous bunker guarding the front-right side of the green.

The seventh moves to the left off the tee. The uphill approach may require as much as two extra clubs, and trees closely guard the putting surface on three sides. Try to get a shot back on the 523-yard par-5 eighth, but the second shot is blind and over a stand of trees. If you play to the right edge of the green to avoid the large bunker at the front-left, you have a chance at eagle.

The 420-yard ninth is the top-ranked hole by handicap at Ballymeade, thanks to one of the most difficult tee shots on the course. Water guards the green, so take a little more club and aim for the bunker at the back of the putting surface.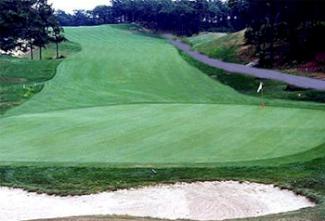 Looking up Ballymeade's17th Hole
If the drive at No. 9 doesn't get to you, the need for length and precision on the 10th certainly will. Played from an elevated box across a deep thicket, the 527-yard par-5 offers a generous landing area. The lay-up requires a well-placed fairway wood or long-iron, and the approach must carry the bunker fronting tightly guarded green.

Ballymeade's signature hole is the 11th, a 174-yard par-3, requiring a tee shot off an elevated tee overlooking Buzzard Bay to an island green. Since there is only one place to miss this green - short, club selection is critical.

The 441-yard par-4 13th is a sharp dogleg-right, so aim at the fairway bunker on the left and try to move the ball rightward. Long hitters can cut the corner for a short-iron to the green, but there is trouble if you stray too far right.

Fazio allows you to get well with three relatively easy holes in the middle of the back nine, especially the 347-yard, par-4 15th that can be reached with one mighty blow and a favoring tailwind, and the 180-yard par-3 16th, which plays across a native area to a big green.

Ballymeade, which Golf Digest rated with four stars, ends with a bang. On the 581-yard par-5 closer, even a good drive and quality layup can result in a downhill lie. The putting surface sits on the other side of a large pond that must be carried. Once safely on, you'll find a green that's much larger than it appears from the fairway.

As a semiprivate club that welcomes public play, Ballymeade CC is challenging and rewarding for all skill levels and one of the finest golf experiences on Cape Cod. Its quick bentgrass greens and consistently excellent conditions mean members and daily-fee golfers must show wisdom in their play.

The venue offers an expansive driving range and practice area, a wonderful tennis facility and a spectacular three-story clubhouse set high on a hill that offers fleeting views of distant regions and sensational sunsets.

For more information or a tee time, visit www.ballymeade.com.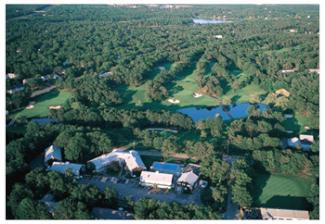 Bird's Eye View of Blue Rock GC
Short but Excellent Blue Rock

Situated in the hamlet of North Conway in a naturally beautiful setting within a neighborhood, Blue Rock Golf Course has taken and kept the baton as one of the finest par-3 courses in America.

The facility is located close to the Bass River, a tidal river that was once explored by Viking Leif Eriksson. The name "Blue Rock" comes from a large granite stone in the Bass River with a blue tint. The course was designed in 1962 by Geoffrey Cornish and has stood the test of time and generations of golfers.

Blue Rock GC is painstakingly maintained and measures in at 2,890 yards from the "back" tees. The par-54 track, which has a 56.4 rating and 83 slope, contains holes ranging from 103 to 255 yards. Among its features are four picturesque water holes. The course's signature hole, the 169-yard ninth, features a pond-fronted, kidney-shaped green, a configuration that has led it to be ranked as one of the best holes on all of Cape Cod.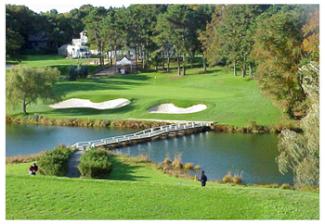 The Famed 9th Hole at Blue Rock
Cornish fashioned each of the holes to correspond to the average length a player may hit a specific club; for example, the 103-yard opener is meant to be attacked with a wedge, and the 255-yard fifth requires a driver. The other holes call for every other club in between those two.

The first three holes are some of the shortest, providing a chance to loosen up those tight muscles and maybe record a couple of birdies. It gets a lot harder at the fifth.

The 160-yard 10th is also played over water to an elevated green guarded by a large bunker at the right-front. The 197 yard 15th seems tame enough with its wide fairway and unobstructed view of the green, just be sure to steer clear of the wild rough bordering both sides. Other good tests include the 138-yard 17th and the 184-yard closer, which is bordered by reeds and rushes en route to a large, elevated green.

Despite its abbreviated length, Blue Rock is a great test for the entire game and an excellent warm-up for other demanding tracks in the area. There are three sets of tees, blue, white and red, which generates a lot of activity, but rounds are usually finished in about three hours, allowing for an afternoon 18 elsewhere if desired.

The track was part of the three-course rotation for the Cape Cod Open for six years, and those competing in the full-field event were pleased if they played Blue Rock GC even-par and thankful if they were only a couple over. You will be too.

The layout is part of the seasonal Blue Rock Golf Resort, which features 44 guestrooms and a clubhouse suite overlooking the scenic course and beautiful flower gardens. This facility, one of seven Red Jacket Resorts on Cape Cod, offers a range of amenities, including a heated outdoor pool, large putting green, the Grille Room Restaurant & Lounge, a tennis court and private beach access at its nearby sister resorts.

For more information, visit www.redjacketresorts.com/bluerock_golfcourse. Be sure to check out the section called Hole in One Hall of Fame (http://www.redjacketresorts.com/bluerock_golfcourse/hole_in_one_club.cfm), which lists all of the holes and the lucky players who've aced each hole on the course.
Steve Habel is one of Cybergolf's national correspondents, contributing news stories, features, equipment and book reviews and personality profiles from his base in Central Texas. He is also the managing editor for Texas CEO Magazine and works as a contributing editor for Horns Illustrated magazine, a publication focusing on University of Texas sports. He also writes a blog (www.shotoverthegreen.blogspot.com), which features news on golf and the Longhorns, and another (www.checkinginandplayingthrough.blogspot.com) on his many travels, which took him across the nation and to 105 different golf course in 2009. Habel is a member of the Golf Writers Association of America and the Texas Golf Writers Association.