Taylor to Defend Sahalee Players Title
The 17th Sahalee Players Championship is set to commence July 7-9 at The Home Course in DuPont, Wash. Nick Taylor of Abbotsford, B.C. and the University of Washington is returning to defend his title. Should Taylor win, Taylor would become the first two-time champion in the 17 years of the championship.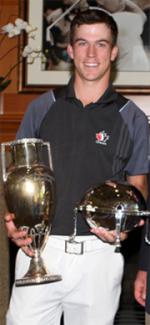 2009 Sahalee Champion, Nick Taylor
Taylor has spent most of the year as the No. 1-ranked amateur in the world and was awarded the 2010 Hogan Award last month. He comes into the Sahalee Players Championship fresh off a successful collegiate season that saw him win the PAC-10 Conference Co-Player of the Year for the second straight year. Taylor was also named an NCAA First Team All-American for the second year in a row and was low amateur at the 2009 U.S. Open.
This year's field will consist of 72 of the top amateurs from around the world. Top challengers to Taylor entered this year figure to be Peter Uihlein of Oklahoma State University and Eugene Wong of the University of Oregon. Uihlein was a member of last year's victorious U.S.A. Walker Cup team and is currently the second-ranked amateur worldwide. Wong is coming off an impressive spring collegiate season that included two victories and three additional top-fives. Wong was recently named the PAC-10 Co-Player of the Year with Taylor.
Some notable past champions in the 17 years have included Trent Whitekiller, Daniel Summerhays, Kyle Stanley, Ryan Moore, Arron Oberholser, Jason Gore and Casey Martin. The Home Course will host this year's championship due to Sahalee Country Club hosting the U.S. Senior Open at the end of July. The Home Course will be the assisting course for the U.S. Amateur in August when it's played at Chambers Bay.
The Pacific Northwest Golf Association teamed up with Sahalee Country Club 10 years ago to create the "Western Swing" with the PNGA Men's Amateur Championship. The Sahalee Players Championship is the first leg of the swing, with the PNGA Men's Amateur being played the week after.
The two events teamed up together with a primary goal of giving amateur golfers in the West an opportunity to play two major national amateur championships without having to travel to the East Coast.
For live scoring results, a list of players and pairings, visit www.sahaleeplayerschampionship.com.