TaylorMade Performance Labs - The Wave of the Future
By: Joel Zuckerman
Golf writers get plenty of perks at the annual PGA Show held in Orlando in late January every year. These include media tournaments at various country clubs or resorts, blowout parties hosted by major (and minor) golf companies, private demo days, and other bells and whistles that are designed to keep them reporting about what's new, different and exciting at "The Show."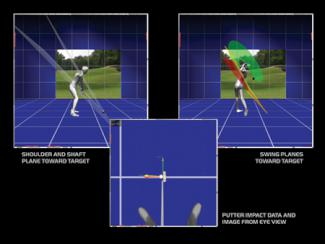 MAT-T Capture
However, after long years of attendance, this correspondent never experienced anything quite as deluxe as the 2012 Show, which featured a custom driver fitting at the cutting-edge TaylorMade Performance Lab on the grounds of the Grand Cypress Resort, not 20 minutes from the show floor.

The first indication that something out of the ordinary is taking place at this futuristic fitting center is the door to the lab itself. It's made to resemble a modernistic bank vault, perhaps something you'd see in Zurich, complete with a heavy-duty slider that bolts the portal shut.

It's an inside joke among the staff, but the meaning is clear. The Performance Lab is chock-full of proprietary information on proper club fitting. There are secrets that must be guarded, and for golfers looking to improve their games via custom-fit clubs, the high-tech computer and camera equipment contained therein is truly a treasure.

Travis Kent is the manager of the lab, which is operated independently from TaylorMade itself. Six separate cameras are mounted near the ceiling at various points around the studio, perhaps 600 square feet in total. A fitting subject wears 28 reflective spheres on stretchy bands secured by Velcro straps on the subject's feet, knees, waist, shoulders, wrists, elbows and head. There are also six reflectors on the golf clubs - three each on the shaft and club head.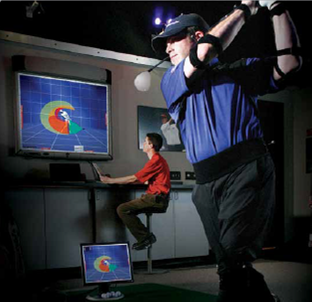 A TMPL Image
Each of the six cameras picks up the reflective spheres at 110 data bits per second. A typical golf swing might be slightly longer than a second, so there are roughly 1,200 data bits per swing, multiplied by the 34 reflectors, giving the computer more than 45,000 information bits per swing. Though I was only invited for a driver fitting, each of the four clubs in the full fitting (wedge, mid-iron, driver and putter) is swung at least six times, so there are well over a quarter-million separate pieces of information logged on each club, and more than a million bits of data total.

"People sometimes don't understand how we can get accurate readings with just six swings per club," explains Kent, who's been working at the Performance Lab since 2006. "But it doesn't matter if you take six swings or 600. We compile so much data that our readings are extremely accurate."

Once the fitting subject is appropriately suited up, the cameras lock in and a 3-D model is displayed on an adjacent wall monitor. The image projected on the wall is an eerie silver-colored mannequin - the subject's golf avatar - and bears an uncanny resemblance to the liquid-metal villain that menaced Arnold Schwarzenegger and friends in the movie "Terminator 2." Of course this assumes the evil cyborg, like the semi-skilled fitting subject, also loses his spine angle on the backswing and flips his hands through the hitting zone, trying to square the club at impact.
TMPL
"Our cameras and computers gather data instantaneously, and that allows us to gather the stats on your swing and body movements, and also how the test clubs respond. That's the essence of how we can make precise recommendations as to type of club, shaft, lie, loft, and other factors that will best suit your particular abilities," asserts Kent.

Their biggest advantage over competing systems is that swing hitches and quirks are discovered in real time, as they happen. There's no review process and diagnosis after the fact. But beyond that, the truly major advantage is the way a seasoned professional like Kent can interpret the data, real gobbledygook for all but the most techno-obsessed golfers, and boil it down into a couple of easily-understood talking points.

Most players, no matter how avid, will get a glazed look after more than a few minutes discourse on launch angles, impact locations, backspin, ball speed and spin rate. But abstract data can reveal real flaws, and the fitter can thus impart concrete information. For example, this correspondent was informed of a pair of major swing defects revealed by the computer-generated imagery. The first is that I am taking the club far too much inside on the takeaway. If my target line is 6 on the clock face, my takeaway should be straight back towards 12, but sadly, my tendency is to pull the club back towards 1 or even 2.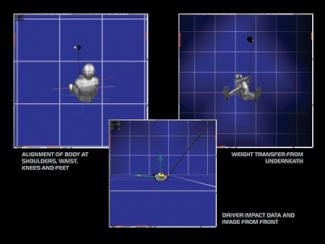 A MAT-T Image
The other glaring problem is my shoulder turn, or lack thereof. My tendency is to rotate the shoulders pretty much parallel to the ground, while an excellent player (in this case demonstrated by Justin Rose, whose ghostly 3-D image was superimposed on mine, in red, to provide contrast to my "silver surfer") has a much deeper turn. In other words, he turned his left shoulder well under the chin, maintaining his spine angle and making much more solid contact with the ball. This partially explains his driving distance of 290 yards which, while barely inside the top 100 on the PGA Tour, is a solid 60 or more yards better than I.

The findings recommended a marshmallow-white Taylor-Made Tour edition Rocketballz driver, which features a deeper face than the regular model. The custom shaft will also assist in finding the optimum trajectory for the drive, so the descending angle of the ball as it heads towards the ground will allow for maximum bounce and roll towards the target. There were perhaps 30 to 45 minutes of trial and error in the studio as Kent kept assembling different head and shaft combinations.

Once the proper specs were matched in the lab my carry distance and roll-out improved by about 20 yards. More importantly, once we headed outside to the range with the optimum equipment combo, the ball continued to fly off the club face, with an ideal launch angle, a lovely parabola that ascended, hung and seemed to continue flying forward as it made its way down from the sky.

So I eagerly await delivery of this gleaming, custom-fit whipping stick that will be assembled to spec at the Taylor-Made factory in Carlsbad, Calif., and, if requested, can be rush-delivered to either one's home or vacation destination within 48 hours.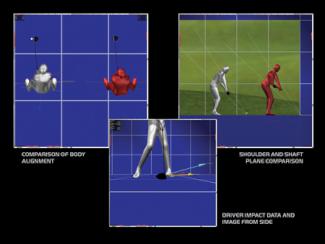 Another MAT-T Capture
We have grown accustomed to watching high-def plasma TVs, many with 3-D, which hang on the wall as unobtrusively as an oil painting. Our cars have built-in navigation systems, making the folding roadmap as anachronistic as a buggy whip. We can store and listen to 10,000 songs in a container no bigger than a box of Tic Tacs, use the Internet from the palm of our hand.

So why, in this high-tech world, are we purchasing off-the-rack golf clubs based on how they look or which Tour pro is using them? Concludes Kent, a man who knows: "Player-specific analysis and custom-fitting is definitely the wave of the future."
Get Tested in Atlanta & Elsewhere

Grand Cypress offers excellent lodging options and 45 holes of golf in Orlando. But another great location for the Taylor-Made Performance Lab is at Reynolds Plantation outside of Atlanta. The lab is located but a three-minute stroll from the Ritz-Carlton Hotel on property. Talk about a golf lover's dream weekend or mini-vacation: Check into the Ritz, enjoy first-class meals and spa services on property, play any of Reynolds Plantation's award-winning golf courses, get custom-fitted at the lab, and wait for FedEx to deliver a brand-new batch of new sticks tailored for you.

The courses on property will make for quite the swan song with one's soon-to-be-retired clubs: There are 117 holes in all. Right outside the fitting center is the Oconee Course by Rees Jones. Jack Nicklaus authored the most dramatic of the golf offerings, with his Great Waters course boasting some wonderful lakeside holes. Tom Fazio chipped in with 27 holes at The National; the original course is Plantation, by Bob Cupp, as is Reynolds Landing. The newest offering is the Creek Club, an avant-garde design by Jim Engh. And then there's the lake itself - 80 miles of shoreline make Lake Oconee one of the South's premier water playgrounds, with top-shelf swimming, boating and fishing.

Other nationwide locations featuring TaylorMade Performance Labs are the J.W. Marriott Desert Springs Resort & Spa (Palm Desert, Calif.) and Park Hyatt Aviara. (Carlsbad, Calif.). Both are fabulous resorts. Also the Redstone Country Club, (Houston), site of the Shell Houston Open, Olympia Fields Country Club (outside Chicago), which has hosted many major tournaments, including several U.S. Opens, and The International, a golf resort west of Boston.
Joel Zuckerman, called "One of the Southeast's most respected and sought-after golf writers" by Golfer's Guide Magazine, is an award-winning travel writer based in Savannah, Georgia. His five books to date include "Pete Dye - Golf Courses," which was honored as "Book of the Year" by the International Network of Golf. His sixth book, titled "The Kiawah Mystique," will be released in spring 2012. Joel's course reviews, player profiles, essays and features have appeared in 110 publications, including Sports Illustrated, Golf, Continental Magazine and Delta's Sky Magazine. He has played nearly 800 courses in 40-plus states and a dozen countries. For more about Joel, visit visit www.vagabondgolfer.com.