Taymouth Castle Course in Scotland Undergoing Upgrades
Work is continuing on a restoration of Taymouth Castle and a remodel of the property's golf course, which was originally designed by James Braid. If all goes well the projects will be completed in 2012.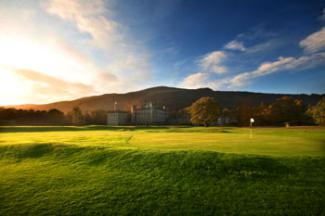 Fall Colors at Taymouth Castle Golf Course
The redevelopment, which is seeing the historic castle being transformed into a boutique hotel and spa, also involves a collection of private residences.

Scottish European Tour pro, Stephen Gallacher, is working closely with course architects Weller Designs on remodeling the course, which opened in 1923.

"It is a great parkland course with some stunning views. It is visually tempting on the eye, keeping the traditional James Braid theme," said Gallacher, the 2004 Dunhill Links Championship winner and a member of the two-man team that will represent Scotland at the Omega Mission Hills World Cup in November.

"I have been putting some fine touches to it, some shaping and bunkering. Every time I come up, it has changed. It's a course that will be enjoyed by all standards of players."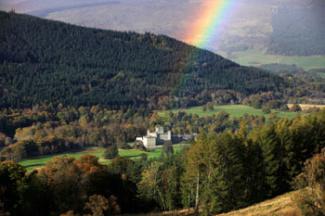 A Rainbow Crosses Taymouth Castle
The work includes a significant rerouting and two new holes constructed near the River Tay. There are nine new greens, 18 new tees and a complete renovation of all bunkers. The course, which is also being lengthened to 7,000 yards, will reopen in summer 2012.

The restoration of Taymouth Castle is also continuing. The Perthshire estate, visited by Queen Victoria in 1842, has been the ancestral home of the Earls of Breadalbane and the Campbell Clan since the 1550s, but was gambled away in Monte Carlo casinos in the 1920s by the 7th Earl of Breadalbane, Gavin Campbell.

The Castle then became a fashionable hotel and luxury retreat, at which time Braid was asked to design the course. The building was requisitioned during World War II, after which it passed through various owners before falling into disrepair in the 1990s.
Now, with significant investment from Meteor Asset Management, a transformation is underway, restoring the Castle to its original splendor and making the estate a community through the addition of private residences.
Located 40 miles north of Gleneagles - the host site of the 2014 Ryder Cup, the Taymouth Castle development is predicted to create 300 jobs and inject £30 million into the local economy annually.
For more information, visit www.taymouth-castle.com.