Teravista Grows up as Area Around it Grows Out
By: Steve Habel
Back in 2002, when the community that surrounds Teravista Golf Club was opened on little more than cleared land alongside the highway between the towns of Round Rock and Georgetown north of Austin, the course was a destination in itself, worth the trip from the city.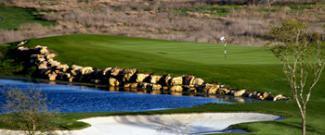 Teravista Golf Club
As the area has grown and countless homes, shops and even an outlet mall have been built around it, Teravista has gotten better with age and taken its place as one of the top daily-fee tracks in Central Texas - and that's saying a lot because golf in this part of the country is pretty darn good.

Designed by Floridian George Clifton of Clifton-Ezell-Clifton, Teravista was fashioned as a challenging neighborhood course for golfers of all ages and abilities. But it is not a punitive track, allowing good shot-making to be rewarded.

The venue was called a "Beginner-Friendly Course" by the National Golf Course Owners Association soon after it opened, and has retained that fairness as it has matured and more players have strode its broad fairways.

The routing crosses a hill that offers views of Texas Hill Country, but the course can be battered by always-present winds, though some of the breezes have been tempered by the surrounding residential structures.
Teravista features rolling and tree-lined - but generally open - fairways, and its putting surfaces are large and well-bunkered. Water enters play on 14 holes; there are 70 bunkers and several carries over waste areas cause one to pause when considering which tees to play. Stretching 7,039 yards from the tips, the course carries a rating of 74.2 and a slope of 138 from its rearmost set of five tees.

Teravista starts off with a 381-yard par-4 with a wide fairway and large green. This is a great place to put a stroke in your pocket, and you'd better do so because things get tough quickly. The par-4second, a 455-yard dogleg-right, can take that stroke back, and following is a 216-yard par 3 and the 559-yard par-5 fourth, which features a narrow landing zone bracketed by a creek bed left and out-of-bounds right. Be careful with the approach to this difficult, undulating green as its slopes make for a tough putt.

Another testy par-4 is the 440-yard sixth. But a change of pace is found at the 195-yard par-3 seventh, where the tee shot needs to find a tilted, postage stamp-sized green. No. 8 is a middling par-5, but it plays uphill and usually into the wind to a front-to-back-leaning green. The outward nine ends at a short (353-yard) par-4 with water right and rear of the green.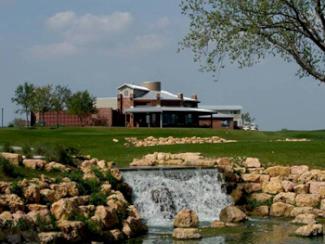 Teravista's 18th Green & Clubhouse
The back nine kicks off with a 573-yard par-5 that involves a second shot to a fairway tightened by two bunkers. If the approach catches one of these, it leaves a difficult third shot over a greenside bunker. No. 11 is a 188-yard par-3 with a big green, but a well-executed swing here provides a chance to score.

The next chance to do some damage is No. 13, a 377-yard par-4 that plays shorter and cedes birdies. Control is a factor at No. 16, a 545-yard "S-shaped" par-5 that usually has the wind blowing across it from left to right. The second shot has a tight landing area and the 16th's demanding little green is hard to find but once aboard, is one of the Teravista's most benign.

The final two are likely the stiffest here. No. 17, the track's hardest hole by handicap, is a 443-yard par-4 with a wide landing area. An uphill second shot makes it hard to get close to the pin, and the bunker fronting the green usually grabs a ball or two in every foursome.

The home hole, a 409-yard par-4, is one of the most deceptive offerings on the course. It has a wide driving area and, usually, the southerly winds help propel your ball down the fairway. Good placement off the tee is necessary as the approach is played over rocks and water to an elevated, narrow and running-away green.
Teravista features impressive practice facilities. A 22,000-square-foot green borders two greenside and fairway practice bunkers, and the facility includes one of the best ranges in Central Texas. This double-ended area contains tee boxes that extend more than 80 yards.

When the Hill Country winds are up, the course - a popular place for tournaments - can extract its pound of flesh. But Teravista's best quality is its adaptability; players can bite off as much as they want to chew; mid-handicappers can choose between two sets of tees at 6,250 and 6,637 yards. The course even has a junior set of tees that play at 3,744 yards.

"The emphasis here is on playability and a positive experience for those that choose to play our track," said Kevin McGuire, Teravista's general manager and director of golf. "If the course is both fair and challenging, we think the player will have a much better time and want to come back. That is what we are striving for. We feel like this course has a little something for everybody."

Given the myriad choices of public golf in and around Austin, a round at Teravista is always a winning proposition. And if the wife balks at an afternoon on the links, bring her along - if she plays golf she'll have a ball here. If not, there's an IKEA store on the way to the course's front gate and a huge outlet mall nearby.
For more info, visit www.teravistagolf.com.
Steve Habel is one of Cybergolf's world correspondents, contributing news stories, features, equipment and book reviews and personality profiles from his base in Central Texas. He is also works as a contributing editor for Horns Illustrated magazine, a publication focusing on University of Texas sports, covers the Longhorns for CBS Sports, is regional editor for Texas Golfer magazine and files stories for Golf Oklahoma magazine, Texas Links magazines and Golfers Guide. Habel's main blog (www.shotoverthegreen.blogspot.com) features news on golf and the Longhorns, and another (www.checkinginandplayingthrough.blogspot.com)chronicles his many travels, on which he has played more than 350 golf courses since 2009. Habel is a member of the Golf Writers Association of America and the Texas Golf Writers Association.