Terrapin Station! - U. Maryland Golf Course Celebrates 50th Anniversary with Renovation, Reunion
By: Jay Flemma
According to an old song, "Some rise, some fall, some climb to get to Terrapin," but no matter how the alumni of the University of Maryland golf team made it back to College Park, they all proudly rejoiced. Over 60 past and present members of the men's and women's varsity squads recently traveled from as far as Los Angeles or as near as down the block to see the newly renovated University of Maryland Golf Course, "UMd" to her friends.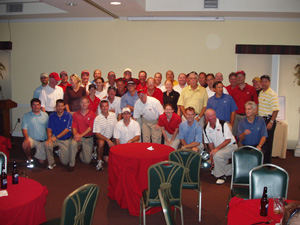 Terps Gather for Reopening of UMd Course
Not only had the course received a $3.5 million renovation, but it was celebrating its 50th anniversary and recent selection as host venue of the Nationwide Tour's brand-new "Prince George's County Open," which will bring an estimated $10 million boon to the local economy. "Fear the Turtle!" indeed.

"I've always loved this course the most," beamed Don Slobodnik, class of '87. "It's forever my home," said the local teaching pro, and the school's former No. 1 player.

"Absolutely!" agreed Tommy Mensring, a former ACC champion and team captain from the '90s. "The fondest memories of my life are of the friends I made playing golf here and the matches I played for my school."

Player after player echoed that sentiment. Indeed, the entire day was awash in both fond reminiscence and grateful renewal. When not recalling past glories - Mensring closing out his college golf career with a hole-in-one in his last match, Slobodnik, ("Swede" to his teammates), battling former Terrapin player/coach and PGA Tour star Fred Funk, or women's No. 1 Kate Stepanek re-writing her team's record books before graduating in 2007 - the team alumni and current players were universally praising the course's competitive enhancements.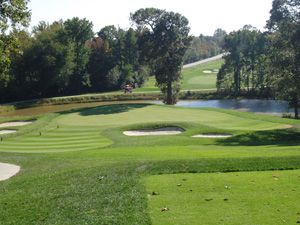 8th Green at UMd Course
"They're terrific," said a smiling Stepanek, now the coach of the women's golf team at Towson State. "There is so much more definition to the course, from the tee boxes, to the fairways, to the greens, which roll so smoothly. Plus they added a lot more fairway bunkers."

"Conditions are much better. We have better agronomy and equipment, so it will play dry and fast," affirmed Henri deLozier, class of '70 and a veteran of two Masters' tournaments. "Moreover, the course is also prepared to deal with how much further players hit the ball than they did in my day."

Happily, the university didn't just put the course to the rack in an attempt to counter the advances in equipment with machismo and unbelievable length, nor did they add ubiquitous hazards to turn it into a penal obstacle course. Realizing "less is more," the plan was to build fewer bunkers but have them be more interestingly placed.

Originally designed in 1959 by local golf architect George Cobb, the renovations were completed by Bill Love, the same golf architect who redesigned the bunkers at the Olympic Club's Lakeside Course in preparation for the 2012 U.S. Open. Love added 30 bunkers, mostly in the fairway, bringing the course's total to 65. The new additions are at the knees of doglegs and turned perpendicular to the line of play, offering the player a chance to carry them off the tee - at significant risk - or play safely to the side. The result is a course that rewards smart golf as well as length.
Love also rebuilt all the greens so as to smooth out some of the more severe undulations, yet still retain both micro-movement - small, subtle breaks that reflect the natural green pad, and some more pronounced interior contour. Best of all, the greens are eminently natural; none of the internal contours feel forced or artificial.

"They took some wilder undulations out, but they still have good interior contours," explained Del Ponchak, class of '94 and course-record holder at Hudson National in Westchester, N.Y. (a sparkling 65). "Also, some of the old false fronts that were unfair at modern-day green speeds have been flattened to make them more playable."

Purists may lament the loss of a wicked false front, but there are still a few at UMd, most notably at Nos. 3 and 12. Moreover, the renovations didn't alter the playing strategies of the individual holes. The order of the day was preservation and restoration, as well as updating the conditioning, drainage and course infrastructure. It was money wisely spent, which yielded immediate dividends as the Nationwide Tour will visit next year.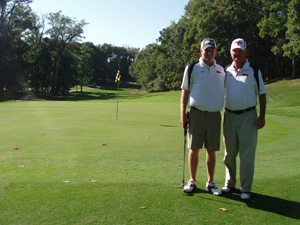 The father-and-son team of Tom Hanna Jr. & Tom Hanna, III
Additionally, hundreds of trees that had encroached upon the fairways were removed, so players can reach for the driver on most holes, although the new fairway bunkers will punish misses harshly. Removing even more trees wouldn't go amiss as it would open up more expansive vistas of the property, a heavily rolling parcel cut in a forest of mature hardwoods, which is excellent terrain for golf.

I'm sure we won't get an objection from UMD women's golf coach Jason Rhodes. "Rhoady," as he's affectionately known, hit a tree with his drive on the reachable par-5 13th and, after the ball ricocheted backwards, it finished a whopping 30 yards from the tee but 70 yards short of the ladies' markers. He needed Band-aids and Bactine after the blistering round of hazing he received from his playing partners the rest of the day.

"We'll dine out on that one for some time," grinned a puckish Ron Thomas, class of '93 and a four-year letterman. Additionally, cutting down more trees would also allow the wind to whip through and add extra teeth to the course's defenses. "When the wind is up, this course is much harder," Thomas said. "Any hole can still wreck your scorecard if you get careless, and there are a lot of tough holes out here."
The best holes on the course may be the diverse collection of par-3s. Running to four different points of the compass: "short, long, uphill, downhill, all-carry, or open in front: the par-3s show you something different every time," explained Tom Hanna III, the son of head coach Tom Hanna, Jr. and a junior at UMd. In fact, the eighth hole, a short drop-shot par-3 with a Lion's Mouth green complex - where the green wraps around a center-front bunker - is a world-class hole at any golf course.

"I also like the par-5s," added Stepanek, "Especially nine. You have to hit a great drive, a great approach and a great wedge. You have to be solid in all facets of your game."

If there is a drawback to the design, I'm not enamored with the ponds in the driving zones of the first two holes. Water hazards eliminate the most exciting play in golf, the recovery shot. Moreover, these ponds punish more than just an errant shot; they sometimes penalize a good drive that takes a bad hop or travels too far. Cross-bunkers would not only be more egalitarian, but they would speed up play as well.
Nevertheless, the improvements are admirable: the conditions are dramatically improved, the course can defend itself from modern equipment, and it has more strategy off the tee with the addition of fairway bunkers.
"It's a place we all called home at one time or another, and so that brings us all together and reminds us why we're proud to be Terps," said colorful Ron Willard, another former top Maryland player and class of '69 graduate. Willard loves his Terps so much he wore all red, head-to-toe. "The course may look and play a little differently from when we were here, but we all look forward to a bright future for the course and for the golf team."


Since launching his first golf writing website in 2004, http://www.jayflemma.thegolfspace.com, Jay Flemma's comparative analysis of golf designs and knowledge of golf course architecture and golf travel have garnered wide industry respect. In researching his book on America's great public golf courses (and whether they're worth the money), Jay, an associate editor of Cybergolf, has played over 220 nationally ranked public golf courses in 37 different states. Jay has played about 1,649,000 yards of golf - or roughly 938 miles. His pieces on travel and architecture appear in Golf Observer (www.golfobserver.com), Cybergolf and other print magazines. When not researching golf courses for design, value and excitement, Jay is an entertainment, copyright, Internet and trademark lawyer and an Entertainment and Internet Law professor in Manhattan. His clients have been nominated for Grammy and Emmy awards, won a Sundance Film Festival Best Director award, performed on stage and screen, and designed pop art for museums and collectors. Jay lives in Forest Hills, N.Y., and is fiercely loyal to his alma maters, Deerfield Academy in Massachusetts and Trinity College in Connecticut.