Texas Courses Try to Survive Heat Wave & Drought
By: Steve Habel
If you live in Texas, where it has been famously reported that there are two seasons - hot and not, you're accustomed to extremely warm and dry weather every time the calendar turns from April to May.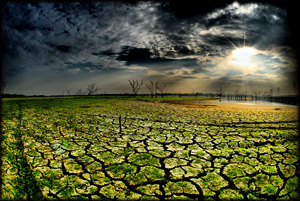 A Fairway in West Texas Shows
Effects of Heat & Drought
But the summer of 2011 will go down in history as the hottest and driest season ever. Rainfall has been virtually nonexistent since November 2010; temperatures soared to triple-digits in the spring and have stayed there for a record number of days.

The lack of rain has taken its toll on just about everything in the Lone Star State as reservoirs have virtually disappeared, crops have withered or were never put in the ground, and animals and fish continue to die from the effects of the heat.

With water at a premium, golf courses - which rely on precipitation to augment wells and effluent, or reclaimed, water to keep their greens, tees and fairways alive - have restricted their irrigation schedules in accordance with mandated water-rationing orders.

Some golf courses have closed, victims of a battle for water to quench the thirst of municipalities, while most have soldiered on, adhering to water-conservation practices while finding inventive methods to stay alive and keep their players on the course and members satisfied, if not happy.

"It quit raining last September and really hasn't rained a significant amount since," said Travis Miller, a drought specialist with the Texas Agrilife Extension Service and a specialist with the Governor's Drought Preparedness Council. "More than 90 percent of the state is in an exceptional drought or in an extreme drought. The remarkable thing is the extent and the severity of the drought combined."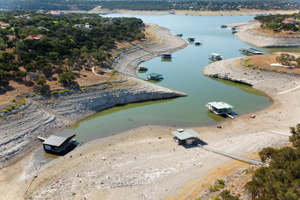 Stranded Docks on Dried-up Creek
Feeding Lake Travis
The Hard Facts

Since January, Texas has received less than seven inches of rain, compared to a norm of about 14 inches, making it the most severe one-year drought on record. In August, the U.S. Climate Prediction Center said the La Nina weather pattern blamed for the lack of rain might be back soon, and if that happens, the dry spell would almost certainly stretch into 2012.

The extreme dry conditions have extended into parts of the Great Plains, including Oklahoma and Kansas, and, until the recent monsoon season, heavily affected New Mexico as well.

Some Texas rivers and lakes are at lows not seen since the 1950s - the decade when Texas suffered its worst drought in previous recorded history. Of the state's 3,700 streams, 15 major rivers and more than 200 reservoirs, at least seven reservoirs are effectively empty and more than half of the streams and rivers are at below-normal flow rates.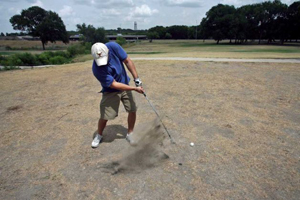 Playing off Grassless Fairways Are the
Norm on Some Texas Courses
Meanwhile, brush fires have destroyed more than 12,000 square miles of land since mid-November. The wildfire season usually wanes in spring but has persisted this year because of the unusually hot and dry conditions.

Just this week, the area surrounding Possum Kingdom Lake 45 miles west of Fort Worth was struck by its second huge wildfire in five months; the latest blaze was threatening as many as 400 homes in the area and had scorched about 6,200 acres, fueled by high winds, parched vegetation and unrelenting heat. Thirty-nine homes have been destroyed by this latest fire after 160 were incinerated in an extensive April blaze.

Central Texas has been among the areas hardest hit. In Austin, there has been no recordable rain since May and it has received less than a fourth of the 30 inches it usually gets each year. And the heat has been unbearable, even for longtime residents. On September 2, the city of Austin will endure its 78th consecutive day of triple-digit temperatures, far eclipsing the previous record of 69 days set in 1925.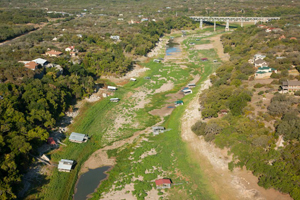 Dry Bed of Pedernales River in Texas
Battles over Water & Survival

Texans are golfing more this year than last but course conditions have been severely affected. "Golfers want greens to be green," said Jimmy Mettlen, general manager and golf pro at Neches Pines Golf Course in the east Texas town of Diboll.

"The fairways might be a little harder than what we'd like, but the greens and tee boxes are good. That's one thing about golf: wherever you play, you remember the greens, and we've been able to keep ours in good condition. Our guys work very hard to keep it that way."

Mettlen has been drawing from the course's own water supply, which is good, but not as good as a real cloudburst. "The bottom line is we all need the water, and there's no water like God's water," he said. "Rain has a lot more of what the grass and trees need than anything else as far as both water and oxygen. When it rains, the course gets full coverage. That's impossible to do with simple irrigation."
Many municipal facilities in Austin are staying green in the scorching heat thanks to the city's use of reclaimed water. The city also uses untreated lake water to keep courses like Morris Williams GC playable during the drought. One of the problems is finding a time to irrigate as golfers are showing up before sunrise and playing into dusk to avoid the heat of the day, so crews have to move fast.

Keeping the grass healthy isn't the staff's biggest worry, but rather doing the same for the players. "I don't think people truly grasp what this heat is," said Kevin Gomillion, who oversees all operations for Austin's five municipal tracks. "We had our city championship in August, and we provided water bottles and water on every hole."

Because of the extreme weather the Lower Colorado River Authority, which regulates water use for more than a million people in Central and South Texas, asked its water users in July to implement a voluntary 5 percent water reduction.

Twin Creeks County Club, located in the Austin suburb of Cedar Park, complied with the request and went even further by reducing irrigation on out-of-play areas -practice-area targets and roughs - by 25 percent.

Because of the dearth of precipitation, the LCRA will soon mandate that Twin Creeks and other area golf courses reduce their irrigation by 20 percent. "Hopefully, relief will come and restrictions of this kind will not be necessary, but with the bleak weather forecast reductions of this magnitude are unfortunately likely," said Don Alexander, Twin Creeks' superintendent.
At Onion Creek Club in southeast Austin superintendent Michael Moore is bracing for another mandated water reduction. "The Barton Springs Edwards Aquifer reduced our allotted pumpage by 30 percent beginning last week," Moore said. "We can expect this allotment to be reduced to 40 percent by the end of September if we do not start getting some type of rainfall. We are doing our best to try and keep all of our fairways green so that we do not have as many areas to grow back in after this drought is over."

Onion Creek Club has 27 holes of golf but will limit play to 18 holes daily through next week to reduce the traffic on selected nines for extended periods.

Bay Forest Golf Course in La Porte, south of Houston, uses reclaimed water or "grey water," which isn't restricted, to try to keep its course alive. Even so, the irrigation system can't keep the 170-acre layout wet enough as the roughs are cracking and trees dying.

Residents of the Hill Country town of Spring Branch are at loggerheads after the state gave its local golf course - Hawk Golf Club at Rebecca Creek - permission to use water from the barely moving Guadalupe River to irrigate its greens.

The town is under Stage 3 water restrictions because of the drought. The owner of the course says he goes through 150,000 gallons a night but added that the amount is less than half of what is a normal night's use. The course is working on purchasing a new irrigation system to save more water and its owners haven't been fined for excess watering.

In the Austin suburb of Manor, one golf course has given up the fight, at least temporarily. ShadowGlen Golf Club, a highly regarded daily-fee facility, shuttered its doors August 25 after a continuing and long-festering dispute over water. ShadowGlen's water source was shut off, forcing the club to close according to Blake Chaffee, the club's director of golf. Chaffee indicated that the club's management and owners hoped the closure would be temporary.

ShadowGlen's owners have been embroiled in a battle concerning the use of effluent water the course owns rights to but is not receiving. The water is not potable - drinking water-quality - that is being taking away from others in the community. It's grey water that is being dumped into nearby Wilbarger Creek, even during the drought.
Steve Habel is one of Cybergolf's world correspondents, contributing news stories, features, equipment and book reviews and personality profiles from his base in Central Texas. He is also works as a contributing editor for Horns Illustrated magazine, a publication focusing on University of Texas sports, covers the Longhorns for CBS Sports, is regional editor for Texas Golfer magazine and files stories for Golf Oklahoma magazine, Texas Links magazines and Golfers Guide. Habel's main blog (www.shotoverthegreen.blogspot.com) features news on golf and the Longhorns, and another (www.checkinginandplayingthrough.blogspot.com)chronicles his many travels, on which he has played more than 350 golf courses since 2009. Habel is a member of the Golf Writers Association of America and the Texas Golf Writers Association.