Texas Golf Course News: Two up, One Down & Two More on the Way
By: Steve Habel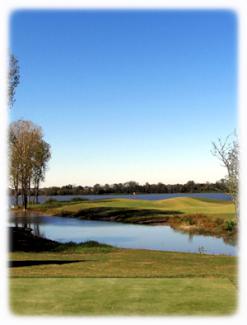 Cleburne Golf Links 8th Hole
While the golf industry in Texas has been anything but immune to the economic slowdown, things are looking up in the Lone Star State. Last week a new course opened in the town of Cleburne and another course in the state's Hill Country region debuted with nine new holes.
As reported on Cybergolf this week, Cleburne Golf Links - located about a half-hour's drive south and west of Fort Worth - opened for play on the Fourth of July. The John Colligan-designed track plays alongside Lake Pat Cleburne as its outward nine extends north to a point farthest from the clubhouse, and then turns around to the south, offering views to the lowland holes adjacent to the shoreline and across the lake.

Cleburne Golf Links - which stretches to 7,068 yards from its back tees - works in concert with the area's rolling terrain, an approach that helped minimize the amount of material that needed to be moved and kept the course's budget below the $3 million mark.

"I got involved on this project six years ago, not really knowing what I was getting into," Colligan said. "When all was said and done we probably went through about 30 concepts of what land to use and what to do on that land - we'd decide and then we'd change again. Our primary objective was to make sure that the design and features of the course did not compete or overpower the site, and I think what we've done here is going to attract people from near and far."

For more information or a tee time, visit www.ci.cleburne.tx.us/golf.aspx.

Vaaler Creek Golf Club
In the Hill Country town of Blanco, Vaaler Creek Golf Club (www.vaalercreekgolfclub.com ) unveiled nine new holes for play on July 4, completing the course that was opened as a nine-hole facility in July 2007.

Vaaler Creek, which is located inside the Rockin J Ranch development south of Blanco and about 40 minutes north of San Antonio, was designed by Michael Lowry and J.R. Newman. The track features well-placed bunkers and beautiful water features and sports spectacular panoramic views of the Texas Hill Country, an abundance of live oaks and a constantly rolling topography.

The new nine is the front half of the golf course and plays considerably shorter (3,343 yards) than Vaaler Creek's already established back nine (3,521). "The new nine holes' real defense is its greens, which demand you play to the correct location to have a chance to score," said Adam Grosch, Vaaler Creek's director of golf. Despite playing at just 6,864, the course carries a rating of 73.0 and a slope of 140 from its back tees.
"The reception so far to the new nine holes has been spectacular, as more than 300 golfers played our course in its first two days," Grosch said. "As a nine-hole course during the first two years, we were averaging about 6,000 rounds a year but we are hoping to at least triple that number now that we have the full 18 holes in place."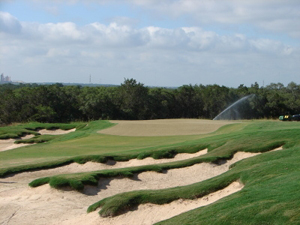 TPC San Antonio - 17th at Oaks
Two other huge projects - the 36-hole TPC San Antonio in that city's northern suburbs and the Summit Rock Golf Course in the Skywater Over Horseshoe Bay development in the Texas Hill Country - are under construction and have 2010 on the schedule for openings.

Of those two, TPC San Antonio will tee off first as its Greg Norman-designed AT&T Oaks Course will be ready in time for next May's Valero Texas Open. According to TPC San Antonio officials, grow-in is going smoothly even though South Texas has endured consecutive weeks of temperatures in the triple digits and little if any rain.
TPC San Antonio officials hosted a tour of the finishing holes on the AT&T Oaks course at the end of June for Tony Piazzi and his team from Golf San Antonio, along with some of PGA Tour staff to review progress. "The golf course is simply looking marvelous," said Jimmy Terry, TPC San Antonio's general manager. "(Golf course superintendent) Tom Lively and his team are working tirelessly to insure the golf course is just right when it opens for play early next year."

The resort's other track - the Pete Dye-fashioned AT&T Canyons Course - will debut sometime in the fall of 2010 as primary construction has been moving ahead at a fast pace with completion slated for early July. Grassing is already in place on eight holes.
Up the road in Llano County, which is about an hour's drive from Austin, things are moving forward once again on the construction of Summit Rock, a Jack Nicklaus signature track set to be the fourth golf course at the famed Horseshoe Bay Resort and the centerpiece of the uber-posh Skywater Over Horseshoe Bay development.

The course's construction was put on hold as its developers ran afoul of the recent economic challenges, but the project has emerged from receivership and is set to crank back up.

Originally scheduled to open in the fall of 2008, the 7,200-yard par-72 course will be divided into two distinct sections: a lower, level playing area and an upper, more rugged terrain. Designed with the natural landscape in mind, existing oak trees play a key role in determining the placement of each hole.

"This piece of land incorporates all of the elements a designer looks for in a golf course - nice vegetation, creeks, streams and variation of terrain," Nicklaus said. "We will try to maximize these features in order to create the best possible golf experience for Summit Rock course members."
A construction team should be on site by the end of July and optimistic hopes are that Summit Rock will be ready for play at the end of 2010, although mid-2011 seems a more likely scenario.

But, as they say, with every bit of good news there also comes some bad. Owners of the King's Crossing Golf & County Club in Corpus Christi have announced that they are closing the golf course at the end of July, opening the possibility of housing development on the approximate 220-acre facility.
Kingley Properties LLC, the club's owners, notified homeowner associations and developers in late June that golf operations at the King's Crossing will cease August 1. The clubhouse will remain open for social membership, including dining, fitness, pool and event functions, the notification said.

Kingley Properties, owned by Basil Beck, purchased the golf course and country club property in April 2005 from Shell Land Management and Oso Creek Properties, without restrictions after the first three years, and that term has expired. The property is zoned as a single-family or multiple-family dwelling district.

During those three years the new owners often antagonized the homeowners in the King's Crossing neighborhood by sending letters threatening to shut down the club if more residents didn't sign up for social memberships. Rather than scaring the homeowners, the letters seemed to have the opposite effect, generating a backlash against the club.

"In today's economic climate (the course) will probably grow up in brush before it develops very fast," King's Crossing homeowner Richard Clark told the Corpus Christi Caller-Times.

King's Crossing opened in the late 1980s to much fanfare, a quasi-links design by architect Bill Coore, who has since gained considerable notice as Ben Crenshaw's design partner.

"This was a beautiful place to play until this guy came along," Clark said about Beck. "Now it's burned up and a pile of rocks."

A source at King's Crossing (who asked not to be identified) confirmed that the course will close and that it will be minimally maintained as potential home buyers are courted and to keep up with required code.
Steve Habel is one of Cybergolf's national correspondents, contributing news stories, features, equipment and book reviews and personality profiles from his base in Central Texas. He is also the media coordinator for Bechtol Golf Design, the managing editor for Business District magazine in Austin and works as a contributing editor for Horns Illustrated magazine, a publication focusing on University of Texas sports. He also writes a blog (www.shotoverthegreen.blogspot.com), which features news on golf and the Longhorns.