Texas Golf News
By: Steve Habel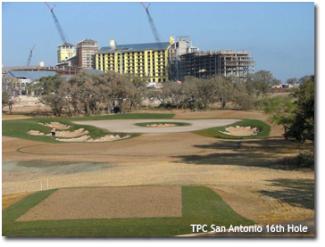 Editor's Note: Texas is one of the few states in the nation that, seemingly, hasn't suffered from a downturn in golf development and course construction because of the poor economy. Here, Cybergolf's Steve Habel takes a look at two projects: the impressive new TPC San Antonio, with 36 holes designed by some of the game's main luminaries, and the reconstruction of Ambush Golf Course at Lajitas Resort & Spa, which was nearly wiped off the face of the Earth after the nearby Rio Grande River flooded in September and early October 2008 as a result of Tropical Storm Lowell. Steve also writes about the "Design a Hole" winner who came up with the winning entry for a par-3 hole at the TPC project.
TPC San Antonio Forging Ahead

The mild winter to date has assured that construction on all aspects of the TPC San Antonio at the new JW Marriott resort continue full-bore and the resort's two courses, its clubhouse and it 1,002-room hotel are on track and flourishing.

With the grassing of hole Nos. 17 and 18 during the week of Thanksgiving, major construction on the AT&T Oaks Course is now complete. The 7,501-yard golf course designed by Greg Norman, along with PGA Tour player consultant Sergio Garcia, is certain to be included as one of the most unique golf courses in Texas.

Helped by the predominantly warm weather in South Texas, the Oaks Course is ahead of schedule and should be ready for play in early 2010. The PGA Tour's Valero Texas Open moves to the course beginning in May of that year.

"We are working on cosmetic aspects of the Oaks Course, but things are basically in position and we are waiting for the course to mature and grow in," said Jimmy Terry, director of business development for the TPC San Antonio. "We could have some play on the course in the fall, and the spring 2010 scheduled date for opening looks very good."

Norman's design philosophy is underscored by environmental sensitivity. Great care was taken to incorporate the distinct nuances and indigenous flora of the natural Hill Country topography into the course design and to create a compelling, strategically diverse layout for golfers of all skill levels.

"The topographic subtleties of the rolling Texas Hill Country terrain, framed by magnificent stands of mature live oaks, create a pristine natural setting that is as playable as it is beautiful," Norman said.

Norman's penchant for large bunkering is evident everywhere on the Oaks Course, including on the 16th, where there's a bunker in the middle of a large green, reminiscent of Riviera Country Club in Los Angeles. The course also has Emerald Bermuda collars and approaches, which combine to give it a nice contrast.

Work is also continuing at a "good" pace on the resort's other track - the AT&T Canyons Course fashioned by World Golf Hall of Fame inductee Pete Dye with help from Bruce Lietzke. Bunkers on the Canyons Course's 17th green were being cut in last week, with that project set to be completed and grassed by sometime in June 2009.

The resort alone, not including the golf courses, will cost an estimated $500 million. The layouts at the JW Marriott's new TPC San Antonio are expected to cost nearly $50 million by the time they are scheduled to open in January and June of 2010.
Terry said the new resort isn't just big - it's a major part of the Alamo City's push to use golf as a draw for tourism. "This resort and the courses will be good for everyone," said Terry, a PGA member with vast experience developing golf courses and facilities in Texas. "The TPC San Antonio will really promote the city and the area as a first-class golf destination."

The TPC courses will play out of a 42,000-square-foot clubhouse, with men's and women's locker rooms, and the club will feature an extensive practice facility and range.

You can look for larger rooms at the Marriott as well; the average unit will be 460 square feet and contain flat screen high-definition TV monitors, which are computer-compatible. A typical room at most resorts is about 320 square feet, according to company officials.

There also will be 140,000 square feet of meeting space, six restaurants, including a "high-velocity sports bar," and a 26,000-square foot spa with 30 treatment rooms. The water park will include a "river" experience and water slides.
Design a Hole Winner Announced

Brian Fitzgerald of Hendersonville, N.C., has been named the winner of TPC San Antonio's "Design a Hole" contest. Beginning in July 2008, amateur golf course architects were invited to submit hand-sketched original designs of the 210-yard, par-3 13th hole on the AT&T Canyons Course at TPC San Antonio, which is being fashioned by Dye with help from Lietzke.

Fitzgerald's design was selected by a team of judges led by Dye, his wife Alice, and Steve Wenzloff, Vice President of PGA Tour Design Services, Inc. "After reviewing all of the entries, Brian Fitzgerald's stood out because of his attention to the natural contours of the land and the ecologically sensitive nature of the golf course," Dye said. "Alice and I were struck by Brian's respect for the Texas Hill Country characteristics and his ability to still design a challenging hole that was feasible to build in this type of terrain."
As the winner, Fitzgerald will receive a trip to TPC San Antonio to tour the course with Dye prior to the club's scheduled opening in March 2010.

Fitzgerald, who carries an index of 4 at Champions Hills in Hendersonville, was thrilled to have his design selected. "I am truly honored to have had my design considered, let alone selected as the winner," Fitzgerald said. "I have been a fan of Pete Dye's for many years, and to have the opportunity to meet him, let alone get a personal tour of the course and get his insight about design philosophy, is something I never would have dreamed of."

The AT&T Canyons Course, a par-72, 7,406-yard layout, will feature wide fairways, stately stands of oak and cedar trees and panoramic vistas. Numerous elements distinct to the Texas Hill Country are being incorporated into the course design in an effort to minimize its impact on the environment.

"With the goal of crafting a course that fits harmoniously with its surroundings, we took full advantage of the dramatic vistas, indigenous flora and beautiful rolling terrain to create a memorable golf experience for members and resort guests," said Dye, who was inducted into the World Golf Hall of Fame in St. Augustine, Fla., on November 10.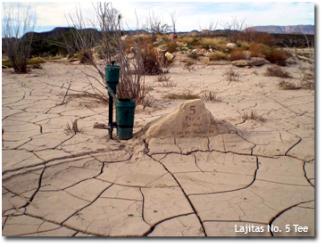 Lajitas Selects Lanny Wadkins to Rebuild its Golf Course

The Bridlie Management Group of Dallas announced in late December that Lanny Wadkins and his Wadkins Design Group had been selected to rebuild the company's Ambush Golf Course, located in Lajitas, in the Big Bend Region of Texas. Upon completion, Lajitas Resort & Spa will offer guests and members a championship 18-hole golf course plus a nine-hole, par-3 track.

"The Wadkins Design Group is very excited about the opportunity Lajitas presents," Wadkins said. "In all my years of playing competitive golf I have never seen a location for a golf course that can equal Lajitas."

Roy Bechtol of Bechtol Golf Design, who - along with former partner Randy Russell - was the original course's designer, pushed hard to get the job to rebuild (and re-route, if necessary) the track at Lajitas and developed four different plans for that purpose. Wadkins got the nod over Bechtol and at least one other designer: Rees Jones (the noted "Open Doctor").
Construction of the course - which was destroyed by floods from the Rio Grande River after Mexican officials were forced to release water that threatened the integrity of dams in their country - began early in the new year with an estimated completion date of fall 2009. This new multi-million-dollar golf course (which will incorporate the some of the swamped holes designed by Bechtol and Russell) will be built by Fezler Golf.

The design and construction team will work to bring to Lajitas one of the best golf courses in the U.S. on a track featuring one of the only international golf holes - with a tee in the United States and a green in Mexico. The 18-hole course will be more 7,000 yards in length from its back tees and play to a par of 72.

"We are going with Paspalum grass wall to wall on the course because we think that turf will thrive in Lajitas' environment," said Edwin Leslie, Lajitas president and chief executive officer. "Paspalum has become the grass of choice for many new courses in the South and the Caribbean. It's very hardy and grows and covers well in less than ideal conditions. The color of the grass is remarkably brilliant green."
The new layout on the Ambush Golf Course will feature more than 100 new golf course lots ranging in size from ¾ of an acre to 2 acres with golf course and mountain views.
"We're optimistic that we will be open for play this fall," Leslie said. "The exact time will depend on Mother Nature. Given the stable climate of Lajitas, we think a fall date is very doable."
Steve Habel is an Austin, Texas-based journalist and Cybergolf's Southwest Correspondent. Since 1990, he has traveled around the globe covering news, business and sports assignments for various news bureaus, newspapers, magazines and websites. He also contributes to Business District magazine in Austin as managing editor and is the Texas football beat writer and a contributing editor for Horns Illustrated, the Austin-based magazine for University of Texas sports. Habel writes a weekly golf column for The River Cities Tribune in Marble Falls, Texas, and is a member of the Texas Golf Writers' Association.