Texas Golfer Sets Mark for Most Rounds in a Year
Richard Lewis has set a new mark in the Guinness Book of World Records for playing the most rounds in a calendar year. The 64-year-old member of the Four Seasons Resort and Club Dallas at Las Colinas broke the current world record of 586, when he played round No. 587 on December 19.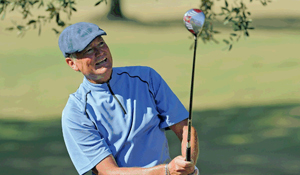 Richard Lewis
On Sunday, December 26, Lewis will play his 600th round on his home track. Lewis has played every round there or on Four Seasons' other private course, Cottonwood Valley.

For his 600th round Lewis will be accompanied by friends and family members who have endured and supported this monumental feat. Several supporters have paid more than $5,000 to play with him during the 600th round on the 6.15-mile-long TPC Four Seasons layout.
Money raised by the event will be donated in Lewis's honor to the First Tee of Dallas, the local chapter of the national nonprofit organization founded to teach youth the importance of personal character and social responsibility through the game of golf.
An introvert by nature, Lewis nonetheless shared a few facts with "Avid Golfer Dallas Magazine," which reported on his odyssey in its November 2010 issue that he:
• Has walked around 3,900 miles total.
• Took more than 7 million steps.
• Played upwards of 54 holes in a day.
• Begins his daily play at 7:30 a.m. and commences the second round at 10:30 a.m.
• Has lost about 40 pounds (he now weighs 141 pounds).
• Missed only about 19 days due to sleet or below-freezing temperatures.
• Eats at least one pizza a day and consumes protein drinks throughout the week to keep weight on.
• Played in a driving, cold rain with Four Seasons' five PGA Class A pros on November 3 to keep his record on-track.
• Has used the same Sun Mountain golf bag for more than 1,000 rounds.
• After trying eight different pairs of shoes, settled on the Adidas 360 4.0 Pro golf shoe.
• Believes the support of his local golf club helped make the feat possible, citing encouragement from staff and members, while playing two fun courses and enjoying great weather much of the year.
As Four Seasons' club manager Rob Cowan said of Lewis's feat: "The detail to his quest is just amazing. Just eating healthy, staying healthy and getting ready for another round. In fact, I would say nobody in the 27-year history of the Four Seasons has gotten more out of his membership than Richard."

Paul Earnest, Four Seasons director of golf, says that what amazes him about Lewis, a 3 handicap, is his passion for the game. "He's always trying to improve his game. He'll hit every shot and then go to the range and practice on something."
Adds Lewis: "When I was 10 years old I wanted to be a PGA Tour pro, but it never worked out for me. Now I have another quest, another goal, which I fully intend to complete in December."

After playing the 600th round Lewis plans to continue the quest until he plays his final round, likely his 611th, on Friday, December 31, the final day of 2010. Members of the Sports Club, its Men's Golf Association and friends are invited to enter this final ceremonial and historic round for a donation of $75 (member) or $125 (guest). Each player will receive a commemorative scorecard signed by Lewis recording his and their scores for the round. Proceeds from the day's event will benefit the Junior Golf Foundation of the Northern Texas PGA.
Tee times for the day are being coordinated through the pro shop at 972/717-2530.

Four Seasons Resort and Club Dallas at Las Colinas is the home of the annual HP Byron Nelson Championship, a PGA Tour event and the largest professional golf tournament in Texas. For more information, visit www.fourseasons.com/dallas.