Texas Hill Country Two-Step at Escondido & Boot Ranch
By: Steve Habel
by Steve Habel

Two private golf courses - The Club at Escondido and Boot Ranch - opened for play in the Texas Hill Country during the same summer back in 2006 and immediately ascended to the top of industry rankings for excellence; both were often listed as the best two new courses in the state for the year ending 2007.
Escondido (located in Horseshoe Bay about 50 minutes from Austin) and Boot Ranch (set just outside the quaint German-founded town of Fredericksburg) are off-the-charts great and super-exclusive, with play limited to members except for the few times a year when they hold a charity event or a state golf association championship. The tracks are on the bucket lists of just about all of Texas's top players, and teeing it up at either is an honor and a privilege.

Both courses are the centerpieces of upscale master-planned communities, with the clubhouses serving as hubs of their respective neighborhood's activities. Unfortunately, due to the two-year old and growing economic recession, that is where the comparisons between the two end.

Of the two developments, Escondido, which sold most of its residential home sites in a lottery before things went south in the markets, has enjoyed the most success. Its Tom Fazio-designed course, using water from nearby Lake LBJ and an initial infusion of oil money from Dallas and Midland, has seemingly survived the economic downturn, although most of the development's nearly 400 lots are devoid of homes.

Conversely, Boot Ranch, shackled first by drought conditions that made its course less than lush for almost two years, then by a reorganization of debt and eventually bankruptcy that forced its sale on the courthouse steps in April 2010, has endured and is now moving forward. Despite all the setbacks, Boot Ranch's top-notch golf operation remains as when it opened for play, and the course will hold the Texas Golf Association's Mid-Amateur Tournament in September.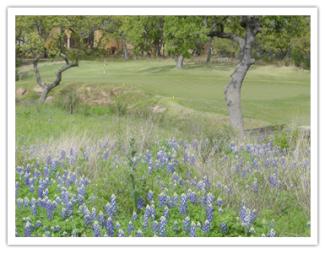 Daunting 17th at Escondido
Infinitely Playable Escondido shows Fazio Flair

Fazio's 7,027-yard, par-71 track at Escondido incorporates the noted architect's understated but unmistakable aesthetics and his ability to work with what nature provides. The eminent designer and his team emphasize the premise that "golf courses should reflect the natural beauty of their environments," but at the same time they are not hesitant to make changes to the land if need be.

Here, among a series of spring-fed creeks, granite outcroppings and rolling topography is a course that is infinitely playable as well as memorable.

The development is situated on grasslands shaded by oak, pecan and willow groves. Escondido's bold geological elements, called "batholiths," create the dramatic backdrop for a golf course that offers dramatically different nines. The front side is relatively flat and wide open with lots of water features, while the back has big elevation changes and large masses of igneous granite that enter play on a handful of shots.

The course has a wide variety of holes, some through stands of trees and others with wide fairways. From the tips, it can be set up to play as tough as you want and will test even the best golfers.

"We have a couple of tough par-4s and some challenging par-5s and par-3s, but the course is very fair," said Bruce Cotton, Escondido's director of golf. "There are no forced carries over water - that's something that the members really seem to like - and we have a whole collection of holes that could be considered signature holes on other tracks. I have been in this business a long time, and I don't think I have seen a better golf course. I truly think we have one of the top 10 courses in the country."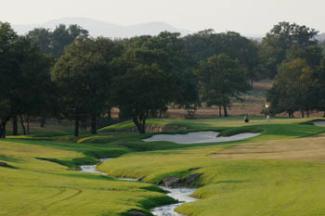 A Creek Invades Escondido's 16th
Despite the differences in the nines, Escondido has a collection of tough holes that balance the experience. From the tips, the par-4 second hole plays a whopping 482 yards into the wind. And on No. 14, drives are hit uphill on a par-4 that measures 494 yards. Yet, with four sets of tees, a player can find his or her comfort zone.

Escondido's front side asks players for precision and length. The par-5 fourth measures a hefty 582 yards and usually into the prevailing wind. The daring can attempt to reach in two, but a menacing bunker 50 yards may stymie that effort. For the conservative, place the second comfortably short right of an oak tree and left of a fairway bunker, and there's only a soft wedge in. The green is only 15 yards deep at the center, making club selection important. At all costs, avoid the deep greenside bunker left. The terraced green is difficult to pitch to, so take the conservative route.

A birdie opportunity awaits the player at the eighth, an abbreviated par-4 at 356 yards. However, the green is tricky, typical of a Fazio short hole. From the middle of the back tee, it is 240 yards to the fairway bunker right, so a big hitter might choose a long-iron or fairway wood and still have a short iron in. The trouble around the green is left and short, with desert flora and bunkers.

On the back nine players are wowed by the massive granite dome that enters play on the 12th and 13th holes, both testy par-4s. On the former, two batholiths, the first just off the tee and the second as a backdrop to the green, are the signature features of this special place. A cart path passes through the wall of stone and a creek meanders peacefully along the right, but will only punish the most errant drives. The tee-shot target is a large, forked oak tree left of the green.

On the latter hole - Escondido's shortest par-4 at 348 yards - the first target is a granite outcropping left of a greenside bunker, or even at the fairway bunker, leaving only a short iron in to the hilltop green.
Escondido's best stretch of holes comes at at Nos. 16-18; there may not be a finer set of closers than this tricky trio. No. 16 is a 438-yard par-4 with a creek invading play on the tee shot and approach. The green is long and narrow and requires a precise second in order to score. The 17th, a 152-yard par-3, has a green that slopes severely back to front toward a bunker awaits errant approaches - or putts that meander from the hidden back shelf and off the green. It's imperative to stay below the hole here, especially if the pin is in the front of the green.

The round ends with a 603-yard, par-5 that sports water along the left from tee to green. There's room to bang your driver, but it's more prudent to find the landing areas. Even reaching the green in regulation, par is not assured.

Escondido was named the Best New Golf Course in Texas for 2007 by the Dallas Morning News. It is truly a world-class course, featuring the same degree of shot-making found on America's best tournament tracks. The course carries a slope of 147 from the tips, making it one of the 10 hardest layouts in the Lone Star State.

For more details, visit http://www.escondidotexas.com.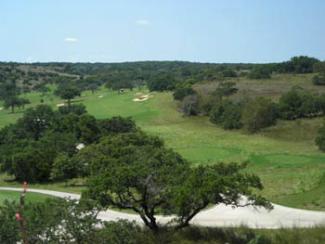 1st Hole at Boot Ranch
Golf Should be the Real Talk at Boot Ranch

"Sticks and stones my break my bones, but words will never hurt me." That old childhood saying has been put to the test at Boot Ranch, thanks to continued reports that the sterling Hal Sutton-designed venue will close because of the development's financial troubles.

The course is called the "Augusta National of Texas" (members get a pair of black alligator cowboy boots in lieu of a green jacket). But the peripheral development ran into trouble soon after its 2004 launch because of financial issues and slow sales. Hopes were high in 2007 when Sutton partnered with Legacy Properties, which brought with it new financing from Lehman Brothers.

But Lehman Brothers declared bankruptcy in 2008 and, in the fall of 2009, Boot Ranch was posted for foreclosure and Sutton's input on the development and course officially ended. The struggling development was sold at auction earlier this month for $50 million to a subsidiary of Lehman Brothers Holdings Inc., which in 2007 invested about $70 million in the project.

A lawsuit filed by the Municipal Police Employees Retirement System of Louisiana, one of Sutton's original backers and a past partner in the project, accuses nine partnerships and corporations involved in the resort of breaching their fiduciary duty, negligent misrepresentation, aiding and abetting, rescission and constructive trust. The suit is aimed at protecting the group's $31.4 million investment.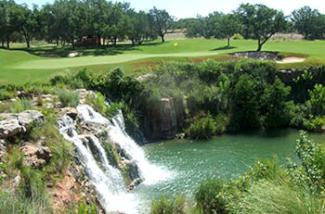 10th Hole at Boot Ranch
Boot Ranch's superb course plays to a par of 71 and measures 7,135 yards from the tips. It boasts bentgrass greens, a four-sided range, three-hole short course and a par-4 extra hole that can be used for practice or settling presses (rumor has it that Sutton decided to create a different ninth hole that moves away from the clubhouse but the club kept the previous hole in case players wanted a nine-hole round).

Along with the championship course, the development boasts spring-fed lakes and streams, rolling topography with expansive hilltop views, a clubhouse village that includes 10 luxury lodge rooms for members and their guests, and a well-appointed golf shop.

The course and its luxury country club, perched some 120 feet above the golf course and surrounding residential community, represent the culmination of Sutton's quarter-century on the PGA and Champions Tour.

Just down the hill from the clubhouse and overlooking the first hole and mammoth 34-acre (wow!) practice area are collection of Sunday Houses, designed exclusively for corporate entertainment.

Sutton's course plays through various Hill Country terrains, brilliantly showcasing the beauty of the area. Boot Ranch gets its bite - it carries a 75.2 rating and a 145 slope - from tough approach shots and challenging putting surfaces. "I spent 180 days designing this course because I was so disgruntled with where architects were taking the game," Sutton told Golf.com several years ago. "Everything I did was probably bass-ackward from what other people would do.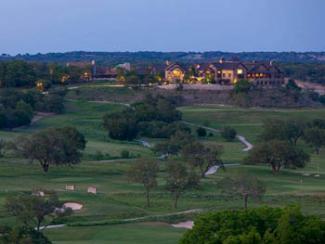 Boot Ranch in the Early Evening
"There's an open side to every green where you have to learn to chip the ball," Sutton added. "There are as many holes that go left to right as right to left. No one person or shot has an advantage. If you play here you've got to learn all the shots."

After working your way through two long par-4s (the 479-yard sixth and the 431-yard No. 9A), as well as short but demanding 528-yard par-5 eighth, the round is in full flight at the par-4 10th, whose green is next to a waterfall off Palo Alto Creek. It's got a wide fairway with a single bunker in the middle of it, and the second shot is over the creek. A 230-yard tee shot leaves you with about 130 to the green, which is shallow and has three distinct plateaus.

The challenge is real at Boot Ranch's 11th, 12th and 13th holes - a stretch that includes a 598-yard par-5, an all-over-water 217-yard par-3 and a 470-yard par-4 that's the course's No. 1 handicap.

It's hard to believe you're in Texas when get to the 433-yard par-4 15th. The hole provides a little bit of Pine Valley off the tee with its bunkering and a hint of No. 10 at Augusta National from 150 yards, thanks to the severe down-slope in front of the green.
Nos. 15 to 18 rise and fall over rolling hills and lead to views that seemingly stretch for days. The uncommonly inspired panorama from an elevated tee box spurred 1956 Masters champion and longtime Sutton mentor Jackie Burke to once remark, "God used up a lot of paintbrushes on this view."

The home sites in Boot Ranch are spectacular as well, and all are estate-sized lots ranging from 3 to 28 acres and carrying price tags in the $500,000 to $1.75 million range. The panoramic views and serene hilltop settings are what set these spacious residential opportunities apart, while the luxury-resort-meets-rugged-ranchland appeal is consistent throughout the community.

For more details, visit www.bootranch.com.
Steve Habel is one of Cybergolf's national correspondents, contributing news stories, features, equipment and book reviews and personality profiles from his base in Central Texas. He is also the managing editor for Texas CEO Magazine and works as a contributing editor for Horns Illustrated magazine, a publication focusing on University of Texas sports. He also writes a blog (www.shotoverthegreen.blogspot.com), which features news on golf and the Longhorns, and another (www.checkinginandplayingthrough.blogspot.com) on his many travels, which took him across the nation and to 105 different golf course in 2009. Habel is a member of the Golf Writers Association of America and the Texas Golf Writers Association.