Texas-Sized Fun at San Antonio Hill Country Resort & Spa
By: Joel Zuckerman
It's said that everything's bigger in Texas, and proof positive is the San Antonio Hill Country Resort, outside San Antonio, which is one of the newest and the single largest JW Marriott hotel in existence.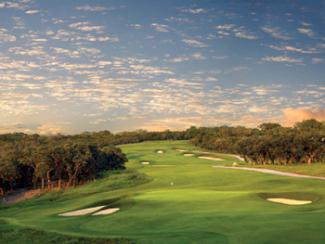 AT&T Canyons
Many readers might be unfamiliar with the difference between a Marriott (good) and a JW Marriott (better) hotel. The JW brand is the highest level of luxury that carries the Marriott flag. Typically, some of the extra amenities might include a golf course (or in this case, two courses), a spa and a fine-dining element. These properties are a little glitzier, with a few more bells and whistles. To put it in perspective, out of approximately 3,000 Marriott properties worldwide, less than 50 are designated as JW Marriott hotels.

There is so much going on here that it's no chore to visit for an extra-long weekend and never leave the grounds; there are that many options, diversions and amenities. But a hotel guest would then be cheating him or herself out of a visit to one of the most intriguing cities in America, just 20-odd minutes away.

San Antonio is the most popular tourist destination in Texas, and it's not hard to understand why. The chief attraction is the River Walk, which meanders through the downtown area and is lined with a wide range of shops, bars and restaurants, all winding their way adjacent to the San Antonio River.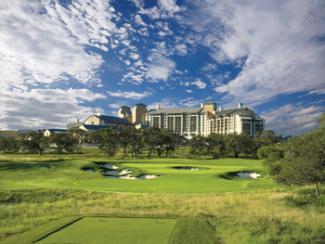 AT&T Oaks Course
The Alamo is one of the nation's most important historical sites and the top tourist attraction in the Lone Star State. The old fort served as the last stand in the 1836 Battle of the Alamo, a pivotal event in the Texas Revolution, which involved legendary names from the American West like Davy Crockett and Jim Bowie. When Mexican troops launched a ferocious assault on the Alamo Mission, all but two of the Texan defenders were killed. The casualty count was estimated to be some 600 or 700 soldiers in total, including about 200 Americans.

On a less somber note, each spring brings Fiesta Week to San Antonio, a tradition that began in the 1890s and involves carnivals, parades, concerts and all sorts of revelry. Picture Mardi Gras, New Year's Eve, St. Patrick's Day and the Tournament of Roses Parade all wrapped into an 11-day party. Fiesta Week adds nearly $300 million to the city's coffers, and brings in 3.5 million attendees.

All those revelers would be hard-pressed to fit onto the San Antonio Hill Country Resort, but a good percentage of them could squeeze onto the grounds. A thousand guest rooms set on 600 acres of rolling terrain, 140,000 square feet of exhibit halls and meeting space, a 26,000-square-foot spa, a 5,000-square-foot organic garden that helps supply the resort's seven restaurants, a six-acre water park and ceilings that appear to be 100-feet high give the hotel an airy spaciousness that's uniquely appealing, or slightly disconcerting, depending on one's individual perspective.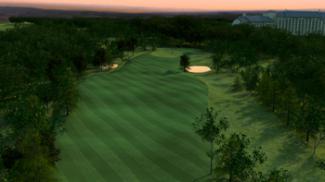 Overhead View of San Antonio TPC Course
Within the resort's limestone- and wood-accented, two-story main lobby are many small nooks, sitting areas and alcoves. Outside the floor-to-ceiling glass windows are numerous benches surrounding fire pits. It's bustling, but never overwhelming, and guests don't feel like they're on top of each another.

Crooked Branch is the largest and liveliest of the resort's seven dining options, while the signature restaurant is Cibolo Moon, offering casual Texas cuisine in a stylish atmosphere. A step up from Cibolo Moon into the fine-dining category is 18 Oaks at the TPC clubhouse, dimly-lit and serving a wide selection of wines and steaks.

Sports fans will find Nirvana at the High Velocity Sports Bar, with its gargantuan and curving, 120-feet-wide screen that can show up to 24 different channels at once. For more personal viewing, booths come with their own individual TVs.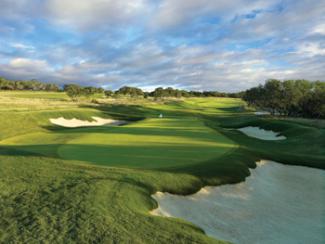 ATT Oaks 15th Hole
Outside, kids will be busy at the six-acre water park, complete with a lazy river and dual water slides where patrons ride on inner tubes. One of the two slides is totally enclosed and dark as a coal mine. It's fun, albeit eerie, as once you enter from the top there's not a sight to be seen until rounding the last turn and spying the aquamarine pool waters rushing to meet you.

If you're over the age of 30, waterslides are fun for about four minutes. But four hours worth of entertainment is available at each of the two most talked-about new golf courses in Texas: the AT&T Oaks Course and AT&T Canyons Course, two notable designs courtesy of Greg Norman and Pete Dye, respectively.

The Oaks will once again host the PGA Tour's Valero Texas Open later this month, the 90th anniversary of the tournament. Last year's event was won by Brendan Steele and Adam Scott the year prior. The Dye Course will be hosting the Champions Tour in the AT&T Championship this October, with the charismatic Fred Couples returning as defending champion.
This puts the San Antonio property in an elite group that hosts both the PGA and Champions tours in the same calendar year. These are also TPC courses, authorized by the PGA Tour, whose flagship course and world headquarters are in Ponte Vedra Beach, Fla. These latest additions don't have the unwieldy grass mounding so often prevalent at stadium venues like the famed TPC Sawgrass near Jacksonville, site of the Players Championship.

This artificiality has been eschewed in favor of more natural-appearing surroundings. Ecological concerns played a key part in how this particular TPC project was approved, and the highlight is an environmentally-sensitive, closed-loop irrigation system that corrals all runoff for reuse on each course.

Both courses are different in terms of design and topography, but both close in dramatic fashion, including short par-4s and picturesque par-3s. The 16th at Oaks features a bunker in the center of the green that's reminiscent of storied Riviera Country Club.
They're both tough tracks, but the difficulty is more evident on Norman's design, particularly with its puzzling putting surfaces. It features sharply contoured green complexes with runoff areas and a maximum yardage beyond 7,500 yards, which likely makes it one of the toughest courses in Texas.

The Canyon Course by contrast, earmarked for the over-50 set and designed by 86-year-old Hall-of-Fame architect Dye, is a bit easier, but not by much. In tandem, they are dual attractions at one of the most modern and capacious golf resorts in the largest state in the contiguous U.S.

For more information, visit www.jwsanantonio.com.