The 2009 PGA Championship: Hazardous Hazeltine won't Dampen Minnesota's Legendary Passion for Golf
By: Jay Flemma

"Majestic doesn't appeal to us; we like the Grand Canyon better with Clarence and Arlene parked in front of it, smiling." Garrison Keillor, from "Lake Wobegon Days"
Clarence and Arlene are going to get their close-up for a whole week as the PGA Championship comes to the bucolic splendor of Chaska, Minn. In fact, we'll also meet all the Edbergs, Edqvists, Lundbergs, Lundqvists, Olssons, Newssons, Alfredssons, Samuelssons, and many other direct descendants of Thor Hyerdahl who parked their bottoms here because it felt like Norway, but, "Hooray! The winters are worse!"

Still, summers in Minnesota are glorious: lakes of Glimmerglass, lovely farms, fragrant apple orchards, tousle-haired freckle-faced blonde boys, and families sipping lemonade on aging porches with crooked walls built long before their birth. It's a scene right out of a folk song, Norman Rockwell painting, or novel of a literary lion.

Some may despair that America has become "Paradise Lost," but humble and hospitable Minnesotans are still filled to the brim with Lake Wobegonian charm. Everyone's lives can be written on the back of a postcard, and that's a good thing, one which our supposedly enlightened ruling class consistently underestimates in Middle America. Our country may be in crisis, but Americana - and all its rich tradition and rustic warmth - still lives in the kind hearts, broad backs, and wide smiles of good people, people who are bursting with pride to be alive, and who'll spend their day looking for something nice to do for someone else, some way to enrich and fulfill the lives of others.

They have a great attitude here: Golf, God, and Country, and in the '50s and '60s that passion was represented by fellow Minnesotan and USGA Executive Committee member Tot Heffelfinger. (I know that looks misspelled, but it's not.) In order to bring a major golf championship to this state filled with ardent golfers, Heffelfinger got Robert Trent Jones, the most influential architect of his generation, to build Hazeltine National Golf Club. There was one imperative: Bring the U.S. Open to Minnesota. The course had to be hard enough to challenge the pros, yet big enough to address the enormous infrastructure of a major championship.

But once again, we see clearly that harder is not better. When it opened in 1961, Hazeltine was a penal, tree-choked, watery, center-line golf course with mundane greens. It looked nothing like the older classic courses of the Golden Age, with their devious greens, strategic playing options and venerable histories. "It was too new," said one golf writer. "It hadn't grown in yet, and it wasn't ready."

As a result, Hazeltine was not well received. Just five years later, the 1966 Women's Open was won with a bloated plus-9 score to par by the "immortal" Sandra Spuzich (I know that also looks misspelled, but it's not.)

In 1970, when the U.S. Open finally came, a four-day wind storm blew scores from Lake Wobegon to Lake Sheboygan, Wis. In a maelstrom like that, it makes sense that Britisher Tony Jacklin won. His 7-under score was seven shots better than runner-up Dave Hill.

Par-5 Third Hole at Hazeltine
Hill found Hazeltine to be "Hassletine" as they lightened his second-place check to a noticeable degree when he made some intemperate remarks about the golf course. Golf writer John Gordon tells the story well:

"Hill told a group of golf writers: 'They ruined a good farm when they built this course. Plow it up and start over.' Hill was not the only moaner. The player's complaints were myriad: "too windy, too thick a rough, just too everything. Add Hazeltine's punitive design to the USGA's sadistic course set-up and it was a recipe for disaster, with Hill the designated food critic. It seemed that Hazeltine was down for the count…"

Golfer-turned-course designer Forrest "Fuzzy" Fezler also recalls that tournament: "It had a lot of doglegs where every hole sloped away from the dogleg! You couldn't keep it in the fairway. I thought to myself that if Nicklaus, Palmer, and Player are shooting 79, 80, 81, what chance do I have as an amateur?"

It took a generation and another Minnesotan on the Executive Committee, Reed McKenzie, to draw the Open back to Hazeltine in 1991. In between there were two tournaments, the '77 Women's and the '83 Senior Open, that were both won with 4-over scores.

Something just wasn't right at Hazeltine. Par is the number the average expert golfer should score, but - Jacklin aside - the greatest golfers in the world weren't even getting close. Even with McKenzie's push - this is an avid golf state, we need an Open in this region, it has a big physical plan, the time is ripe for another attempt, yada, yada, yada - the club and the USGA were still afraid of another disaster that might set back Minnesota as a site for a major for several decades.

Rees Jones saved the day for Hazeltine and the USGA. In doing so, he launched his 18-year reputation as "the Open Doctor," building a cottage industry out of renovating major venues so they would be tournament-ready, just as his father did 40 years earlier. In 1990 Rees "renovated his dad's work for clarity and playability," which erased blind shots, smoothed fairways and greens, and made every shot adhere to the "doctrine of framing" whereby everything is spoon-fed to the players, mollifying them and pandering to their disdain for anything that makes them think over a shot.

With some of the course's teeth excised, the winning score was 6-under par, and the 1991 Open was heralded as a success. Payne Stewart saved us from having to watch Scott Simpson sleepwalk his way to another Open title, winning in a playoff. Stewart's 75 on Monday is still the worst winning score in a playoff in 82 years. On a sad note, during one of the sudden summer thunderstorms that brew without warning, a fatal lightning strike stole the headlines. "I remember that storm!" recalled my mentor, a Wise Old Seadog of a sports writer. "I was running through the tempest totally bedraggled and a friend spotted me and shouted out, 'You look like Noah.' I told him, 'I hope I stay as dry as Noah!' That's how bad it was."

Hazeltine has since ceased to be attractive to the USGA, but the PGA of America swooped in with one of their "two PGAs and a Ryder Cup" package deals that have also gone to Valhalla, Whistling Straights and Medinah. Yet Hazeltine's selection as a championship venue highlights, rather than solves, one of the problems facing the PGA of America. It's no secret that the PGA Championship suffers a mild identity crisis when compared to the other majors. The PGA used to be played at courses that were inferior to those chosen by the USGA for the U.S. Open. Back in the '80s and '90s, for example, the U.S. Open was played at Shinnecock, Oakmont, Merion, Oakland Hills and Winged Foot, but the PGA was played at PGA National, Shoal Creek, Kemper Lakes and Bellerive.
We clearly see the distinction between these courses in the architecture. Hazeltine, like Medinah, has wasp-waisted fairways in the driving zones, lots of little ponds, hook bunkers at 300 yards, fade bunkers at 280, and five o'clock - seven o'clock greenside bunkering. It's spoon-fed, dictatorial golf. Lather, rinse, repeat. The course's main defense is length; it's a bloated 7,685 yards. The promotional literature boasts that the course will feature the longest par-3, par-4, and par-5 in tournament history. No. 12 is a 520-yard par-4, 13 is a 247-yard par-3, and 15 is a 642-yard par-5. But if the course is so good, why does it have to be so long? Length does not hide other shortcomings, like flat greens and a "center-line-only" way to attack it.

Lately, the PGA has also taken a page from the old U.S. Open doctrine of harder is better. Last year, they set up Oakland Hills with too much rough, too-narrow fairways, and let the course dry out so much no one could keep the ball in the fairway or close to the pins. They were trying to protect par like it's their maiden aunt, the empress dowager of the family.

"That golf course changed dramatically from Wednesday to Thursday and even more dramatically from yesterday morning to today," moaned a normally phlegmatic Jim Furyk, speaking during the Saturday rain delay that saved last year's PGA. "There were a lot of holes where birdie wasn't even in the cards - maybe half of them. You look at 18. I hit two great shots and I still needed a little bit of luck with my 5-iron for the ball to bounce off the collar for a 5-footer. It hangs up in the rough and I'd be lucky to make a par. That's probably not what you want in a setup."

So it remains to be seen what Hazeltine will look like come Thursday morning. The PGA's press release regarding the rough for this year's tournament noted that it may not be as thick as last year. "A dry spring and summer have led to the current drought conditions in the area and therefore the Kentucky bluegrass/perennial ryegrass/fine fescue rough will not be as thick, or even as tall as it was for the 2002 PGA Championship. The first cut surrounding the fairways is 3 ½ inches high and it is 4 inches tall beyond that."

But there was also the issue last year of "popping the rough," combing it back toward the tee so that it stands taller and thicker. The PGA's excuse that the players and caddies were making the rough easier by walking in it and laying golf bags fell flat on skeptical ears in the media tent, however. Three hundred and twelve guys can't compress hundreds of acres of grass merely by walking on it.

"Until we move back to V-grooves, rough just doesn't deter these guys anymore," explained Rees Jones, who graciously agreed to talk about the course with Cybergolf. "Dave Hill's comments about the course affected Hazeltine, and yes, they tried to do too much in the beginning. But we've taken special care to make the course more fair and playable, and recent history has shown the course succeeded in this regard. For example, the doglegs on nine and 18 were too sharp, but now they are great holes."

"Remember," Jones continued, "Hazeltine is a par 72, not a 70 or 71. We need that length. Par-5s are the toughest to defend par, especially as these guys hit the ball so long and their wedges are so precise. The par-5s are now true, great three-shotters."

Fair enough, but is a great par-5 necessarily a three-shotter? Again, could the PGA defend par in a more exciting way by allowing players to get a chance at going in two, but with a greater penalty if they fail. The Masters consistently shows that the best par-5s in major championship golf are the holes that tempt you to go for it, not the holes that restrict that choice. The best par-5 at Hazeltine may be the shortest, the 570-yard fifth, with its requirements of a fade off the tee and a draw into the green. A pond guards the green, so - like at the Masters - it can result in an eagle or double-bogey. Still, Justin Leonard laid up four times and made four birdies on the strength of his short game. The other par-5s all exceed 600 yards.
Rough and length are not the only aspects of the course to examine. Photos from Hazeltine's website show a claustrophobic noose of woods, tighter than a maximum-security prison. Here is a current picture of the par-3 fourth hole, taken from the website.
The tree-line encroaches well into the playing field. Whole sections of the greenside bunkers are even obscured. I haven't seen anything this severe since I was a kid, when a misguided 55 year-old, menopausal woman who knew nothing about golf architecture went nuts at my local golf course. Her politician-husband put her on the municipal club's Greens Commission and she went insane with a small budget, a dibbler and a shovel and now - in the name of "beautification" - clusters of trees frame the entrance to three greens like football stadium goal posts. "Tree gates" is the derogatory name for such atrocities.

Hazeltine doesn't have "tree gates" per se. But the trees on many holes - especially the front nine - reduce airspace as well as playing options and highlight the layout's lack of strategic challenge. As former USGA president Frank Hannigan once opined, "straight is not so great."

Moreover, trees are the worst nuisance to the health of a golf course; the roots suck nutrients away from greens and fairways like a vacuum. As we saw at Oakmont, there will come a time when these trees will severely threaten the health of the turf and they will have to be removed.

Jones did take out some trees in his renovation. "Many holes were fine; they weren't overrun like at Medinah, where we took out hundreds of trees. Here, we removed most trees because we needed to put in grandstands and TV towers," he declared. "Most of the trees that remain are fully grown and are in places where the players need to think about their shot, but we also don't want to put the players in a place where they can't recover. But we also removed some so that people could see the interesting routing of the course as it flows throughout the prairie."

Jones also made a few alterations that will give the players choices. The best seems a new cross bunker on the drivable par-4 14th hole. "We may move the tee up one day," Jones commented. "Flexible teeing grounds give elasticity to the course, so players will have to think more. They won't know what they'll face on any given day. No. 16 will also be a great hole to watch since the players will have to be cautious off the tee, but also must drive close to the green since it's so narrow."

Still, the penal nature of the course has not changed, and it lacks the character of the regions more celebrated Donald Ross and Seth Raynor Minnesota masterpieces such as White Bear Yacht, Interlachen, Minikahda, and Somerset. At Hazeltine, it seems like everywhere you look there's a dogleg, even in the bathroom. There are few memorable holes, and those usually are collected at the edge of the lake. After that, it's a jumble of man-made ponds, clustered trees, marsh grasses, and strange mounds.
"Some holes still don't make sense," said one golf course critic, who spoke on condition of anonymity after playing the course a few weeks ago. "The fifth hole doglegs right, but a diagonal ridge in the fairway kicks balls towards out-of-bounds. It's capricious, with no rhyme or reason," he moaned. "And then another ridge like that appears at 15. Why didn't they take those out?"

"Match play may be the best format for Hazeltine," agreed John Gordon. The course will host the Ryder Cup in 2016, and hey, Golf Magazine voted Hazeltine No. 41 in this month's issue listing the top-50 courses of the modern age (1960 forward). We'll talk more about the design of Hazeltine later in the week when I take everyone on a hole-by-hole tour.

Still, it's a legitimate question why the PGA will only go once to Oakland Hills and Southern Hills - courses with some of the richest histories in all American golf - yet give two PGAs and a Ryder Cup to Medinah and Hazeltine. "The PGA is swimming in loot, and can pick any courses they want," said our anonymous pundit, "but they don't choose wisely. Hazeltine and Medinah are good courses, but not truly great."

Nevertheless, there are much greater virtues and wisdom in coming to Hazeltine than just considerations of golf course architecture. It has cooler weather than steamy Chicago or blast-furnace Oklahoma. There is more interesting terrain in its rolling farms, open prairies and sparkling lakes. There is just more room here for the subsidiary elements needed for a golf championship than any other course in the area except perhaps Interlachen.

Moreover, the Minnesotans rival the Carolinians, Oklahomans and Oregonians in their ardor for golf. So their passion, warmth, and charm will make them splendid hosts for the year's final major. Hazeltine the golf course may still be stuck in1961 and the golf architecture is the worse for it, but Minnesotans are also still a throwback to 1961, and we are all the better for it. Girls here don't look at your butt or your wallet, but your eyes, smile and heart.

In Minnesota, "moose tracks" are not an ice cream; Calloway is the mechanic down the street; Big Bertha is a prize winning cantaloupe; and extreme cucumbering is revered as a thrilling sport, so much so that the locals have switched to "cuclear energy," and have fears of terrorists getting their hands on "thermo-cuclear" weapons. Garrison Keillor was canonized and is enshrined as a graven image atop the St. Cerebellum's Hospital for the Incurably Unhinged, right next to the statue of St. Olaf slaying Nancy Reagan in serpent form. Look for it next time you're in St. Paul. (Or is it St. Cloud? I never can remember.)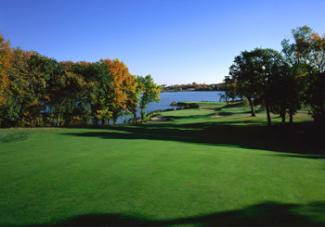 Par-4 10th Hole at Hazeltine (Photo by Larry Lambrecht)
You know the people here have a great sense of humor. They watch Minnesota Vikings highlight videos for laughs. They used to blow a Viking horn every time the team scored a touchdown, but it happens so infrequently, that now they blow it every time they get a first down, just to drive the other fans crazy. You blow a horn like that in West Virginia and they grab their rifles thinking it's time to invade Pennsylvania.

So it's off to Lake Wobegon National, Garrison Keillor Golf & Country Club, where the trees will look better with kids hanging in them to watch the golf, where they use scarecrows for rules officials, grandstands made of soybean boxes, and cornfields for hazards if they had to, and where a hard chill hits on Labor Day but still can't freeze buoyant hearts. As Tolkien said, "Deep roots are not reached by a frost."

With the way the course is set up, anyone has a chance to win - it's Glory's Best Shot. If there is anywhere where a tour "nice guy" like Ryan Moore or Kenny Perry, Ben Curtis or Boo Weekley, Jim Furyk or Hunter Mahan can win, it's here. Minnesota, the everyman state, may very well crown another everyman champion like Stewart or Rich Beem. Who knows? Maybe, once again, we'll see John Daly cradling the Wanamaker Trophy as fondly and affectionately as an inbred hillbilly embracing his prized hog.

No matter who wins, the Minnesotans will show us that the person who wins this week is someone who has the most fun, makes the most friends and loves the game the best. We'll all have a splendid time. The sun is warm, the lakes are cool, the birds sing, the bees buzz, and homespun nice girls - tulips of the tundra in daisy dukes and "Minnesota State" T-shirts - win hearts, minds and beauty contests.

Who needs Madison Avenue? Too much money spoils everything. Minnesotans know life is what you make it. When they die they shake Jesus's hand and are proud to do it. They'll remind us that what modern society disdains as small and ordinary is really what is profound and virtuous. That's a universal truth that we as a nation need to re-embrace. It is the death of our national identity if we forget.


Since launching his first golf writing website in 2004, http://www.jayflemma.thegolfspace.com, Jay Flemma's comparative analysis of golf designs and knowledge of golf course architecture and golf travel have garnered wide industry respect. In researching his book on America's great public golf courses (and whether they're worth the money), Jay, an associate editor of Cybergolf, has played over 220 nationally ranked public golf courses in 37 different states. Jay has played about 1,649,000 yards of golf - or roughly 938 miles. His pieces on travel and architecture appear in Golf Observer (www.golfobserver.com), Cybergolf and other print magazines. When not researching golf courses for design, value and excitement, Jay is an entertainment, copyright, Internet and trademark lawyer and an Entertainment and Internet Law professor in Manhattan. His clients have been nominated for Grammy and Emmy awards, won a Sundance Film Festival Best Director award, performed on stage and screen, and designed pop art for museums and collectors. Jay lives in Forest Hills, N.Y., and is fiercely loyal to his alma maters, Deerfield Academy in Massachusetts and Trinity College in Connecticut.