The 2013 PGA: Placement, Precision& Short Holes Are Keys to Mastering Oak Hill
By: Jay Flemma
[Editor's Note: Cybergolf's Jay Flemma and Marino Parascenzo are in Rochester, N.Y., for this week's PGA Championship. Here's Jay's first installment.]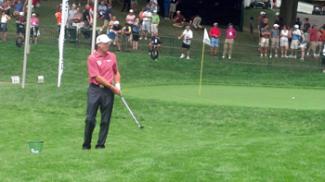 Furyk Practices Lob Wedges
Have you ever ridden in car called a "Ford Fiesta?" What a nightmare! One of these is my rental vehicle for the week, and it handles like a skateboard with doors. The pavement feels like I'm riding on pebbles and marbles, and every time the wheel moves the slightest bit there's this sickening "here we go!" sensation as we lurch and swerve along the road.

That's what some players must feel like trying to traverse the trees, rough, rocks, creeks and swales of Oak Hill Country Club this week in their quest for the Wanamaker Trophy and 2013's final major championship.

"It's bewildering," gasped 2003 U.S. Open champion Jim Furyk. "The rough is unreal, the trees can catch you everywhere, and you have to be careful on each hole, even the short ones," he explained. "(Hitting) fairways are at a premium, and it's going to be a war of attrition out there. You can't let 'aggressive' turn into 'stupid.' If you're going to win, you're going to have to do it from the fairway."

Ian Poulter agreed, pointing to the way most golfers will be clubbing down off the tee, even on par-5s.

"It's a lot of positional play . . . 13 for instance. Albeit a 600-yard par-5, I don't see anybody hitting driver off that tee. I think a lot of guys will be hitting 3-iron," he posited. "I see it as 3-iron, 5-iron, 9-iron just to make sure you're in position. Who does that on a 600-yard hole normally? But if you hit it in that rough off the tee, you're in trouble. If you hit it in the rough with your second shot, you're in trouble again," he concluded animatedly.

Indeed, the rough is more the talk than the trees this week at Oak Hill. Even though there is a U.S. Open "graded-style" first cut of 2- to 2.5-inch rough about five yards wide on some sides of the longer holes, greenside rough is torturous - long, thick, clingy and juicy.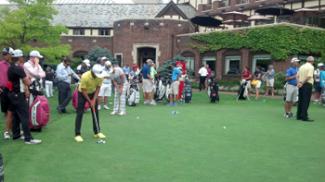 Fowler & Poulter Work on Their Putting
"The greens are very small, and I don't think the rough around the greens favors the best chippers because it's very thick, it's very lush," the Englishman explained. "The ball might get to the bottom of the grass or it might not. And it's going to be hard to predict what it's going to do coning out of there no matter what. You can move it around the trees, but keeping it out of the rough, especially the greenside rough is key."

Meanwhile, Furyk was even more suspect about the outcome of greenside shots. "It's going to really stun the people watching on TV. You're going to see guys double-hit pitches, stub chips, or even whiffs . . . slide the club face right under the ball without even moving it," he exclaimed with a worried look.

"I was out there in a practice round today and my playing partner double-hit a chip. You'll see a lot of that this weekend. It's like a U.S. Open around the greens. In fact, it's might be tougher."

"It's not an overly long golf course, but you'll have to be really precise," added defending champion Rory McIlroy. "You need to do everything well - you've got to drive the ball well, and you've got small greens and small targets to hit to . . . you have to control every single aspect of your game this week."

Rory may have it easier than many others this week. Though he's been struggling this year, not only is he rounding into form just in time to defend the title he won in a romp last year at Kiawah Island, his length is dulling the edge off at least some of Oak Hill's supposedly razor-sharp teeth. While many call the last four holes at Oak Hill one of the hardest finishes in major championship golf - including the 495- and 482-yard par-4 17th and 18th holes - McIlroy hit 9-iron, 9-iron, pitching wedge and 9-iron into the last four greens.

"That's just silly," added one pro who spoke on condition of anonymity. "The rest of us have to ride a unicycle down these goddamn fairways to stay in them and he's driving to where he can just pitch it up there."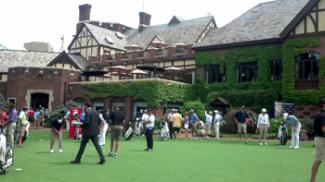 The Practice Green Behind Oak Hill's Stately Clubhouse
While a unicycle may be hyperbole, and perhaps even my rickety Ford Fiesta might be a stretch, Oak Hill still has a restrictor plate on much of the field.

"We won't be driving around here like we're racing an Indy Car," stated J.J. Henry, the last entrant in the field, after 1996 PGA champion Mark Brooks pulled out with an injury. "It'll be more like we're racing Ford Model-Ts or Studebakers," he quipped. "Slow and steady is gonna win this race. Fairways and greens, make the putts and stay out of trouble. I know you've heard that before, but it's what you have to do to win on these old classic courses."

"We definitely need something sturdy and able to handle the turns," joked Davis Love, who was also part of the locker room conversation. "Maybe a stock car, but you can't act like an Indy car around here."

Indeed, everyone is so respectful of Oak Hill most players are leaving the driver in the bag most of the day. Tiger Woods said he'd only use it on four or five holes. So did McIlroy. Phil Mickelson, who showed up today in shorts and flip-flops to register, is leaving the driver at home in exchange for a fifth wedge, the same set-up he used to win last month's Open Championship at Muirfield.

"The course is all about placement," said player after player, so why risk putting yourself behind the 8-ball.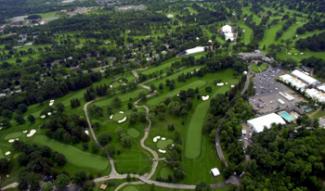 Aerial View of Oak Hill
"Even the short holes are dangerous," noted Furyk. "You have to lay back with irons because of the elevation of the greens. Both seven and 14 you need to be below the hole."

"He's right," McIlroy agreed. "You can't let the round get away there. Lay back with irons and make good chips and pitches so that you stay below the hole. You can make birdies from 12-14 . . . but again it's all about hitting fairways."

I know we always hear that mantra from the players every time a major rolls around, but it's especially true this week. Oak Hill is dictatorial when it comes to architecture. There are few options - hit it here, then hit it here, then scrape a par. It's an old U.S. Open venue turned PGA Championship venue in the last few decades. Perhaps Tom Watson - here for another major championship despite being 63 - said it best.

"It's one of the toughest courses I've ever played for a major championship. This course gets my goat every time."

Well, then don't bring your goat to Oak Hill, Tom. Doesn't it belong at Lahinch anyway? Along with my crappy Ford Fiesta . . . the way it handles it sure feels like I'm driving over the hills and valleys of Lahinch rather than I-90 and the rugged fairways of Oak Hill.
Since launching his first golf writing website in 2004, http://jayflemma.thegolfspace.com, Jay Flemma 's comparative analysis of golf designs and knowledge of golf course architecture and golf travel have garnered wide industry respect. In researching his book on America's great public golf courses (and whether they're worth the money), Jay, an associate editor of Cybergolf, has played over 420 nationally ranked public golf courses in 40 different states, and covered seven U.S. Opens and six PGA Championships, along with one trip to the Masters. A four-time award-winning sportswriter, Jay was called the best sports poet alive by both Sports Illustrated and NBC Sports writers and broadcasters. Jay has played about 3 million yards of golf - or close to 2,000 miles. His pieces on travel and architecture appear in Golf Observer (www.golfobserver.com), Cybergolf, PGA.com, Golf Magazine and other print magazines. When not researching golf courses for design, value and excitement, Jay is an entertainment, copyright, Internet and trademark lawyer and an Entertainment and Internet Law professor in Manhattan. His clients have been nominated for Grammy and Emmy awards, won a Sundance Film Festival Best Director award, performed on stage and screen, and designed pop art for museums and collectors. Jay lives in Forest Hills, N.Y., and is fiercely loyal to his alma maters, Deerfield Academy in Massachusetts and Trinity College in Connecticut.