The American Club Named Resort of the Year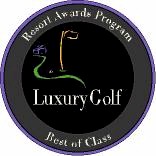 The American Club in Kohler, Wisconsin, has been named Resort of the Year in the Luxury Golf Experience awards from Luxury Golf Homes & Resorts magazine. The complete results are found in the May/June issue of the magazine.

A panel of golf and travel experts, along with the magazine's editors, selected the 236-room resort as the ultimate golf vacation experience after it received the highest aggregate score in seven categories. The panelists cited the resort's golf offerings, which include four Pete Dye-designed courses, including Blackwolf Run, host site of the 1998 U.S. Women's Open, and Whistling Straits, where the 2004 PGA Championship will be held. In addition, The American Club was highly ranked for its cuisine, spa, romance and family experiences.
"This is the first year Luxury Golf Homes & Resorts has determined the best luxury golf resorts in the world," said James Y. Bartlett, editor of the bimonthly magazine published by Luxury Media Corporation. "Our panel carefully evaluated hundreds of top golf resorts and selected The American Club as the pinnacle of the luxury resort experience."
In addition to The American Club's selection as the overall best resort, Luxury Golf named "Best in Class" winners in seven categories. They include:
Best in Spa Experience - Grand Wailea Resort Hotel & Spa on Maui
Best Romantic Experience – The Boulders in Carefree, Arizona
Best Pure Golf Experience – Pinehurst Resort in North Carolina
Best Golf School Experience – La Quinta Resort in La Quinta, California
Best Cuisine Experience – Pebble Beach Resorts in California
Best Family Experience – Walt Disney World in Florida
Best International Experience – Turnberry Hotel and Spa in Ayrshire, Scotland
"A truly exceptional vacation is the sum of many parts," continued Bartlett. "The common thread in these resorts is outstanding golf. But we wanted to identify specific characteristics that make these resorts memorable, and asked our panel to judge them by category. The result is a definitive list of the finest golf resorts in the world."