The Architect's Progress - A Photo Essay of Teugega Country Club in Rome, New York (Part 1)
By: Jay Flemma
Here's something a little different for Cybergolf - a photo essay.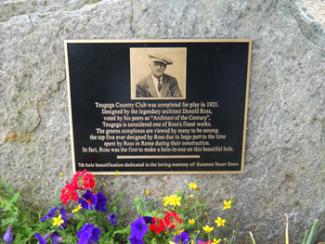 This plaque on the seventh tee commemorates Donald Ross's lengthy time at Teugega C.C., as well as his personal love for the region and its citizens.

I had the great privilege to play the gorgeous course nestled cozily in the sleepy colonial era town of Rome, N.Y., on the shores of Lake Delta. Bucolic splendor exemplified. (American History buffs will recall the area is home to Fort Stanwix, where colonial forces stopped the march of Barry St. Leger across New York State, and to Oriskany, where General Nicholas Herkimer died a victorious hero.)

While the club dates back to 1899, the Ross-designed layout opened for play over the three-day 4th of July weekend in 1921. Enamored and eventually betrothed to a local girl before her untimely death, Ross spent many months walking the site, cunningly employing the property's rolling terrain and bold natural features such as swales, streams and hollows. Moreover, the greens feature both macro- and micro-movement, making them one of the strongest 1-18 sets of holes he ever built anywhere.

Teugega just completed a restoration by Syracuse-based golf architect Barry Jordan. Over the decades, greens had shrunk, fairway mowing patterns had wandered and bunkers became more removed from the area they were meant to guard. It was a scenario many "Golden Age" clubs have faced recently.

Happily the club knew what they had - a virtually undisturbed, authentic Ross in every way - and they knew what they had to do: preserve that precious architectural heritage. They ultimately chose Jordan for the work.

"They hadn't tinkered much with the golf course at all since Ross had been there, which is great. Because he spent so much time there, Teugega is a great case study for Ross's architectural ideas and strategies, especially the green complexes," explained Jordan. "We simply cleared out a lot of the over-planting that had been done - Ross wanted the fairways to be wide, so there would be many angles to play into the greens - and the trees eliminated a lot of that. The clearing also opened up long vistas across the property. We got rid of a couple hundred to date. Then we expanded the greens to their original dimensions using old aerials and the original plans and also through soil probings."

"We looked at aerial photographs and brought the greens and the fairways back to their original specifications we had back in the '20s," added head professional Steve Campanaro.

The club took great care to restore the course to Ross's original intent and the result is not only a sparkling hidden gem of a course/club, but a perfectly preserved architectural museum piece that golf-design experts should run to study. It's a beautiful untouched Ross in all its splendor.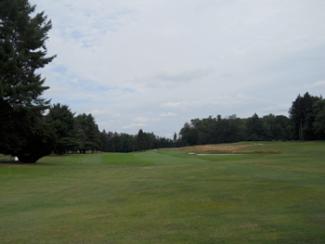 All great golden age courses have a par-3 where you need driver or 3-wood. Here's Teugega's lovely 240-yard third.
Ultimately, the greens are the superstar at Teugega. Look at the slope on the back of the green at the long par-3 third, which was intended to be reached with a driver back when the course was built (hence this dramatic and unique backstop), which still holds its own well today against modern technology.

Those dramatic contours are wondrous to behold. They clearly highlight that smaller, more contoured greens are far a better way to defend a golf course than brutish length or ubiquitous water hazards. The adventure on any given hole only begins when you arrive at the green on a Ross course, and two putts are certainly not a given.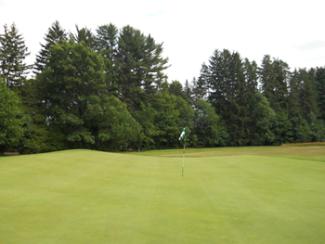 In another interesting quirk of the routing, there are back-to-back par-5s at Nos. 4 and 5. Here we see the gorgeous shaping on these berms in the fourth fairway. Is it 2012 or the Roaring '20s?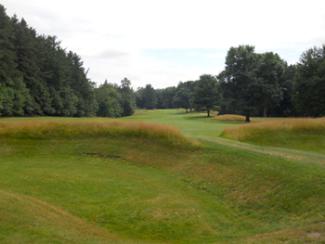 The par-4 sixth showcases a lot of what there is to like about Teugega - intelligent bunkering (it's anything but repetitious - you won't see the typical greenside "5 o'clock, 7 o'clock, lather, rinse, repeat" at modern courses like Turning Stone), great diagonal angles, and lots of width off the tee.

Once they prune the tree on the left, the rest of the playing angles of the hole will be fully restored.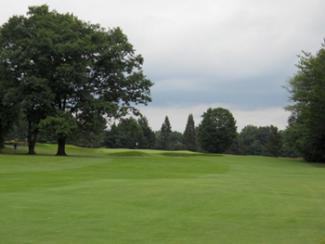 "The sixth green and the green complex are mind-blowing," noted Jordan. "So much subtlety - there are so many interesting little pockets and hollows, but they all flow together so beautifully. It's a short hole, but if you short-side yourself, it's tough."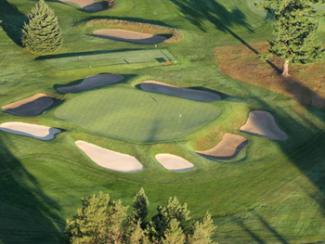 The great thing about Teugega is that so many holes are memorable, but architecture experts may marvel the most at the 130-yard -yet well-defended - par-3 seventh, proof if ever there was that Ross built "Short" holes in the style of Golden Age architects C.B. Macdonald, Seth Raynor and Charles "Steamshovel" Banks as well.

Look at the perfect thumbprint in the green! Absolutely marvelous. (Photo courtesy of Teugega C.C.)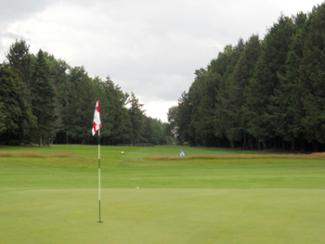 While the tee shot at the par-4 ninth is the only place where the trees intrude upon the playing corridors, the green and bunkering are excellent compensations. An illusion bunker in the middle of the fairway looks greenside, but is actually well short, another great Golden Age architectural defense and something else you rarely see in modern times from so-called mega-star designers.

The player in the picture hit a marvelous shot out of one. The green is protected by four gigantic mounds at the corners making pitches back to the green particularly difficult, so miss short - not left or right.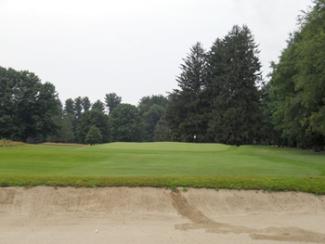 Since launching his first golf writing website in 2004, http://jayflemma.thegolfspace.com, Jay Flemma 's comparative analysis of golf designs and knowledge of golf course architecture and golf travel have garnered wide industry respect. In researching his book on America's great public golf courses (and whether they're worth the money), Jay, an associate editor of Cybergolf, has played over 420 nationally ranked public golf courses in 40 different states, and covered seven U.S. Opens and six PGA Championships, along with one trip to the Masters. A four-time award-winning sportswriter, Jay was called the best sports poet alive by both Sports Illustrated and NBC Sports writers and broadcasters. Jay has played about 3 million yards of golf - or close to 2,000 miles. His pieces on travel and architecture appear in Golf Observer (www.golfobserver.com), Cybergolf, PGA.com, Golf Magazine and other print magazines. When not researching golf courses for design, value and excitement, Jay is an entertainment, copyright, Internet and trademark lawyer and an Entertainment and Internet Law professor in Manhattan. His clients have been nominated for Grammy and Emmy awards, won a Sundance Film Festival Best Director award, performed on stage and screen, and designed pop art for museums and collectors. Jay lives in Forest Hills, N.Y., and is fiercely loyal to his alma maters, Deerfield Academy in Massachusetts and Trinity College in Connecticut.