The Architect's Progress - Crest-oration! Steve Nacewicz & Family Resurrect Mighty Crestwood
By: Jay Flemma
We had given her up for dead, but she came back to us. After almost two decades of mind-boggling neglect, Crestwood Golf Club - the beloved home course of many upstate New Yorkers - had been utterly destroyed: annihilated, vaporized by what regional golfers called "chronic malpractice and mismanagement." Horrifyingly, it happened right before our eyes and we were powerless to stop it. But now, thanks to one dedicated PGA head professional and his golf-loving family, mighty Crestwood is back and commanding the attention of every public golfer north of New York City.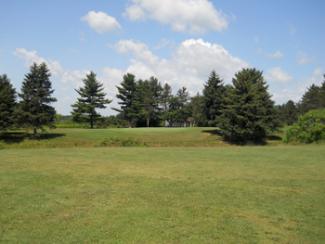 The Uphill Approach to the Par-4 5th
Back in the Day

Back in the '80s Crestwood G.C., tucked in the sleepy Utica, N.Y., suburb of Marcy, dominated the upstate New York public golf scene. Sure, the Yahnundasis and Teugega were the big-ticket private clubs in the area, but Crestwood was their equal when it came to the quality of the golf course and the deeply talented golfers who called it home. Over 7,000 yards long before metal woods, hybrids, or super-balls called Pro-V1s were ever invented, it was Big Bad Crestwood - a name all golfers feared but also loved.

"Back then, a day at Crestwood was a treat," explained local golfer Pat Markeson. "My buddy's family all were members, and a couple times a year he'd invite me, and to me it was always an occasion, a special day. You were playing one of the best courses in the area by far, but it was also one of the toughest."

Markeson is right. Utilizing reverse camber, speedy, curvaceous greens and relentless length, back then Crestwood was the finest public test of golf north of Binghamton, including fabled Leatherstocking.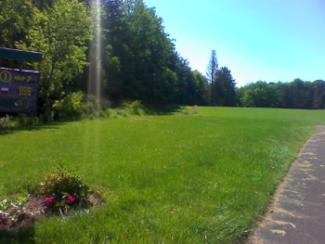 The Condition of the 1st Tee box in 2009
"The frustrating thing was that you could get a birdie on almost any hole, but you could also card a double-bogey or worse, and if one hole didn't get you, another one would," Markeson observed. "You'd bring one hole to its knees, but another would pop up when you never expected it and ruin your score. You couldn't relax on a single shot, and it was really tough to score well, but it was so satisfying to savor how much fun it was 1 through 18 when you got done."

As such, in terms of difficulty and interesting design, Crestwood was the equal of any local private club. Both male and female golfers (including famous Crestwood female head pro Lolly Buczek) who played out of Crestwood were fierce competitors. They won city amateurs, played for collegiate squads, competed well in state and USGA events, and even went on to become teaching pros or club pros.

Better yet, the club had a great reputation because all the members were altruistic, friendly and welcoming. No egos, no arguments, no politics. You know a club is laidback when they don't take tee times - you just put a ball in the rack and tee off when it's next in line.

"We knew what we had and cherished it," said Markeson fondly. "Everybody knew each other, everybody liked everybody else, everybody had a great time together."

And then it all came crashing down like an avalanche.
Steve Talks with Members
"He Bought Seed for the Greens at Lowe's Home Improvement"

In the mid-1990s Korean born Canadian citizen Alfred Park bought the golf course and decided to run it with his wife, his son and a one-man maintenance crew. And for the next 15 years, Crestwood died a slow, lingering death.

"He ran it like a dictator. We got a taste of what living under communism must be like," seethed one former member who asked to speak under anonymity. "The course always looked and played like he never put any money into maintenance, and the conditions just got worse and worse every year."

Greens shrank and grew thick with weeds. Fairways narrowed almost to the point of vanishing, eventually becoming as unkempt as the rough. Some tee boxes and bunkers were completely forsaken, left to fester and eventually disappear from the course altogether. And almost every single member left the club. At the end of the Park's tenure, Crestwood had shrunk dismally to a mere 11 members.

Indeed, former members and regional golfers were absolutely unanimous in their condemnation of the way Park ran the course and his failure to maintain it.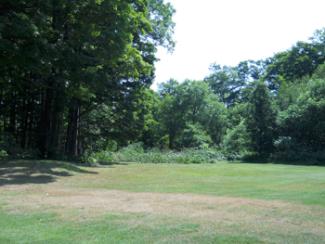 The Former Owner Abandoned the 2d Tee Box
"You couldn't tell where the fairways were," explained Crestwood golfer Jim Twomey. "He kept it like a hayfield. There was no short grass to play on, it was all weeds."

"It was awful," echoed local golfer Don Diefenbacker. "In 2007 our whole league left. We couldn't deal with the conditions anymore. Plus he was cheap. He never gave you any reduced rates until after six o'clock."

Interviewees went on to list a litany of other issues that were confirmed by numerous other players, such as:

• "He followed you around with binoculars, watching you from a hole away while you were playing. It was so annoying! And he never put money into maintaining the golf course."

• "He wouldn't water the course, aerate the greens, or feed or treat the grass."

• "He bought seed for the greens at Lowe's Home Improvement."

• "It was monumental neglect."

It was. Think "Apache Stronghold neglect" and then triple it. I saw it with my own eyes. My family and friends were members up until what seemed like the bitter end.
"My favorite story," explains attorney George Murad, another of the "once and future member" group that has returned, "was how we had to play behind a bunch of gang-bangers in wife-beaters with loud boom boxes absolutely cranking 'Gangsta' rap all day long. Finally, when then drove their golf cart into the pond on 15, we called the pro shop on our cell phone. Of course we couldn't speak to the old man, but we got his son. He just called the cops and said someone is stealing our carts at Crestwood . . ."

Many people implored Park to sell the golf course, but he flat out refused all offers and, as years passed, so too did all hope in the course's recovery.

"We begged him to sell, we offered him help," said the anonymous member. "But he rudely rebuffed or rejected all inquiries and treated us even worse after that."

By 2010 the course was so densely overgrown with thick weeds that it resembled a lost city hidden in a jungle. It was as tattered as a homeless person. There was an awful sense of finality. Ron Morrissett of GolfClubAtlas.com once wrote an article about the 10 greatest architectural crimes in golf history. The decline and fall of Crestwood could have been part of it.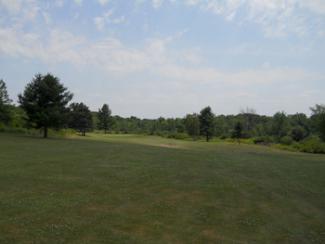 The Reverse Camber on No. 11
Rising Like a Phoenix

But lost cities can be reclaimed; all it takes is one intrepid archaeologist with both the time and inclination . . . along with the good luck to get the opportunity in the first place. Finally, in 2011, when circumstances finally required that Park sell the course to someone else, a white knight was ready and waiting.

Enter Steve Nacewicz and family. Nacewicz is a lifelong resident of Oneida County. He started as a local junior golf phenom, ultimately became a PGA head professional, and for 20 years was the club pro at fabled Teugega in Rome, N.Y., a Donald Ross course vitally important to Ross's personal and professional history. He purchased the course for $900,000, and began the long slow process of reclamation.

The resurrection of Crestwood became a family affair. Steve himself is not only the head pro, but takes a personal hand in everything from answering phones to event-planning to grilling hot dogs. His wife and daughter run the snack bar and club grill. His delightfully quaint mother and aunt plant verdant flower beds full of scarlet begonias and purplish hydrangeas and festively decorate the clubhouse, while his father helps clear trees and scrub brush, reclaiming the myriad tee boxes that were lost or languished under the Park regime.

More importantly, they aerated the greens, got proper grass seed, hired a competent maintenance staff, and reclaimed a clubhouse that also had fallen into disrepair.

"You can't understate what Steve and his family did here," marveled Murad. "They rescued this golf course and the whole area is grateful."

It's a homespun, feel-good story, a Norman Rockwell painting come to life in all its Americana and charm.

"There is life here again," echoed John Capraro, another past and present member. "The course is back, but more importantly the club is back. The nice, friendly people who made it so much fun to be a part of back in the '80s have all gathered again, along with new, younger members. It's vibrant and it's great to be a part of it. The pride in the club has returned, and we couldn't be more grateful."
The 'Prison is the Most Unique Hazard in Golf
Remember how when Steve and family bought the course there were only 11 members? In one calendar year that number rose to 185. Steve and family proved the old adage wrong - you can go home again.

"We're grateful for everyone's support," Nacewicz says sincerely. "So many people have helped us and we couldn't have done it without them."

Well, that cuts both ways. If we didn't have Steve and his family we wouldn't have Crestwood. Along with new superintendent Alan Tomlinson, they brought the course conditions back, but not without backbreaking work and diligent maintenance. They had to double aerify as Park may not have aerated in his entire tenure. They had to double over-seed to bring back the greens. They had to clear jungles almost as dense as the Peten in Guatamala (well at least by Oneida County standards). They even did extensive work in reclaiming wholesale rooms of the clubhouse to make the locker rooms usable.

The community responded in kind, helping the Nacewiczes by donating "tons of sweat equity" - equipment, trucks, mowers, anything that former members and community "friends and family of Crestwood" could do was cheerfully done. The family affair blossomed into a local mission with the same fervor with which the Amish raise barns and houses: a team effort. Good-hearted golf lovers - locals who love golf, God and country - gathered together and accomplished what seemed impossible just months before: their Big Bad Crestwood, a relentless, indomitable, nigh unconquerable brute of a golf course was back and better than it's ever been since it opened in the summer of 1955.
On the Course

When you analyze Crestwood's golf course architecture three things stand out: reverse camber as a defense to scoring, the speedy and curvaceous greens, and length. The design principles are penal in some places, strategic in others. There are several "half-par" holes, particularly the closing stretch of 15-18, which includes two reachable but treacherous par-5s sandwiching the brutishly long par-4 16th (which is also severely uphill and into the teeth of reverse camber!), and the short drive-and-wedge par-4 17th.

"You can't sleep on a match at Crestwood because a big lead can vanish in a heartbeat," said Markeson. "You can be 3-up standing on the 15th tee, but with one bad swing and one bit of poor judgment and you're fighting for the match when you thought you had it won."

As for the rest of the course, reverse camber works as a limiting factor on modern technology, so Crestwood - much like five-time U.S. Open venue Olympic Club in San Francisco - holds up as remarkably well now as when it opened.

"What is reverse camber?" you ask. It's where holes curve like a scimitar in one direction, but the land flows in the other direction, meaning you have to shape your shot not only to try to find the best position of attack but to just hit the fairway and stay there at all. The par-5 third, for example, is only about 520 yards, but drives that don't draw hard will run through the fairway (much like we saw this year at 16 at Olympic Club), and the uphill approach to a small, undulating green will be much tougher. The excellent par-4 11th features the same design strategy, with the approach playing instead to a green benched into a small hillock. The drive must draw hard to reach the optimum place to play the second shot.

"You really need to shape the ball both ways at Crestwood," explained Markeson. "You can't just bludgeon your way around and score well. You have to think, and that gives us a great home-course advantage."

Finally, the par-3s run the gamut of lengths and directions. The pint-sized sixth can still wreck your scorecard if you double-cross your 9-iron into the tall fescue on the left, while the brutishly long 12th, normally around 220 yards, can be stretched to a gargantuan 265. With a swale in front of the green and a ditch on the right side, it's a full 5-wood under optimum conditions and effectively a "par-3.5."

Sure, there is still work in progress. Something needs to be done about the par-4 fourth and ninth - lackluster, straightaway holes with semi-blind ponds and no greenside bunkering; and in some places the rough needs to be pulled back (the right side on seven, for example.) Also, the club needs to get the rid of the red, white and blue yardage stakes out of the middle of the fairways! One of the indelible hallmarks of Crestwood is the 25-foot-tall white birdhouses that serve as 150-yard markers. They are a timeless, quintessential symbol of the golf course. Nowhere else in the world uses these, making them a unique and charming trademark. They will hopefully make a triumphant return later this year and tower majestically over the fairways as they did before.

"There are two things people remember about Crestwood," jokes Markeson puckishly, "the birdhouses and the prison." Yes, that's right. The 18th hole plays in the shadow of the Marcy Psychiatric Center, a former prison and insane asylum, which looms ominously over the fairway. There was a time in the early '80s when the inmates would line the fences and heckle the ladies league as they came up the fairway. A few sharp complaints about the foul language ended that hassle, but the razor wire and cyclone netting remain, making it impossible to see a picture of 18 and not know what course you are looking at.

Best of all you can play almost 15 rounds at Crestwood for the cost of a single round at the flagship Turning Stone Casino golf course. On weekdays, 18 holes with a cart is only $32, $35 on weekends. You can walk for just $18 on weekdays, $20 on weekends. A yearly membership is just $700 for individuals, $950 for the entire family. A junior membership is a flat-out steal at $200. As my 88-year-old dad says, "You can't beat that with a stick!"

The Wisdom

Ernest Hemingway and his disciples always wrote stories with an eye towards the wisdom - the story's contribution to culture or society. Where's the wisdom in the story of Crestwood? Everywhere you look:

1. Love of golf can create miracles.

2. Miracles happen at the daily-fee level, not just at rich country clubs. A place like Crestwood is the true beating heart of golf. We'll always have stories of famous architects restoring well-moneyed clubs to old-time specifications, but we don't often see a public facility return from death. A story like this gives all golfers and all courses hope.

3. A bad owner can hold a club and membership hostage.

4. You can't maintain a golf course by DIY. Put maintenance in the hands of people who know what they are doing

5. Your course doesn't need a TV deal or a major championship to make a difference in the golf world. If, as one writer put it, American culture is too often nothing more than a pastiche of fixations, a kowtow to commercialism and an obsession to devour the largest amount of gratification and self-indulgence. The homespun charm of Crestwood and its members is a wonderful throwback, but most certainly not an anachronism in any way. It has sincere value to golfers and to golf - a great place to play at a fair price with people as excited to play the game as you are, not the insincere value of conning people into pretending they are country club members for a day. For $20 at Crestwood, you get a great golf course with kind-hearted people. For $300 at other facilities, you get to look at a locker with pros name on it, a fancy bag tag and a free lunch. You may or may not be required to genuflect to them and tell them how great they are.

Is it the restoration of the year? Maybe so, maybe not, but it's definitely the resurrection of the decade. It gave a community of golfers a rebirth, a second chance. It proves you can go home again, and you can't put a price tag on that. In an age of excess, Crestwood's resurgence proves that the most precious things in life are unseen, but heartfelt. And all golf is better for that.

Members' Favorite Memories of Crestwood or Favorite Holes

John Capraro - "My favorite hole is 18, the 'S-shaped' par-5. It's a great finish. You have to shape the ball both ways if you want to hit the green in two. My favorite memory is the members. Everyone is so nice."

George Murad - "My favorite hole is 15, the sweeping dogleg-left par-5. It's short, you can hit it in two, but there is also all kinds of trouble to get into too. You can make birdie or double-bogey or worse."

Jim Twomey - "The length of the golf course. You get to hit all your different clubs, it's not just driver-wedge. The par-5s tend to be tough - two are true three-shotters, one is reachable (15).

Our anonymous irreverent wag - "Hitting balls at the inmates back in the old days when they used to be able to line up outside in the yard. They'd harass the ladies league as they came down 18, so we'd give it right back to them by hitting balls over the razor wire fence as we passed by."

Your author - Summer days playing 27 holes with my schoolmates, then scarfing down four Voss' hot dogs with super-hot relish on buttered toasted buns before returning to the course to practice putting till we couldn't see the ball any more. Then we'd get our girlfriends and go to the movies. Lather, rinse, repeat. Endless summers in God's Country. Is there anything more magical?

Fast Facts

Number of bunkers - Nine. You read that correctly. Nine. As world-class architect Tom Doak often says, the best courses have fewer bunkers, more interestingly placed!

Number of acres - 235

Designing Architect - Unknown at this time, but research is still going on to unearth the name of the designer.
Since launching his first golf writing website in 2004, http://jayflemma.thegolfspace.com, Jay Flemma 's comparative analysis of golf designs and knowledge of golf course architecture and golf travel have garnered wide industry respect. In researching his book on America's great public golf courses (and whether they're worth the money), Jay, an associate editor of Cybergolf, has played over 420 nationally ranked public golf courses in 40 different states, and covered seven U.S. Opens and six PGA Championships, along with one trip to the Masters. A four-time award-winning sportswriter, Jay was called the best sports poet alive by both Sports Illustrated and NBC Sports writers and broadcasters. Jay has played about 3 million yards of golf - or close to 2,000 miles. His pieces on travel and architecture appear in Golf Observer (www.golfobserver.com), Cybergolf, PGA.com, Golf Magazine and other print magazines. When not researching golf courses for design, value and excitement, Jay is an entertainment, copyright, Internet and trademark lawyer and an Entertainment and Internet Law professor in Manhattan. His clients have been nominated for Grammy and Emmy awards, won a Sundance Film Festival Best Director award, performed on stage and screen, and designed pop art for museums and collectors. Jay lives in Forest Hills, N.Y., and is fiercely loyal to his alma maters, Deerfield Academy in Massachusetts and Trinity College in Connecticut.