The Architect's Progress - Great Greens and Fairway Undulations at Long Island National
By: Jay Flemma
[Editor's Note: For Barclays week at Bethpage Black in New York, over the next few days Jay Flemma will profile a different regional public course that anyone can play while in the area for the tournament.]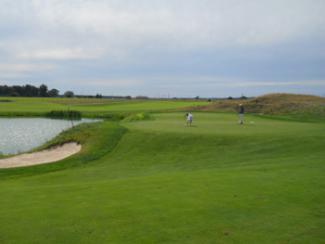 The 12th Green has Several Plateaus
It's tough to get a pulse on Robert Trent Jones, Jr.'s architectural style since he's done so much globetrotting and designed in so many different ecosystems. He also keeps having epiphany after epiphany regarding design strategies, proving that you can teach old dogs new tricks and they can get really good at them.

"Jones's longevity and diversity are remarkable. He's 70 going on 30, and that's a good thing for architecture fans," said golf design expert Rodney Zilla, and he's right. Jones is quite the plucky duck, gleefully mixing it up course for course with all the young Turks like Tom Doak, Jim Urbina and Gil Hanse, who have helped usher in the Second Golden Age of Golf Course Architecture (or "Platinum Age," if you prefer that term.)

Jones has reached a Golden Age of his own right now with his marvelous work at Chambers Bay. A masterful work which seamlessly blends with the land alongside Puget Sound west of Tacoma, the course will host the 2015 U.S. Open, the first U.S. Open in the Pacific Northwest. Moreover, Jones has used his ideas at Chambers Bay as a springboard for his future courses. Word on the street is that his new design for the West course at Dorado Beach may follow similar lines, catapulting the resort back into the rarified air of a worldwide "must-play" venue.

But it takes time for an architect's style to evolve - natural progressions don't happen instantaneously. If you want to see one of those courses that is sort of at the midpoint of the sea change in styles for Jones, go see Long Island National in Riverhead while you're in the Big Apple for The Barclays.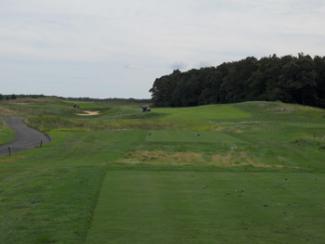 It's a Tough Driving Test at Times at L.I. National
"We had done Spanish Bay back in 1987 with Tom Watson and Sandy Tatum, the first re-crafted links-style course, and in preparation had studied the old U.K. links, particularly Royal Birkdale and Formby," said Jones, Jr., who went on to explain that he had chosen to move away from sweeping the bunkers of Tillinghast, his favorite Golden Age architect, and instead utilized the pot bunkers of the great U.K. courses at Spanish Bay on California's Monterey Peninsula.

"We also used contours and undulations on the fairways and greens, broad, sweeping contours with all sorts of wonderful swales and hollows. It was a major change in my way of thinking, primarily due to Watson and his love of the ground game, which led me to start to love the ground game more (well, that and having just been made a member of the R&A). Long Island National was a continuation of that sort of style. It was inspired by and a continuation of what we did at Spanish Bay and also Desert Dunes in Palm Springs," Jones concluded magisterially.

You remember how when Spanish Bay opened Watson gushed that it was "so Scottish you could hear the bagpipes playing"? It was hyperbole then and it's hyperbole now; when you're at L.I. Nat'l you won't think you're in Scotland, but you won't think you're on Long Island or in the shadow of New York City either, which is the point. Great golf courses are part transportive and part elixir, and L.I. Nat. is both.

Starting with an old potato field with one foot of elevation change, Jones move 600,000 cubic yards of earth and laid his fairways between excellent shaggy, somewhat sandy dunes. But while Birkdale's fairways are relatively flat and just sit in the low points between the dunes, the terrain of Long Island National bounds and tumbles all over the landscape. Some fairways roll off into deep swales, some sit amidst deep sandy wastes, and still others twist serpentinely around the surrounding dunes. The routing is exciting, and the course also scores many points for great movement in the land, both in the horizontal sweep of the fairways and the vertical movement of the swales, hollows and contours.
The greens are similarly excellent. Some, like the first, have a mound in the middle, which sheds balls to the perimeter of the green. Others are severely canted, such as the second, which tilts sharply right to left. Still others, such as the 12th, have deep swales dividing the green into several plateaus.

"It's almost a Biarritz, but not quite, but the rolls are lovely," said course public relations maven Jim Ellis, another educated student of golf course architecture. "Macdonald and Raynor are my favorite designers," he adds enthusiastically.

The course is more modern-looking than Macdonald and Raynor's and at times seems to fight with the land. Moreover, the soil is a thicker clay rather than sandy soil, which would promotes the ground game. With some greens elevated and others featuring swales immediately before the putting surface, you really can't play the ground game here. However, the outstanding green contours and excellent rollercoaster fairways provide adequate compensation.

You certainly won't lack for fun. Moreover, you should come to see it for its historical importance in the Jones, Jr. portfolio. It's a watermark course in that you can see the evolution of his change of styles as he moved from his first links-style effort at Spanish Bay to his absolutely flawless links at Chambers Bay, where he has the design concepts firing on all cylinders.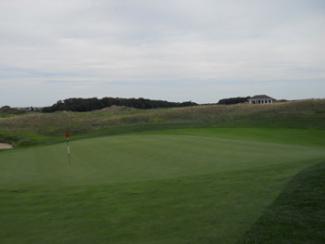 The Greens are the Stars at Long Island National
Is Long Island National a "public Friars Head?" No, but it's not supposed to be. It's a good public option that can be affordable if you shop around for the right tee time. You can get on for anywhere between $35 walking during the week to $109 during prime weekend hours, and it's an interesting round. Your golf game will be tested, so be warned. It's a tough-driving course. Wider fairways were not as much in vogue in the mid-to-late-'90s as they are now, and several holes will test your driving accuracy.

"The huge hitter will have to think twice," Jones adds laconically.

If you get out of position, however, you have a more reasonable chance to recover than a course where the greenside hazards are more penal than at L.I. Nat. Some may find the course similar to the Kaluhyut course at Turning Stone Casino, if they were unfortunate enough to have found themselves swept onto the desolate shore of the resort infamous for talking itself off the PGA Tour's kids-table rotation of lesser tournaments.

But unlike Kaluhyut, Long Island National is not "hard for hard's sake" or has pipe dreams of luring a major championship. Higher handicappers can tack their way around and, with the greens in as superlative condition as they are, you'll make a boatload of putts if you can read the excellent green contours. And that's enough to make you want to come back.
For more information about the course, visit http://www.golflongislandnational.com.
Since launching his first golf writing website in 2004, http://jayflemma.thegolfspace.com, Jay Flemma 's comparative analysis of golf designs and knowledge of golf course architecture and golf travel have garnered wide industry respect. In researching his book on America's great public golf courses (and whether they're worth the money), Jay, an associate editor of Cybergolf, has played over 420 nationally ranked public golf courses in 40 different states, and covered seven U.S. Opens and six PGA Championships, along with one trip to the Masters. A four-time award-winning sportswriter, Jay was called the best sports poet alive by both Sports Illustrated and NBC Sports writers and broadcasters. Jay has played about 3 million yards of golf - or close to 2,000 miles. His pieces on travel and architecture appear in Golf Observer (www.golfobserver.com), Cybergolf, PGA.com, Golf Magazine and other print magazines. When not researching golf courses for design, value and excitement, Jay is an entertainment, copyright, Internet and trademark lawyer and an Entertainment and Internet Law professor in Manhattan. His clients have been nominated for Grammy and Emmy awards, won a Sundance Film Festival Best Director award, performed on stage and screen, and designed pop art for museums and collectors. Jay lives in Forest Hills, N.Y., and is fiercely loyal to his alma maters, Deerfield Academy in Massachusetts and Trinity College in Connecticut.