The Architect's Progress - Jim Urbina at Paramount (Formerly Dellwood) Part 1: Meet the Golf Course
By: Jay Flemma
The name of this article comes from the title of a series of paintings called "The Rake's Progress" created by famous 18th Century painter William Hogarth. That series shows the moral, physical and economic decline of a young man who's gone from riches to rags over a period of years. It's an important series in art because its success laid the foundation for other artists to follow the template and produce such series of their own, following the progress of various subjects.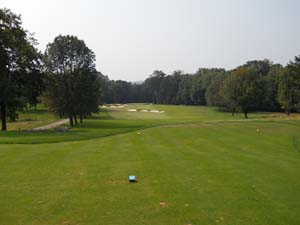 The New Center Bunker on No. 5
Now it's 2011 and we're going to do something similar - give golf fans an inside look at a what a golf course architect actually does on the job from the ground up over a period of months. But instead of following a decline, we'll document a resurrection. We'll look at a course's recovery and reclamation from the beginning of the restoration process, to the middle, then on to completion and analyze not only the goals the course set for the project, but how well those ideals were achieved.

So welcome to Paramount Country Club (formerly Dellwood) an A.W. Tillinghast design set in the knees of the Palisades cliffs near the Hudson River north of New York City, a country club that is endeavoring to return as closely as feasible to Tillinghast's original design and the vision of dynamic club founder Adolph Zukor, one of America's earliest film moguls and a New York City legend.

And happily, if there is a course that is both ready for a close-up and that won't get burned in the bright lights of the media, it's Paramount.

Lights, Camera, Action - Literally!

Zukor lived the American dream. In fact, he could be a poster boy for it. Born in Hungary in 1873 to a poor Jewish family, he was orphaned at age seven and designated to become a rabbi by his Uncle Kalman. But Zukor had other ideas. With $40 sewn into the lining of his jacket, he came to America at age 16 and took a job in the furrier trade. Eventually, he gravitated to the penny arcade business.

Zukor was a visionary. He knew movies would captivate America and he was perfectly positioned to catch and ride the cinematic wave as it swept across the country. Deftly using his remarkable people skills to impress actors and actresses from both Broadway and film, while keeping fingers in both pies simultaneously, he founded and ran Paramount Pictures for over a half-century. He was a quintessential American success story and an industry icon.

Zukor desired an estate getaway with which to entertain guests, friends and other executives, and also be a place of restful repose. So in 1918 he purchased Mountain View Farms, a 300-acre parcel in New City. While there was already a nine-hole golf course on the property, Zukor wanted the best that money could buy, so he hired Tillinghast to, as Tillinghast historian Philip Young wrote, "Create something never attempted before, a course built on a private estate good enough to rival the great golf clubs of the day."

Since opening in 1921, the club has had various ups, downs and incarnations. While we will leave you to study the past history of the club through Young's eyes in his book, "Tillinghast - Creator of Golf Courses," and Tillie's own voice in his masterwork "The Course Beautiful," suffice it to say that as we find the course in 2011, new ownership is committed to preserving and promoting both the layout and the club's storied history as faithfully as it could in a restoration. This is not a remodeling, nor a renovation. To that extent, they even changed the name of the course from Dellwood to Paramount in an attempt to recall the ties to Zukor and his motion-picture company.
Dramatis Personae

Let's meet the cast of characters involved in the process:

Steve Lapper

Steve doesn't hold any official title with Paramount, but his input has been crucial to the direction of the work being done at the club. He is private investor by trade and a lifelong golfer with a deep and broad knowledge of golf course design, and this expertise has gotten him assigned as the consultant, point man and liaison between the architect and the club.

"I'm jokingly referred to as the golf course consigliere," he quips affably as he speaks while putting his young children to bed. Perhaps the best way to describe Lapper - beyond a consultant - is simply as a Great Friend of the Club (GFC) and a Good Friend of Golf (GFG).

Jim Urbina

Jim was the longtime second-in-command at Tom Doak's Renaissance Golf Design, a position not unlike that of being manager of the rock and roll band Phish; Urbina was front and center when Doak conquered the world and did it his way. It was a meteoric rise to the top during the heady, halcyon days of a nascent movement, the birth of what golf architecture expert Ran Morrissett rightfully calls, "The Second Golden Age of Golf Course Architecture."

"We contacted several talented architects, including Gil Hanse and George Bahto, but Jim had just finished the master plan for San Francisco Golf Club and his philosophy just meshed with ours," said Lapper.

We'll discuss that philosophy momentarily, but Philip Young identifies what was perhaps another important reason that cemented the choice of Urbina. "San Francisco is one of Tillie's indisputable masterpieces and they were losing all their greens to a horrible nematode problem," Young began.

Nemotodes are a microscopic parasite to a green's roots. They are sometimes a death sentence for a golf course. "Urbina saved SF GC's greens, restoring them to perfection and eliminating all nemotodes," continued Young. "It was masterful."

Saving a world-class golf course from a near fatal infestation is a heck of an addition to a golf architect's resume. Recommendations like that are worth diamonds.
Brian Chapin

You can't help but like this young, intelligent, affable and dedicated course superintendent. He loves his job and will do anything to get better. He's not just a young kid learning at the elbow of a great architect. With his already deep and broad knowledge of his craft, Chapin is also an asset to the club now. Remember that name; Chapin is destined for greatness.

Kyla Jones

This young, dynamic, tall-drink-of-water of a P.R. maven isn't just a smile and a pen that shakes hands, kisses babies and smoothes egos. Jones is a former professional golfer with a silky-smooth swing, the fire of Paula Creamer on the course and the business savvy of a seasoned pro off it. Already tied in with Playboy Golf, she's knows how to market the truly inspiring history of Paramount without embellishing it. That gives her work here the one thing any club's publicity desperately needs: credibility.

Jon Kulok (pronounced COOL-ock)

"Who the heck is Jon Kulok?" asked my girlfriend as she proofread this article. He's the newest addition to my writing team, a super-smart, well-traveled, well-spoken expert on golf course design and a super-cool golf partner. He's a lifelong golfer with a keen eye for golf architecture. You're gonna like this guy.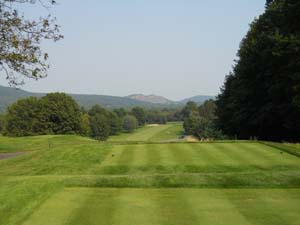 The par-5 7th is Bisected by a Road - for Now
The Overall Goal of the Project

It's not easy being a small or "local" club designed by a man like Tillinghast, an icon that created so many major championship venues. Many private clubs by famous architects might suffer a bit of an inferiority complex when compared to such venerable tracks as Winged Foot, Baltusrol and Bethpage Black, but not Paramount.

"That's not who we are, and that's not what we're trying to be," said Lapper. "In our case, we knew our course wasn't meant to host anything more than regional events and we're just fine with that. Remember, some of the greatest courses in the world have little or no history of hosting competitive championships."

Course raters should sit up and take notice! Just because you see a course on television and listen to broadcasters wax poetically about how great it is doesn't mean you should believe everything they say. It's their job to tell you everything about the venue are teddy bears, gumdrops and unicorns, even when it's an over-long, under-thought-out abomination like Atlanta Athletic Club. A course should not be defined by its difficulty or the famous names that played there, but by how its design concepts contribute to the craft of golf architecture.

Paramount's current owners and members didn't delude themselves. They knew they had a Tillie, one that the architect himself was proud enough of to write about in his book on architecture. They also knew that their course had a history that was inextricably tied to the American film industry and to the legacy of an important mover and shaker in show biz. That was enough of a heritage of which to be proud and promote, and that's what Paramount is doing.

But they also know they probably don't have a world top-100 candidate, and that's okay, and they understand that it's okay. Plenty of great athletes have wonderful careers and don't get elected to the Hall of Fame. Just like an athlete would make a long-term life mistake by taking steroids to win while shortening his life span by a decade or two, so too might a club spend ridiculous money in a chase for a major championship or a magazine list by "steroid-izing" their course with undue length and penal hazards. Oftentimes such attempts fail and the course becomes unplayable for members, and everyone is regretful of the failed attempt.

That won't be Paramount's fate - to become that cautionary tale of greed and delusion. Paramount is similar to what Lapper called "non-large-scale competition Tillie courses," sportier layouts such as Alpine, Somerset and Fenway. By "sportier" I mean a little shorter and a little less penal, but more playable and still with interesting character.

"We're different from Tillinghast's major venues in a few ways," observes Chapin. "We have wider fairways so there's more room to play the game, and that's good for the membership. They enjoy their day more. We're an estate course, and that means play moves faster for the members. Also, we have some really interesting holes that are unique in the Tillinghast design legacy, such as the great uphill approach at one to start the day and, when it's restored, the famous 'Reef Hole' at 18. In fact, both nines here end on par-3s," he explains proudly.

I say proudly for a reason. While some might scoff at the idea of a course ending either nine with a par-3, let alone both, when 18 is restored it will be an important hole in Tillinghast's legacy. Moreover, while at a lesser course with little architecture ending both nines on par-3s might be Mickey Mouse, at Paramount it works. It's another example of how not the course's colorful history, but the course itself, has some charmingly colorful moments and a uniqueness that is remembered long after a round. The job is to preserve and protect those elements while also dealing with modern technology.

"When we listened to the various architects' pitches, we were looking for preservation of the original architecture. We didn't want to bastardize it or dilute it, and we weren't just trying to add length or difficulty for the sake of adding length or difficulty," Lapper asserted. "Jim Urbina is in that elite league of architects you can trust to exercise a creative hand over the land and achieve a natural-looking result. But he also knows the value and virtues of restraint."
The Golf Course - Summer of 2011

Right now, with only two and a half holes restored, Paramount is a course that has, one, some outstanding holes simply in need of a "shave and a polish" - tree removal and shaping; two, some ordinary holes you've seen many other places that should improve somewhat with the same tree-removal and shaping; three, really interesting greens with some cunning internal contours and slopes and; four, two problems that need to be addressed and are high on the priority list. Right now, the course has three par-5s, and four par-3s (playing 36-35=71), but the routing is particularly idiosyncratic as both Nos. 9 and 18 are par-3s. I say "right now" as one of the par-5s is likely to change because of a local road that not only bisects the course, but crosses several other holes, including the par-5 seventh.

Now a road bisecting holes is not a unique problem, nor one that is necessarily a negative. White Bear Yacht Club, National Golf Links of America, Shinnecock Hills, The Old Course at St. Andrews and Atlantic City Country Club have roads that run through the middle of holes, and they neither impact play seriously nor ruin the experience. (Unless, of course, you hit a car, then you owe a lot of money and become a joke in the clubhouse.) At those courses the roads are part of the charm, much like a small birth mark on a supermodel. (Remember this truth about women, even supermodels: If she's perfect, that's her flaw. But I digress…)

However, the road at Paramount is a serious problem. It can't be seen from the back tees of the downhill seventh, so a local rule requires the player to drive short of the road, no more than 200 yards. If you drive into the road it's a one-stroke penalty. That's not golf. It screams for a solution now because it detracts from the overall impression of the course, and anyone who says otherwise is being an apologist or fooling themselves.

Obviously, pragmatism dictates that this is one exception to the mandate of "true restoration." The club and Urbina know this and are evaluating several solutions. Personally, I'd prefer to move the road altogether. Another interesting option would be to split it into two holes: a downhill, 180-yard par-3, and the hole they are contemplating anyway, a short and drive-able par-4.

"We would place member tees by the road and a back tee box further up the hill, making the carry 320 for experts, 290 for members, but we won't change the green," explains Lapper.

That's good news, because the green complex is excellent - a remarkable square shape with devilishly fierce contours. Like the rest of the greens, the fairway flows seamlessly into it, so smoothly you can putt from well off the putting surfaces if you choose. This also allows for many other recovery shot options - bump and run, pitch and check, or lob wedge.

"That's one of the great features about Paramount that shouts 'Tillie' - that the entrances to the fairways flow so smoothly and seamlessly," Young surmises. "That's both excellent golf architecture and quintessential Tilliinghast."

Other options will be explored, and the solution will be better than requiring everyone to "club down off the tee or else." Personally, I'd love to see them add a 19th hole. It would be another bit of unique character for a course already steeped in it. Answer this question: Why not? What's wrong with 19 holes? What's wrong with being a little unconventional, a little bold or daring?

The other glaring problem is the par-3 18th, a bland, uphill affair requiring a hybrid or fairway metal to a narrow green surrounded by bunkers. It's a particularly annoying way to end an otherwise good day trying to hit a long club dead straight to a green the size of a quarter. That liability however, will be turned into perhaps the course's greatest architectural asset by Urbina's restoration of the famous Tillinghast "Reef Hole," one of only two that will exist in the world.

Eighteenth-hole finishers are controversial. My belief is that a great closer should be a summation of all that came before. It should require your best drive of the day, and your best second shot of the day. It should also contain, indeed highlight, many of the architectural features that define the character of the rest of the golf course. Ordinarily, a par-3 finisher falls short of that. It's also frequently an abrupt, even anticlimactic, end to a round. So if 18 is going to be a par-3, it needs to be a showstopper.
The best par-3 finisher in America is the gorgeous and brilliant Eden hole at fabled Garden City Golf Club. A template found at both St. Andrews and National, this hole is a remarkable way to end any round, but is especially a knee-knocker when the country's greatest amateurs gather each year to play in the 101-year-old Travis Invitational tournament. It's difficult, beautiful and intelligent, a rare gem. The same can be said about Alister MacKenzie's spectacular par-3 closer at Pasatiempo.

They are also two of the few exceptions to the general rule. Congressional's par-3 18th was too mundane for the 2011 U.S. Open, producing so few birdies or bogeys that it was anticlimactic. Reversing the hole so it played in the other direction as the 10th was an excellent idea and a dramatic improvement. The PGA Tour also sees East Lake's par-3 finisher, which is tough (as an uphill par-3 over water will be) but otherwise unremarkable.

The closing hole at the Old White at the Greenbrier is a wonderful example of a "Short" hole of the Macdonald-Raynor-Banks architectural bloodline, but it's too easy to really scare Tour pros. However, it works at a resort because it's pretty, intelligent and not too taxing. The same is true of the closing hole at the Ocean Links Course at Amelia Island Plantation and Killarney in Ireland - more pretty than difficult for resort guests, yet still a bit of a Sunday stroll to end the day rather than a good crescendo to send everyone home blown away, which is what 18th holes should do.

As for member or public play, a par-3 finisher is generally mundane at best, a letdown at worst. No one really minds (as much) bogeying a tough par-4 closer, but to bogey a par-3 at the end of the round leaves more of a bad taste in a player's mouth. I know because I grew up on one - Robert Trent Jones's Valley View Golf Course in Utica, N.Y., which has a fascinating par-4, par-5 sequence at 16 and 17, with great greens that run away from the player. But the 18th is a letdown, 162 yards of nothing you haven't seen before. The best you can say about such holes is "it is what it is," a polite way of saying "it's weird."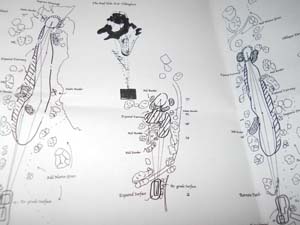 What the Reef Hole will Look Like
Paramount's Reef Hole closer, on the other hand, will be a show-stopper, a centerpiece and a bit of golf architecture history all in one. The strategy behind a Reef Hole is illusion: the green appears to be an island surrounded by hazards, but the safe areas are hidden from the tee box. It fools the golfer's eye because he focuses on the carry over the deeper hazards or has it drawn to the side where the trouble is also deadly. The visuals confuse and confound. Playing long (to the back of the green) or just short (to the hidden tongue of fairway) are the safe places to miss.

"Recreating the Reef Hole is of singular importance because we know of only two that were ever built," Young explains. "The first was at Newport, but it's now NLE [No Longer Exists].

"The other is what was originally five at the original Bethpage Blue course, but is now 12 at the Yellow," continues Young. "That's critically important because the Reef Hole is a Tillinghast original - only he built them - and the fact that it's at Bethpage proves that he also built the Black Course as well!" Young finishes proudly.

"We're really excited about seeing it when it's completed," adds Jones, who provided us the drawings from "The Course Beautiful" together with plans for the recreation of the hole and permission to reprint them for this article. It should prove a terrific conversation piece.

As for the worries about the ninth hole being a par-3 as well, that's mindless hand-wringing. The vapid and tired "doctrine of symmetry" - mandating that par for each nine must be 36 and there must be two par-5s and two par-3 on each side - is dictatorial enough, with its meaningless, false virtue of "balance." But further requiring that you can't have a par-3 at one, nine, 10 or 18 just because the doctrine says so borders on oppressive. Plenty of excellent courses have a par-3 as a ninth hole: Oakland Hills, Crystal Downs, Caledonia, Gulf Stream in Delray, Fla., Black Rock in Boston (an outstanding Redan Hole) and New York's St. George's on Long Island and the Donald Ross-designed Thendara Golf Club in the Adirondacks to name a few. The ninth at Paramount has good contouring and bunkering.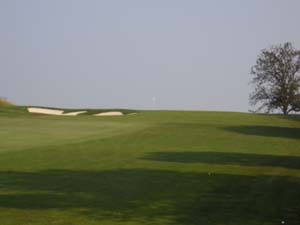 The Skyline Green at No. 6
Of the other two par-3s, the 13th is longer. Back in the day it was in vogue to build a par-3 that required a driver. Now it's a long fairway wood, but 13 is still a solid hole. The 120-yard, par-3 third will be an excellent Tillie version of the classic "Short" hole with the green encircled almost completely by sand set well below green level. While there is no "horseshoe" or "thumbprint" in the green, severe slope and contour and a second tier defend par admirably here.

The remaining par-5s are delightful. After climbing to the top of a steep hill and getting a stunning 180-degree view of the Palisades, the par-5 second, which twists and cascades downhill between stands of Nordic spruce and other fragrant hardwoods to a green set below fairway level, may be the strongest hole on the course. The idyllic, three-shot 17th is reminiscent of a hole one might find on the back nine at Tillie's Wissahickon course at Philly Cricket Club.

The par-4s are a mixed bag. "Some are really good, like (No. 1) with its uphill approach to open the day and eight with its really interesting greenside bunkering. I can't wait to see that when it's restored," said Kulok. "Some others are a little repetitive. There are a lot of softly bending dogleg-lefts, but hardly any to the right. That being said, it's a good course with a lot to like, especially around the greens, and Urbina, of course, is a superb choice."

Kulok is right. The back-nine par-4s are expected to have more of Tillie's flavor re-infused into their designs after other architects had moved some greenside bunkers away from the greens or changed bunker shapes and styles.

Though work is fully completed on only two holes, Nos. 4 and 5, the finished product is already paying dividends. At five, a diagonally positioned center-line bunker is a cunning test for the golfer off the tee. A long drive can not only carry the bunker but catch a roll in the fairway and bound to within a wedge of the green.

"That was my favorite hole on the course," Jones adds fondly. "I can't wait to see the restoration get done to see if I have a new favorite."

Besides the par-5 second, this author's favorite hole is the skyline green at the par-4 sixth. Removing the trees from behind the green opened up a magnificent vista and brought back this wonderful feature, one so stirring that it needs to be copied more often.

"We've removed over 1,000 trees already, with more to come," says Chapin. Though work has already begun on the par-4 fourth, more trees are expected to be removed to allow for a different angle of attack off the tee.

As an interesting aside, one of the aforementioned Nordic spruces from the second hole is anticipated to find its way to Rockefeller Center as New York City's Christmas tree, yet another example of Paramount's value to the zeitgeist of both the Big Apple and the entertainment industry. Best of all, it's not lip service or marketing fluff.

As for Paramount's value to the golf world when it's done - time will tell, but if the plans and two finished holes are any indication, we'll welcome back an old Tillie favorite with originality and character. And that's plenty to start.
Since launching his first golf writing website in 2004, http://jayflemma.thegolfspace.com, Jay Flemma 's comparative analysis of golf designs and knowledge of golf course architecture and golf travel have garnered wide industry respect. In researching his book on America's great public golf courses (and whether they're worth the money), Jay, an associate editor of Cybergolf, has played over 420 nationally ranked public golf courses in 40 different states, and covered seven U.S. Opens and six PGA Championships, along with one trip to the Masters. A four-time award-winning sportswriter, Jay was called the best sports poet alive by both Sports Illustrated and NBC Sports writers and broadcasters. Jay has played about 3 million yards of golf - or close to 2,000 miles. His pieces on travel and architecture appear in Golf Observer (www.golfobserver.com), Cybergolf, PGA.com, Golf Magazine and other print magazines. When not researching golf courses for design, value and excitement, Jay is an entertainment, copyright, Internet and trademark lawyer and an Entertainment and Internet Law professor in Manhattan. His clients have been nominated for Grammy and Emmy awards, won a Sundance Film Festival Best Director award, performed on stage and screen, and designed pop art for museums and collectors. Jay lives in Forest Hills, N.Y., and is fiercely loyal to his alma maters, Deerfield Academy in Massachusetts and Trinity College in Connecticut.