The Architect's Progress - Keith Foster Renovation Spurs Resurgence of A. W. Tillinghast's Sands Point
By: Jay Flemma
Remember this name: Sands Point. You're going to be hearing a lot about this A.W. Tillinghast-designed Long Island private club in the near future, because after a sparkling Keith Foster renovation-restoration it's been polished to a high shine.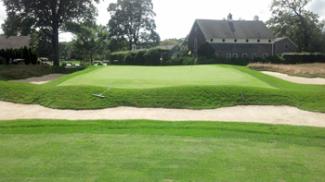 Geometric-Shaped Greens Recall the
Glory of the Golden Age
Tillinghast's career was in full ascension when he redesigned nine holes at Sands Point and designed another nine of his own in 1927. (He had designed Quaker Ridge, Fenway and Winged Foot just a few years earlier.) Though his routing stayed the same through seven decades, like so many Golden Age golf clubs the design of many of many of the individual golf holes languished. Well-meaning but misinformed committee members, at least four intervening architects, and the planting of trees-trees-trees had changed the playing angles dramatically. Greens had shrunk to a fraction of their former size, bunkers were either repositioned or lost altogether, and tee boxes had been shifted, significantly altering (or completely erasing) Tillie's original intentions.

Enter Keith Foster. He's the creative genius behind such first-rate and affordable public courses like the Harvester and Coral Canyon. But he ultimately changed tack and became a master of renovation and restoration of classic, Golden Age country clubs. His impressive resume of these includes such venerable courses as Southern Hills, Colonial, Baltimore Country Club (Five Farms) and Philly Cricket Club, all former major championship venues. It became his job to bring Sands Point into the 21st century, while also bringing back the original shots requirements and playing angles Tillie had designed in the '20s.

"Tillinghast had a remarkably broad palette, he really mixed things up well design-wise," explains Sands Point member Steve Beberman, raising an excellent point about Tillinghast. When it comes to Tillie, most golfers only know what they see on TV during major championships; all the familiar talk of "Tillie the Terror" and "Give us a man-sized course" and all the other vapid platitudes that are really just rehashed, hackneyed "harder-is-better" machismo. But Tillie did so much more than just design hard major championship venues like Bethpage Black, Baltusrol and Winged Foot. He also designed a large number of "sporty" (his word) country clubs throughout the country.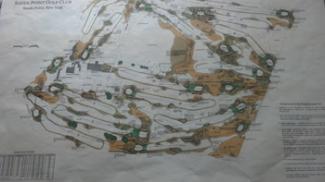 The Routing of Sands Point - a Rhombus
Sands Point poignantly illustrates the other side of the coin when it comes to Tillie's architectural design tenets. Rather than greens that are "pushed up" so they could be built atop a granite slab, at Sands Point (like many other Tillinghast courses) greens are either 1) perfectly smooth, seamless extensions of the fairway, or 2) almost completely encircled by sand with the bunkers set well below grade, such as one might see at Devereux Emmet courses such as Garden City or St. George's.

"I like to call them 'floating greens,' " explained Keith Foster. "They sit up so beautifully in their sea of sand, it's really a masterful illusion Tillie achieved there."

Foster brings up a good point about Tillinghast - illusion. Rather than the flash-faced bunkers you find at Winged Foot, here the bunkers are grass-faced and below grade, but many of them appear to be much closer to the greens than they actually are.

"Our most famous bunker, the 'Propeller Bunker,' greenside at the par-4 eighth hole, is a great example of that," explains Beberman. And he's right, as it is. It's an optical illusion - it sits much further from the green than it appears from the fairway. The same is true of the greenside bunkers at Nos. 1, 9, 10 and any number of other holes at Sands Point. Unlike his major championship venues where behemoth-like length was a defense, here Tillie outsmarts you rather than overpowers you.

"It's only 6,400 yards, but - man! - it's a long and tough 6,400 yards," explained golfer Mike Mancino, who played the course's member tees in a charity scramble on a recent Monday (the tips stretch to just a hair under 7,000). "A number of times I thought I took enough club to carry over the bunker to the green only to come up short. It's really ingenious!"
The fairway bunkering employs a similar idea off the tee: the Doctrine of Deception. You can take aggressive lines over fairway bunkers but you have to plan the shot perfectly and then execute.

"I tried to bite off too much of the bunkers with my driver off the tee, and I ended up in fairway bunker after fairway bunker," bemoaned Mancino's teammate Glenn Van Nostrand. "It looks short on the scorecard, but it's a really intelligent little golf course. It's tough to pick out the right lines off the tee and the greens are really well-defended. There's not a lot of penalties lurking out there - it's not a penal course at all - but you lose strokes one shot at a time," Van Nostrand concluded. Both Mancino and Van Nostrand also praised both the conditioning ("Pristine" said Mancino), and the clever macro- and micro-movement of the greens, which were also an excellent defense to par.

"You could score well here by thinking your way around and playing smart golf. Our playing partners were members in their 70s or even 80s, and they never missed a fairway or a green all day!" Mancino said, chuckling appreciatively.

You can score well at Sands Point, you just have to plan properly and then execute. If you miss on the wrong side of the razor's edge, you'll be hard-pressed for your next shot. The best places to approach the greens from are also the most heavily and dangerously guarded. You won't get run over by Sands Point, but you may bleed from 1,000 cuts. That's the true triumph of Foster's work at Sands Point - not only that he was able to recreate Tillinghast's remarkable strategies and playing angles, but to recapture Tillie's ability to challenge the golfer without just adding length or penal hazards.

"He brought the greens back out to the edge of their original green pads, moved the bunkers back to the edges of the greens, and realigned the tee boxes and fairway bunkers back to the proper playing angles - all huge improvements," stated Beberman, and the energetic, enthusiastic reaction of the rest of the membership shows they heartily agree.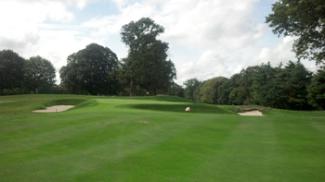 Greenside Bunkers Are Well Below
Grade, so Don't Get in Them
The course also features geometric-shaped bunkering and greens, a charming look from the Golden Age. Many greens are square-shaped with rounded edges, while others feature diamond-shaped entrances, testing both distance and accuracy. They also have excellent internal contours and, in places, are canted steeply from one side to another, with both macro- and micro-movement.

While you won't find the typical Tillie templates such as Reef Holes or Great Hazards that he showcased at courses such as Paramount and Baltimore Country Club, there is a charming intimacy to the course and a sincere warmth akin to such places as the back nine at Philly Cricket Club, Southward Ho!, San Francisco Golf Club and Brook Hollow that, when coupled with the visually delightful green and bunker shapes, makes Sands Point a bright star in the Tillinghast firmament. Finally, they cut down over 350 trees, opening up expansive vistas of the property, making a sunrise or sunset round there downright joyful.

Indeed, the course's resurgence has attracted the attention of no less a personage than Phil Young, one of our generation's most well-respected experts on golf course history and design, and unquestionably the nation's leading authority on A.W. Tillinghast.

"Sands Point shows us how wonderful Tillie was at routing such a great golf course, all the way (from) 1 to 18, in such a small amount of land [Editor's Note: about 120 acres in almost a perfect rhombus shape]. It's superb - you not only don't have holes just running side by side, but on each hole you have a comfortably wide playing corridor. It doesn't don't get the impression you're crowded at all. It's astounding how he designed such a big golf course on such a small parcel."

Young went on to praise the greens complexes and contours, calling them "tremendous," and praising Tillinghast's ability to sculpt them to the land so naturally. When a preeminent thinker of Young's stature and reputation says that, the entire industry sits up and takes notice.

Indeed, there is plenty to take notice of. While Young is correct that the course is strong throughout, perhaps the most interesting stretch of the golf course is from Nos. 6 through 11. Unlike most other golf courses that are either out and back or the more common "two loops of nine," Sands Point also returns to the clubhouse at the sixth, with its brilliant geometric green. Picture a rectangle, then remove the lower left quadrant, leaving a right-angle shape, it's classic design at its Golden Age best.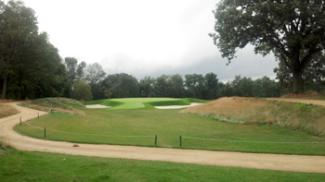 The 2nd Green - Like many Floats in a Sea of Sand
"I absolutely love the sixth green, and it shows exactly the kind of recovery work we tried to accomplish at Sands Point," explains Foster. "The front section of that green had been lost over the course of 70 years, but we were able to reconstruct it using the aerials from the 1930s. We returned to what had been lost over time."

After the gorgeous par-3 seventh plays along one side of the clubhouse and over a yawning chasm of rough and bunkers to an elevated green, the golfer traverses the "Propeller Bunker" to reach the par-4 eighth green. Then, in one of the most endearing and enduring features on the course, the ninth tee is attached to the side of the eighth green - again a staple of classic old-school design.

"We put that back as well, and we also reinstituted the bunker behind the green, which saves shots over the green from running all the way down the hill," added Foster.

The reunion of the eighth green and ninth tee is outstanding, but the real showstopper on the hole is the green, another geometric shape, this time a parallelogram with round edges and a steep cant from right to left. Though it's a mere drive and a pitch, the golfer can't help but take a second, nervous look at the tiny, well-protected putting surface with a yawning chasm of a bunker ready to swallow any approach that's too short.

"It's a great approach coming in over that wonderful cross-bunker," explains Foster. "It's such a classic look."

"Eight and nine are two of my favorite holes," agreed Mancino. "Also 14," he adds, referring to the par-5 that cascades downhill along the northern edge of the property and ends with another square-shaped green flanked by bunkers, but open in front to accept a low-running second shot.

"There's so much to like there," Foster recalls. "The green complexes are incredible, and the elevation changes give the course a wonderful variety in the shots required. Plus there's so much history there."
There certainly is: former members include iconic golf writer Herbert Warren Wind, entertainer Perry Como (who hosted "Shell's Wonderful World of Golf" there), golfer George Zehringer, New York State Governor Averell Harriman, and industrialists Max Fleischman and Vincent Astor. But with Foster's work getting rave reviews from everyone who plays Sands Point and with Phil Young raising awareness perhaps the better question is, "Who will be the next generation of movers and shakers that become members of the club?"

Author's Note: Next week we'll look at Sands Point's sister club, Southward Ho!, another Tillie design contemporaneous in both time and location with Sands Point and which was crafted by the almost the exact same team of builders and shapers.
Since launching his first golf writing website in 2004, http://jayflemma.thegolfspace.com, Jay Flemma 's comparative analysis of golf designs and knowledge of golf course architecture and golf travel have garnered wide industry respect. In researching his book on America's great public golf courses (and whether they're worth the money), Jay has played over 420 nationally ranked public golf courses in 40 different states, and covered seven U.S. Opens and six PGA Championships, along with one trip to the Masters. A four-time award-winning sportswriter, Jay was called the best sports poet alive by both Sports Illustrated and NBC Sports writers and broadcasters. Jay has played about 3 million yards of golf - or close to 2,000 miles. His pieces on travel and architecture appear in Golf Observer (www.golfobserver.com), Cybergolf, PGA.com, Golf Magazine and other print magazines. When not researching golf courses for design, value and excitement, Jay is an entertainment, copyright, Internet and trademark lawyer and an Entertainment and Internet Law professor in Manhattan. His clients have been nominated for Grammy and Emmy awards, won a Sundance Film Festival Best Director award, performed on stage and screen, and designed pop art for museums and collectors. Jay lives in Forest Hills, N.Y., and is fiercely loyal to his alma maters, Deerfield Academy in Massachusetts and Trinity College in Connecticut.