The Architect's Progress - Tom Doak Renovation has North Shore Country Club Firing on all Cylinders
By: Jay Flemma
It was Tom Doak out-Doaking himself; not just making a statement, but firing a golf cannonade that echoed all along the mid-Atlantic region from Montauk to Middle Bay, from Maryland to Maine, a full broadside into the golf architecture history books. North Shore Country Club in Glen Head, N.Y., is back and better than it's been in decades.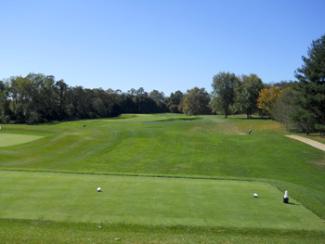 North Shore's New 7th Hole
Great strategic golf-architectural principles have made remarkable inroads in the last 15 years, and the movement toward harmonious restoration of "Golden Age" designs has finally started to overtake and surpass the "Doldrums Era" concepts that led architects of the mid- to late 20th century to replace what they found on old, historic designs with their own modern ideas. But still, some clubs are rightfully afraid of change. After all, Golden Age architectural legacies are eminently precious, especially those some architecture experts call part of "The Bloodline" (C.B. Macdonald, Seth Raynor, and Charles "Steamshovel" Banks). Those clubs are rightfully loathe to take a chance on having someone sign their Mona Lisa with a spray can and call it art.

"The minute we said the word 'change' there was panic," said North Shore caddie master Mike Butler. "But the second we said Doak's name, that panic changed to excitement. It was still mixed with a little concern, but we trusted him. And wow! Did he deliver."

All it took was one hole. "He did the seventh hole first, and it was nothing short of a statement to the membership that we absolutely made the right decision in selecting him," said Butler. Worries turned to cheers, hand-wringing to celebratory champagne glasses clinking. Most importantly, concerns turned to trust.

Everything New is Old Again

North Shore has an unusual problem for a Macdonald-Raynor-Banks country club: it's on Long Island, which means it's too close to several of the Bloodline's finest courses like National Golf Links of America, Piping Rock, and The Creek - and, therefore, it sometimes gets left out of the metaphorical conversation of the great Bloodline clubs.

"The main [architectural] problem with the course is that it was built in 1915, so a lot of the fairway hazards were only 180 to 200 yards off the tee, and many of the tees back up to a fence or another fairway, so there was no room to put in new tees to get those hazards back into play for the low-handicap golfer," explained Doak. The job, then, couldn't be a full restoration, but a renovation . . . a renovation that required some redesign in places, like seven.
The Seventh Hole - the Shot Heard 'Round the Club

"There have been three full redesigns of the seventh hole, but finally we got it right," said course superintendent John Streeter, who worked closely with Doak. Always a short par-4, golfers loved to try to drive the green but, for years, the club attempted to discourage that, mostly by narrowing the fairway and framing it with thick rough.

"On the old seventh, they were fighting and fighting to keep people from trying to drive the green even though it was a very short hole. I just thought 'Why fight it?' Why not build a hole which challenges the player to be aggressive and lure him into the greenside bunkers if he misses the shot?" explained Doak. "The only hole that's based on my own template instead of Raynor's, it's based on the sixth at Pacific Dunes, but the green and bunkers are built to look like Raynor's."

For those of you scoring at home, here's a description of Pacific Dunes' sixth hole courtesy of Ran Morrissett of the golf architecture website GolfClubAtlas.com:

"6th hole, 320 yards: A unique hole in the world of golf, this sleeper can dismantle the unthinking golfer. An innocuous 80-yard-wide flat fairway greets the golfer [but] . . . any tee ball to the left of center has to flirt with an 18-foot-deep bunker that protects the elevated green . . . but the long green narrows to a mere 34 feet wide and a shaved bank runs down its entire right side. Thus, any approach from the left is frighteningly exact and with a little wind about, the golfer more than has his hands full. Conversely, if the golfer carries his drive 220 yards past the right-hand fairway bunker, he is afforded a relatively straightforward pitch to one of the flatter greens on the course."
The new seventh hole at North Shore accomplishes what the club was trying to do all along - provide a challenging short hole that is interesting and has character. All country clubs should sit up and take notice. Doak accomplished that goal by widening the fairway, not narrowing it, and certainly not by adding length. The late, great Mike Strantz, another world-class golf architect said it best by quoting that epic car commercial: "Wider is better."

Now you can try to drive the green and be rewarded with an eagle putt or find yourself in a frightening bunker fighting for par. Even from the fairway, the hole is not a pushover as the pitch must be precise in both distance and accuracy. It's an eminently fair hole without being tricked up or clogged with rough.

"Everyone loves it," praised Streeter. "Everything in front of the green is opened up - go ahead and hit driver if you like - but it has that old-style, risk-reward genius where if you're not in perfect position in the fairway you face a tough shot. And if you miss or get out of position, you are D-E-A-D!"

A New Leaf

The success of the new seventh set the tone for the entire renovation. It put the club's mind at ease so Doak could make the wholesale changes needed at the opening and closing holes, making them far stronger and more interesting. He ultimately decided to reverse the direction of Nos. 1-2-17-18 (placing greens where tees were and vice versa), so he could introduce a greater variety of strategies, while simultaneously bringing the best natural features into play.

"There were only three par-3s on the course before our work, and no short hole. Finally, the 18th hole played down to the present first tee, with the parking lot right behind it. All four of those holes were short-to-medium par-4s. We managed to get a drivable par-4 and a short par-3 and a very long par-5 out of the same land," explained Doak.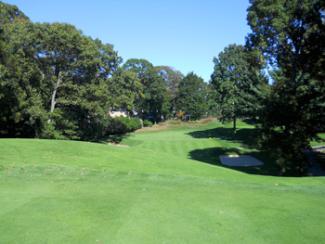 The Gorgeous 15th at North Shore
To be specific, he reversed the direction of those holes and created (No. 1) a short but uphill par-4 with a dangerously guarded green (appropriately called "New Leaf"); (No. 2) another short par-4, which is a fascinating replica of the famous "Sahara" hole; (No. 17) one of the most distinctive looking "Short" holes this author has seen; and (No. 18) a 639-yard, behemoth par-5 to close the round. It's a vast improvement.

"It really wasn't that great of a routing before," Doak recalled. "The starting and finishing holes were dull . . . and the Raynor templates, while original in Cincinnati, are sort of commonplace on Long Island. They didn't make the course stand apart from others, they lumped it in with a lot of other courses, a few of which are in much more dramatic settings than North Shore. The new holes blend in because the ideas fit the site and fit the Raynor model.

"The 'Short' 17th, especially, is a missing piece that you would just assume was always there, and the 'Sahara' second as well . . . By committing to change the starting and finishing holes and letting us rebuild a few other greens that needed work [Nos. 4, 5, 6, 7, and 15], I think we were given a chance to really make a difference in the course," he concluded.

"Blending in" - that's Doak's greatest triumph at North Shore. If you didn't know what holes he did before you got there, you'd be hard-pressed to pick them out now. The course is a seamless whole.

"It was brilliant," said Butler. "Each new hole has a distinct personality, but it's all Raynor. The Raynor character is consistent one through 18. The new holes look like they've been here for 95 years." Butler went on to specifically mention the greens, where he felt Doak best captured Raynor's style and contouring.

One important way to both keep the Raynor flavor and make a hole strategic is to use perpendicularly situated bunkering - bunkering which requires a strategic decision off the tee rather than your garden-variety penal bunkers. A straight ball can get you into more trouble on a Macdonald-Raynor-Banks course than any other architect's design, and that makes golf interesting. You don't just stand on a tee box and hit without thinking.
"You have to plan your way around the course as well as execute. Take the third hole for example," said Streeter, referring to North Shore's version of the fabled Road Hole at St. Andrews. "It used to be a short, giveaway par-5, but by switching it to a long par-4 [like its namesake in Scotland], moving the mowing line of the fairway to the right and repositioning the bunkering to catch bad shots, it's one of the strongest holes on the course."

There's actually a wide panoply of great template holes: a long, tough Biarritz (the swale is before the green, not part of it) at the par-3 fifth that plays over what Doak called the course's most characteristic terrain, a deep ravine; a Punchbowl green at the scenic par-4 sixth; back-to-back par-3s at nine and 10 (a Redan, then an Eden); and a Double Plateau green at 14 with a back-left portion that runs away from the player.

There are also great holes that aren't from the normal palette of the Bloodline, but which are unique to the terrain as Raynor found them. The par-4 12th was a straightforward uphill hole until Doak sank a gargantuan greenside bunker and extended the green behind it to add interest, turning a hole that was at best a sleeper into a conversation piece.

"I'm glad people like what we did with 12," Doak admitted. "We extended the green further to the right to pick up some hole locations at the top-right; before the extension the green didn't have too many hole locations, because the slopes on the left side are so steep."

But it's the steep slopes and excellent, curvaceous green contours that give North Shore its personality and teeth. No. 12 may be a short hole with just one greenside bunker and simple mowing lines and routing, but with its wild green it's a fascinating example of how less is more and how great greens and one interestingly placed bunker say more in 320 yards than penal architecture designers can say in close to 500.

Moreover, although the natural setting may not have a signature feature like an ocean or mountain range, the terrain is terrific for golf, with depressions, hollows, hills and valleys. Uneven lies abound, requiring the golfer to account for all sorts of different stances and shot-shaping requirements. The stretch of 15-17 in particular explores some excellent ups and downs, making for a testy but fascinating finish. At 15 the golfer plays his tee ball to a severely left-to-right-tilted fairway to the edge of a ravine, then has a thrilling all-carry approach to a green set in a scenic dell. Then the par-5 16th turns hard left off the tee before requiring an approach over a hurly-burly fold in the land.

"The 16th is a terrific hole, not much like anything else I've seen from Raynor except for the 15th at Shoreacres, which might be a cousin. Fifteen at Shoreacres is a sharp left-to-right dogleg with a ravine to carry on the second shot, although the ravine is not as deep as at North Shore," Doak explained.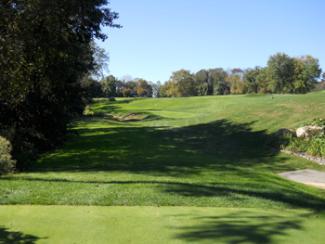 The 19th Hole
"I am sure there are lots of players who hate the 16th at North Shore, and most of them will be guys who hit a fade from the tee, because even though it is fairly short for a par-5, the only way to get to 'position A' and have a go at the green is to hit a hook around the trees on the bank at the left. If you try to hit a drive and hit it straight or block it right, you can go through the fairway and pile on a big number," he continued.

"When we started work there, we thought we might take out a bunch of the trees, but that would have allowed big hitters to drive all the way down into the ravine and hit a short iron to the green, which we didn't want to do. Plus, it was a lot of trees to take down! So we left the hole as it is - a short par-5 where you have to hit a hook in order to get home. Does that remind you at all of a par-5 at Augusta?"

Yes it does, but even more, it reminds us of the 16th at Olympic Club, the hard-hooking par-5 that sank Jim Furyk's chances at the 2012 U.S. Open.

The 19th Hole

Yet another surprise of North Shore is tucked sleepily behind a stand of trees to the left of the sixth green. It's a bonus hole, a hole you won't find on the scorecard - a short but devilish par-3 measuring no more than 150 yards but at times as short as 120 - that Doak designed while working on the rest of the course.

"The main purpose of the extra hole is so that we can take holes out of play one at a time to finish our renovation over several years, while keeping 18 holes open for the members," he explained. "The par-3 is loosely based on the ninth hole at Myopia Hunt Club, with nasty bunkers on both sides of a pretty narrow green."

Talk about a delightful bonus, the hole has never been described to the general public until this article. "You are the first journalist to play it," said Butler proudly. Maybe, but I won't be the last to sing its praises. Prim as a cameo, this is a true hidden gem and an idea more courses should emulate. Why not have a 19th hole? Everyone loves free golf, especially when the bonus hole is a charming tribute to another of golf's great holes, like this one.

The Grand Scheme

Once again, the Bloodline of Macdnald-Raynor-Banks shows us how to make a mere 6,500-yard course tougher yet more interesting than almost anyone else. Who needs machismo length when you have smaller, better-guarded greens with interesting contours? No one, that's who!

Moreover Tom Doak shows us that the way forward in golf course architecture is to look to the past. "Working with Doak taught me a lot about strategic golf architecture," said Streeter. "Using the lay of the land and moving the least amount of earth possible you can still accomplish a lot with simple things like mowing lines or green extensions. Less is way, way more!"

Then Streeter really got excited. "I'll tell you two things about Doak. First, he's humble, he's just a regular guy despite all his monumental success, and it's easy to respect a guy like that. He's like Pete Dye in that he'll take the paint can himself and draw the lines or he'll get in the bunker and draw what he wants in the sand with his finger. And second, the dude is a freakish genius! What's going on between his ears is insane. He makes thinking-man's golf courses. He's as strategic as any of the old great architects."

Indeed he is. And all golf is better for it.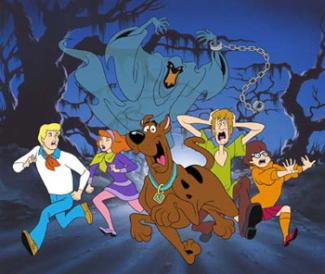 The GCA.com Guys Solve Another Mystery
"Well Gang, Looks Like We've Got another Mystery on Our Hands!"

Quick! Somebody call Freddy, Shaggy, danger-prone Daphne, Velma and Scooby! What? The Mystery Machine gang is busy? Okay, call Steve Shaffer, George Bahto, Phil Young and the GolfClubAtlas.com boys instead. We have a golf architecture mystery on our hands.

"For over 90 years, everyone thought North Shore was an A.W. Tillinghast-designed course, but there was no documentation to that effect," explained golf architecture historian Steve Shaffer, one of the men who helped unearth that North Shore was really a Raynor design. "Everyone in golf believed it was a 'Tillie' because the club said so. There was this oral history handed down. It was even in a Bill Quirin-authored book about the Metropolitan Golf Association country clubs, so everyone thought it was a Tillie even though it didn't look like a Tillie."

But a chance phone call to George Bahto, a dry-cleaner owner turned golf designer and respected expert on Macdonald-Raynor-Banks courses, set golf design archaeology in motion. "I think it was designed by one of your guys," another architect told him.

So Bahto visited North Shore and opined publicly that he didn't think it was a Tillie, but that it was, instead, a Raynor . . . but had no concrete proof. Bahto even brought the USGA's Rand Jerris, a noted expert on Tillinghast courses, to visit North Shore, and Jerris couldn't find anything that indicated to him it was a Tillinghast design either.

For more than three years the issue lay dormant and the question went unanswered. Who designed North Shore? Tillinghast or Raynor? Then Tillinghast expert (and Tillinghast Association founding member), Phil Young, remembered there were documents in the New York Historical Society that might shed light on the question.

"Phil couldn't get up there, so I went instead," said Shaffer. "You can walk right in to their offices on the Upper West Side and they'll wheel out whatever you need."

So Shaffer requested the minutes of the old Harmonie Club, the German-Jewish social club that ultimately became North Shore. "I went in fully expecting to find that Tillinghast was the man who was hired, but that was not the case at all. The minutes indicated that because the other big German-Jewish social club, the Century Club, had a golf course, they needed one. There was nothing to indicate they contacted Tillinghast at all. Raynor was their man from the get-go."

Shaffer found in the minutes that (among other things):

On 11.05.1914 the Board of Governors approved $400 to Raynor for advising on plans for improvement of the course.

On 01.26.1915 the Board approved the plans of Raynor and earmarked a fee of $1,800 as designer as well as $37,500 for the building of the course; and

On 03.13.1915 the Board formally hired Raynor.
And so the mystery was solved. Club ownership and membership then set about proudly preserving and promoting that heritage. North Shore, which stood on the doorstep of extinction, instead, under the stewardship of that ownership and membership, has risen like a phoenix, an example to all Golden Age clubs as to how good things can happen when you make the right choice of golf course architect and stay true to strategic golf course architectural principles.

"We are proud and grateful," said Butler. "It's a wonderful place to call home."

You can say that again, Mike. Loud and proud, once more with feeling.

Super Storm Sandy Update

The 10th and 11th holes are temporarily closed as is the 15th green due to fallen trees caused by this early November 2012 tempest, but the course is open for play. "The old girl just doesn't have her makeup on, but she's still beautiful," added Butler.
Since launching his first golf writing website in 2004, http://jayflemma.thegolfspace.com, Jay Flemma 's comparative analysis of golf designs and knowledge of golf course architecture and golf travel have garnered wide industry respect. In researching his book on America's great public golf courses (and whether they're worth the money), Jay, an associate editor of Cybergolf, has played over 420 nationally ranked public golf courses in 40 different states, and covered seven U.S. Opens and six PGA Championships, along with one trip to the Masters. A four-time award-winning sportswriter, Jay was called the best sports poet alive by both Sports Illustrated and NBC Sports writers and broadcasters. Jay has played about 3 million yards of golf - or close to 2,000 miles. His pieces on travel and architecture appear in Golf Observer (www.golfobserver.com), Cybergolf, PGA.com, Golf Magazine and other print magazines. When not researching golf courses for design, value and excitement, Jay is an entertainment, copyright, Internet and trademark lawyer and an Entertainment and Internet Law professor in Manhattan. His clients have been nominated for Grammy and Emmy awards, won a Sundance Film Festival Best Director award, performed on stage and screen, and designed pop art for museums and collectors. Jay lives in Forest Hills, N.Y., and is fiercely loyal to his alma maters, Deerfield Academy in Massachusetts and Trinity College in Connecticut.