The Arizona Biltmore: Inspired by Design
By: George Fuller
A stay at the Arizona Biltmore has always been an experience to write home about . . . the Frank Lloyd Wright-inspired architecture, the colorful stories of days gone by and the natural beauty of the surrounding "Valley of the Sun" have long been cherished. With the opening of Ocatilla at Arizona Biltmore in April 2009 - the iconic property's 120-room concierge wing - guests now have the opportunity to make their stay even more memorable.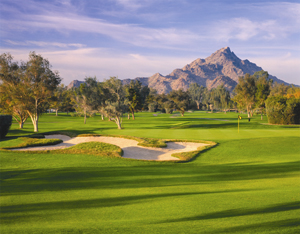 No. 14 at Adobe
"Ocatilla is our 'hotel-within-the-hotel,' " says Nathan Anseth, Ocatilla manager. "It still has all the history and heritage of the resort, but offers an enhanced level of highly personalized service."

Named after a retreat built by Frank Lloyd Wright as an inspirational workplace for his architects in the desert south of Phoenix in 1929, Ocatilla at Arizona Biltmore provides five-star services in a luxurious setting, and a staff that encourages them to feel right at home.

"It's like flying business class," Anseth says. "Everyone gets to the same destination, but some have more comforts and amenities."

The William P. "Billy" Bell-designed Adobe layout is a classic, too. Carved from raw desert, it was only the third course in metropolitan Phoenix when it debuted in 1928. Though now one of the more than 200 other courses that have sprouted up since then, the handsome, spacious Adobe remains distinctive, due in part to a sympathetic restoration by architect Forrest Richardson in 2004 that recaptured the layout's "Golden Age" charms.
Richardson flip-flopped Nos. 1 and 18 so that the final hole now offers a visually compelling closer as it heads straight toward Piestewa Peak. He also created several new holes, including the boldly bunkered, 141-yard, par-3 16th and the enticing 311-yard par-4 17th that mirror the Bell style. Many bunkers regained their classic fingers of turf extending into the sand, reminiscent of the work Bell did with George Thomas at L.A.'s fabled Riviera Country Club.

The billiard table-flat Adobe course won't overwhelm most golfers with drama. However, not everybody believes that golf courses were supposed to be built to resemble amusement parks. Adobe represents "Old World" resort golf at its pinnacle: a scenic, friendly track with little dirt having been moved in its creation, where one from a snowy clime can work out the winter kinks in a relaxed, gorgeous setting and play somewhat close to his or her handicap.

Adobe's sibling, the Links, is a sporty 6,300-yard, 1978 Bill Johnston creation that moves the excitement needle to the right, notably on the surprisingly hilly back nine, which bristles with variety. Its showpiece is the 183-yard, par-3 No. 15, which plunges 75 feet downhill over a ravine brimming with desert brush to a green ringed with a trio of traditional deep and oval bunkers.
"The Biltmore is golden," says the two courses' new owner, Jerry Colangelo, who has plans to renovate the Adobe clubhouse and restaurants at both courses. "It's right in the heart of the city. And like the hotel, the Biltmore courses have such great history."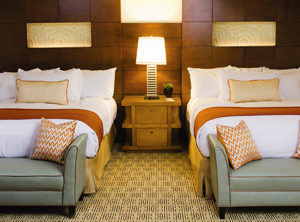 A Bedroom in Biltmore's New Ocatilla
Ocatilla offers spacious, 500-square-foot guest rooms featuring high-speed Internet access; custom work areas; 37-inch flat-screen HD televisions on a "media wall"; granite- and mosaic-tile bathrooms with double Kohler sinks and wide soaking tubs (bath salts and candles provided); and the most comfortable bedding you've ever slept in.

Mirroring one of the hotel's most recognizable architectural adornments, Ocatilla's rooms also feature backlit, translucent glass "Biltmore Blocks," one in the bathroom wall above the tub and another prominently built into the headboard. Featuring a geometric pattern resembling a palm frond, historic Biltmore Blocks are seen throughout the resort's exterior walls, and these sculpted glass replicas add a touch of art gallery to the accommodations.

Down the hall, a private lounge offers Ocatilla guests complimentary refreshments and light dining throughout the day (and a self-serve cappuccino maker for a quick pick-me-up). An outdoor fire pit is a popular gathering spot to enjoy a beer or glass of wine at sunset.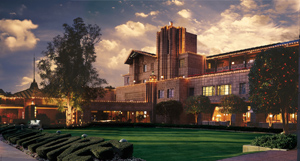 Front of the Arizona Biltmore at Night
Gourmet cheese platters and a selection of hot hors d'oeuvres (such as mini Beef Wellingtons) are also complimentary from 5 p.m. to 6:30 p.m. every evening.

"It's exciting to see what the chefs prepare each day," Anseth says. "It's always different. But wherever you are, you have to come to the lounge between 8 p.m. and 9 p.m.," he urges. "That's when the desserts come out . . . and they're fantastic!"

Occasionally, the Biltmore Spa sends a masseuse over to the lounge to pamper guests with neck and shoulder massages. A conference room is available for use in the lounge along with computers and copiers. And a private swimming pool is also reserved for Ocatilla guests.

As Frank Lloyd Wright said of his original Ocatilla compound, "So long as we had the luxuries, the necessities could pretty well take care of themselves."

The same is delightfully true of a stay at Ocatilla at Arizona Biltmore.

For additional information, visit www.arizonabiltmore.com.
Award-winning publisher, editor, writer and photographer George Fuller has been covering golf travel and lifestyle for more than 30 years. From 1992 to 1997 he was editor of LINKS-The Best of Golf, based in Hilton Head, S.C. In 2005, after having spent several years in the Pacific starting two magazines for Continental Micronesia Airlines and writing two books, Fuller launched GOLF LIVING Magazine for the Los Angeles Times, a "super-regional" magazine of travel, real estate and the lifestyle surrounding the game of golf. In 2009, he helped redesign and re-launch TEXAS GOLFER, a magazine with 25 years of history in the Lone Star State. Most recently, Fuller partnered with Troon Golf to launch TROON GOLF & TRAVEL, a monthly eMagazine with an annual print component. In addition, Fuller's newspapers and magazines credits include TIME, Wall Street Journal, San Francisco Chronicle, The Los Angeles Times, Robb Report, Coastal Living, Palm Springs Life, Estates West, GOLF Magazine, Golf Digest, Travel & Leisure Golf, LINKS, Successful Meetings, Honolulu and many others. He has reported for Reuters, United Press International (UPI), written for Copley News Service and is a regular on-line travel correspondent for Cybergolf. Based in Pacific Palisades, Calif., he can be contacted at gfuller@earthlink.net or 310/245-9550.